Thief Steals City Trail Camera, Gets Secretly Photographed in His Bedroom
A hapless thief who stole a city game camera which began sending photos of him to the police has been arrested.
The suspect was unaware that the trail cam installed by the city of Live Oak, Texas was transmitting photos of him as he sat on his bed shirtless.
"Code Enforcement called me and told me that the pictures were being transmitted," Lt. Jesse Barela from the Live Oak Police Department tells KENS 5. "So they sent me a picture of the suspect. So I put an email out with us and other agencies and we were able to identify the suspect."
A number of police departments made appeals on Facebook and the man was recognized via his tattoos; he has "Martinez" inked in large letters on his left arm.
"The pictures are of two subjects in a bedroom," adds Lt. Barela. "So one of the suspects has his tattoos tattooed all over the place on his arms, neck. And we were able to get him identified through the tattoos."
Also in the intimate bedroom photos is a woman who can be seen lying in bed, there was also a picture of a white car in a wooded area that police put out.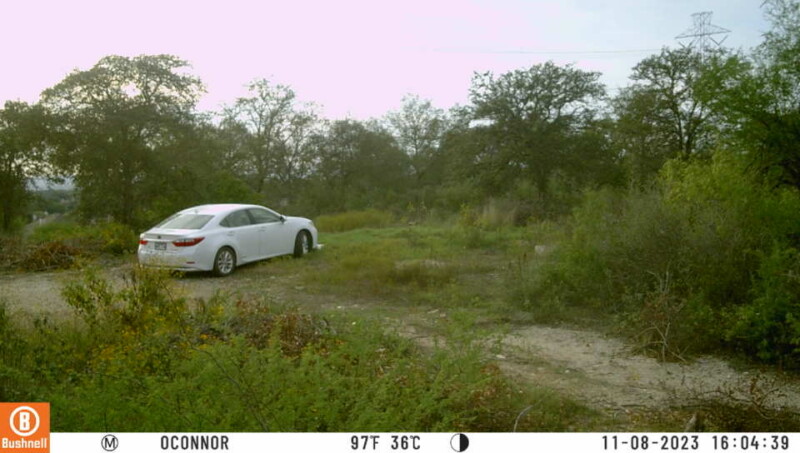 "Thanks to the incredible support from the community, we were able to pass on info to the Live Oak Police Department," writes the City of Del Rio police department on Facebook.
"The suspect was identified and taken into custody by SAPD for unrelated charges. This incident serves as a shining testament to the power of collaboration between law enforcement agencies and the local community. A big thank you from the City of Del Rio and Live Oak Police Departments to an engaging community that made a difference."
While the actual model of the game camera is unknown, generally trail cameras work when they are triggered by motion; i.e., an animal walking in front of it.
The camera then uses cellular connectivity to transmit the images to a cloud-based server where others can connect to view the images.
In August, police in Massachusetts launched an investigation into a man who was filmed stealing a surveillance trail camera — that was originally set up to catch thieves.
---
Image credits: Header photo partly licensed via Depositphotos.