Unlock Unlimited Angles With Horizontal Tripods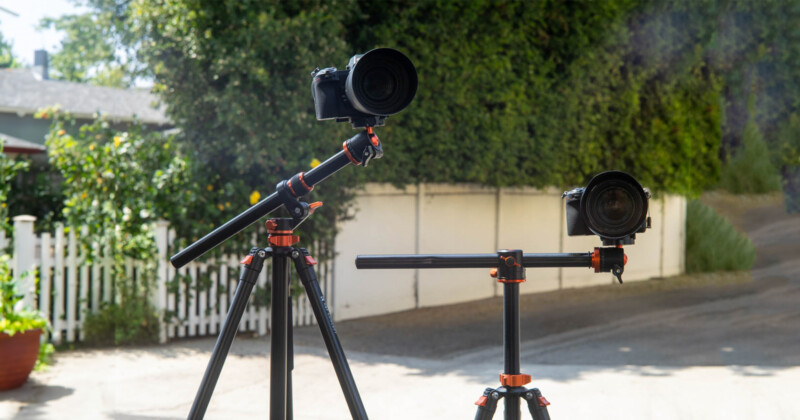 Telling a cohesive story by putting together a series of photos or video clips can be a complicated task. Changing the camera angles and perspective can significantly influence your viewer's reaction to the project, and leave you with a much more impactful image. This is where a horizontal tripod can provide you with a wider array of shooting angles.
---
Full disclosure: This sponsored article is brought to you by K&F CONCEPT.
---
Basically, choosing the right camera angle will do four things for your shot; It can create an impact that will feel more dynamic to the viewer, it will deliver the important information you're trying to convey such as the context or important details of the landscape or product, it will help speed up the editing process and help you avoid the "fix it in post" situations, and can enhance the overall impression left on the viewer. By shifting the perspective and viewing angle, you can make the image or video feel much more intense and dramatic. To achieve all of these things may require placing your camera in a position that a standard tripod just cannot reach, which is why the Horizontal Tripods come in so handy by effectively unlocking unlimited angles to shoot from.
So what's the big difference? When used right, a horizontal tripod can provide users with stability and support to easily place their cameras in horizontal positions in order to capture products, food, panoramic, macro, wide-angle, and low-angle shots that would otherwise have to be captured hand-held or with much larger/clunkier setups. This is particularly important when photographing things in low light and/or slow shutter speeds that require you to have a stable shot and avoid any camera shake which would result in blurry images.
While you can argue that any tripod can provide you with the stability you need for a shot like this, most of them have a locked-in center column that will, at best, only allow you to pivot the camera down 90 degrees from the base of the center column, leaving you with a rather limited viewing/shooting angle. Leveraging a tripod that offers a horizontal or adjustable mount like the K&F CONCEPT T254A8 or the T253A7 will give creatives much more flexibility and freedom to capture their shots and definitely speed up their workflows. Most product and food photographers will tell you, that investing in a Horizontal Tripod is one of the best decisions you can make. Let's get into why.
Things To Consider When Choosing A Tripod
Load Capacity & Tripod Weight
When choosing the right tripod for your project, you'll need to account for the total weight of your system and what the tripod can hold safely and sturdily. In most situations with bigger cameras, macro/telephoto lenses, and accessories, you'll want a system that can safely handle 15-20 pounds. You should also consider the weight of the tripod itself. In most studio locations this won't be a big deal no matter what the weight is, but if it's a system you plan on hiking miles and miles over rough terrain with, then you may want to consider a smaller/lighter system.
Size and Maximum/Minimum Height
Next, you'll want to consider how high, and how low the tripod can reach with and without the center column adjusted. In most normal situations you'll want a system that can extend to your own personal eye level (without raising the center column) as this will help keep you from having to hunch over to see through your camera's viewfinder or display. The minimum height should also be important for creatives as this dictates just how close to the ground you can get. Many tripods will allow you to flip the center column so you can attach your camera "upside down" to get to ground level, but having a system that can allow you to remove or adjust the center column like a horizontal tripod will give you much more flexibility with your shots. Obviously, when using a horizontal tripod you'll want to account for some leeway on either side of the maximum and minimum heights.
As for the size of the tripod, this applies to how big the system is when completely collapsed. If you are always on the road and traveling you will definitely want a system that can pack smaller than a larger/heavier/sturdier system that would typically stay in a studio. Just remember, tripods that have more leg extensions that can pack up smaller, will often have the compromise of less stability than larger/heavier systems.
Materials and Stability
While on the topic of size and weight, choosing the right material can have a major impact on your images. While the materials have changed over the years, typically today you'll find most systems are made from either aluminum or carbon fiber. Each has its own merits where you will find the trade-off between them being strength/rigidity and weight with carbon fiber being much lighter than their aluminum counterparts but often being much more expensive.
This also ties directly into the stability of the tripod. A higher-quality tripod will significantly reduce any potential shaking/wobbling of the legs. Additionally, the center column may have a hook that allows you to attach a counterweight for added stability which can come in especially handy when working in windy situations and rough terrain, or even just using the horizontal arms at some extended lengths to ensure they don't topple.
Heads and Camera Mounts
There are a plethora of tripod heads and mounts to choose from, each with its own advantages and disadvantages. Gimbal Heads are designed for use with longer/heavier lenses and camera systems to provide more stability and precision when making adjustments to the shot, but they can often be large, heavy, and quite expensive. Pan-tilt heads are typically used for shooting video as they make it much easier to keep your camera level when making adjustments. Some can even come with multiple handles for vertical and horizontal controls. Lastly, we have ball heads which have become among the most popular for their reduced size and versatility of use. Ball heads allow you to make quick adjustments of the camera in any direction which makes them ideal for shooting video as well as product and panoramic photographs.
Ease of Use/Special Features
Some additional things to consider when choosing the perfect tripod to get your creative angled shots include the presence of a bubble/spirit level to make sure that no matter the terrain you find yourself in, your center/base of the tripod is level, which is especially ideal in product and food photography. The type of footing your tripod has can have an impact on your image depending on whether it's got a soft rubber grip or a hard metal spike for softer/slippery situations. Additionally, the type of locking mechanisms on your tripod leg sections can have an impact on your speed of setup/tear down. Some have tension clamps, which can be fast to open/close but slightly less accurate to make height adjustments than a twist lock.
Some tripods like the K&F CONCEPT 90 Inch Reversible 360° Panoramic BH-28L and 94 inch Overhead T254A8 BH-28L will even offer a detachable "monopod" feature that allows them to literally detach one of the tripod legs and attach the center column/ball head to it allowing shooters to get more creative and diverse with their shots.
Just remember that every tripod typically serves a specific purpose and caters to a particular niche or two. So if you plan on capturing multiple types and styles of images or video, you may want to invest in multiple tripods. You don't need to be a pro to buy a pro-level tripod. Besides, making that investment early can save you a lot of money in the long run, and investing in a horizontal tripod will give you the creative freedom to work with much more flexibility than a "normal" tripod can offer.
Horizontal Tripods Will Help You Take Sharper Images and Create Better Compositions
Taking images of food, beverages, products, or even landscapes from above can be tricky depending on the angle and your position, (especially when taking into account your own personal safety). Using a tripod, in particular a Horizontal one from K&F CONCEPT, will help you capture sharper images by eliminating any potential shaking that would have happened should you have tried to get the shot by doing it hand-held. This also allows you to shoot your images "hands-free" by using a remote, cable release/trigger system, or even a mobile app as you can find with most modern mirrorless cameras.
If you are shooting product or still life work, going hands-free with a tripod will allow you to style your scene to better craft the situation to look better in camera. This even includes the freedom of slowing down your shutter speeds to shoot with a lower ISO to avoid grain in your images. Additionally, the horizontal arms will offer users more versatility with their images, giving them more flexibility to create wide panoramic and even incredibly up-close macro shots from challenging angles. Leveraging the horizontal column will let you position your camera(s) directly over the subject while avoiding shadows that would typically be thrown were you to just stand over your subjects, all while maintaining a very stable balance with the system as a whole.
This even includes flipping the center column completely over so the camera can quite literally be just millimeters away from the ground, or vlogger can use the horizontal column to pan and tilt their camera(s) into unique and even awkward angles when filming in tight spots to ensure they get the best-looking shot for their content. The horizontal tripods from K&F CONCEPT can quite literally bend over backward for you to capture practically any angle you can think of.
K&F CONCEPT Horizontal Tripods: Specifications, Design, and Build Quality
K&F CONCEPT makes several horizontal tripods, each leveraging the BH-28L ball head for smooth and accurate camera adjustments. The model T254A7 tripod which features a center "universal" axis structure that acts as sort of a "boom arm" many videographers will feel quite at home operating. The "boom" can have its pitch adjusted from 0 to 120 degrees up and down while the entire system can be rotated a full 360 degrees using the Panoramic Center Column.
The aluminum alloy tripod itself has a 22-pound (10-kilogram) load capacity with a maximum working height of 90.6 inches (63.8 inches without the center column) and weighs just 4.46 pounds (2022 grams). The legs on the tripod have four sections with three Flip Locks to make adjustments to the height. When standing the tripod up, users can position the legs in one of three angled positions for use (and the fourth being folded up for storage) giving more stability and a lower center of gravity the wider the notch you choose.
To access the "boom" or horizontal section of the center column, you simply have to loosen the rotating lock and then extend the column out of the center shaft. From here, you can either use it vertically for extra height or pivot the column to your desired angle and then adjust and re-tighten the rotating lock to hold the boom in place.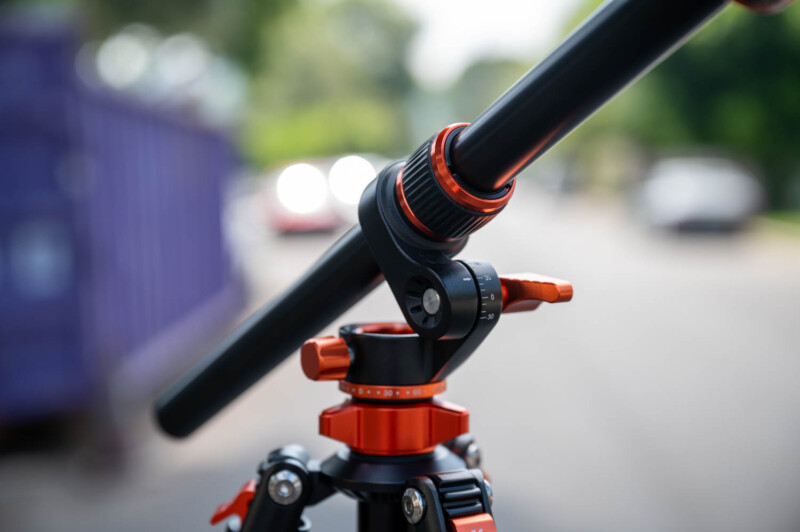 Folded up for travel/storage, the tripod is only 21.3 inches long (54 centimeters) and both systems come with a nice case with a shoulder strap for easy carrying. Inside of each back users will also find a set of Alan Keys for making adjustments to the camera mounts and any of the various lock/rotation points around the system should they ever need to be tightened.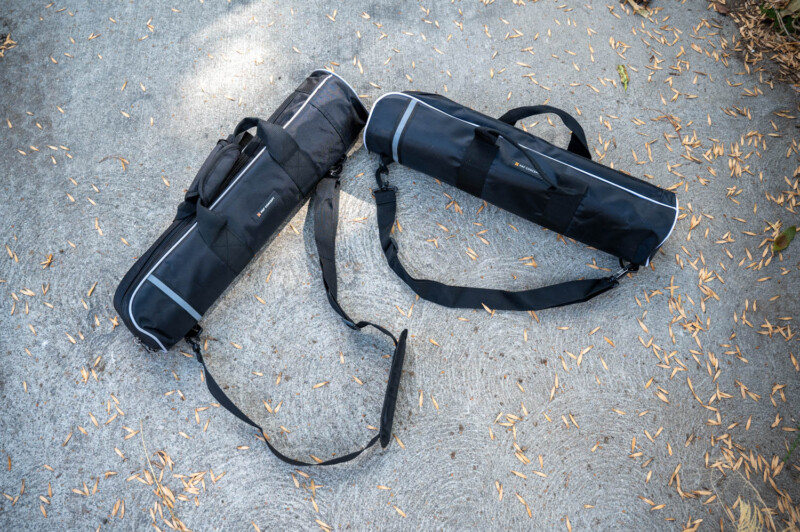 While you can't reverse the center column on this particular tripod to place the camera between its legs and near the ground, you can extend and rotate the boom/center column a full 180 degrees so you can achieve the same point of view.
It's worth noting that the tripod has a "safe" zone when using this boom arm where it's easy to maintain a center balance with its positioning. Once you extend the arm past this point you'll want to be sure to have a counterweight or some way to secure the tripod in place to ensure it doesn't topple while you're using the column fully extended and/or rotating it around to capture panoramics.
The model T254A8 system while also a horizontal tripod, offers users an internal column that can be extended to nearly double its length when used vertically, or opened and pivoted horizontally to provide a true horizontal positioning.
Overall, both tripods are durably built and actually pretty fast to unpack and set up in pretty much any situation. The "hook" on the bottom of the center column makes it easy to attach a counterbalance/weight for extra stability when shooting in tricky spots, the tension on the adjustments for the ball head, center column, and legs are easy to use and surprisingly don't require a ton of torque to get completely locked into place, While slightly on the heavier side than the carbon fiber siblings, the trade-off is a much more affordable system for anyone looking into a proper setup to do product and overhead images or video.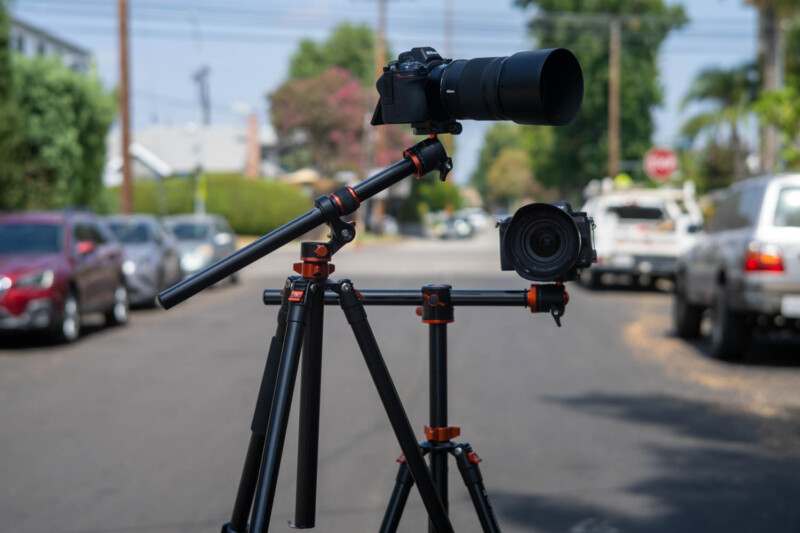 K&F CONCEPT Horizontal Tripods: Application & Usability
The Horizontal Tripods from K&F CONCEPT manage to keep some otherwise complicated overhead and tricky angled setups incredibly fast and easy to achieve for even the most unfamiliar of tripod users. Changing the leg section lengths on each model is fast and easy to secure tightly using either the clamp or rotating versions, and the legs are exceptionally tall (with options of up to 7.8 feet) making them both ideal for setting up in working on an incline or even just dealing with obstructions in your line-of-sight. With the extra height, the tripods are a little longer than some other versions when collapsed for travel, yet they still can fit comfortably in a carry-on luggage bag or just over your shoulder in their included sling bags.
Securing the center column(s) after placing them in their respective horizontal positions is rather easy with each of their tension locks to hold them in place, just be careful not to put too much force behind them when tightening as in some cases it might be possible to dent the aluminum of the center columns.
The rubber grips found on the rotating lock mechanisms provide a secure grip when making adjustments to the column and leg positions and the ball head is pleasantly easy to lock into a secure position. This even applies to turning the tripod(s) into a monopod. Removing the ball head from the center column is also rather easy to do, taking just a few seconds to remove the leg and ball head to assemble together for the monopod. It's just as quick to put back together as a tripod as well, making it pretty useful for shooting on the move.
The bottom line is the Horizontal Tripods from K&F CONCEPT can behave like any other "normal" tripod while providing additional layers of versatility and flexibility for today's creative minds. These tools will let photographers and videographers easily capture everything from food & beverage to top-down product images, to close-up macro shots, to even wide sweeping landscape panoramics, all with just a few moments of setup time. The great thing about using a Horizontal Tripod is it will kind of force you to slow down just a little so you can put a little more effort and thought into your composition and light. Maybe a better way to put it is to say that it frees the shooter up to spend more time on the art and beauty of the shot they are trying to capture.
The K&F CONCEPT T254A8 and T254A7 Horizontal Tripod with BH-28L Ball Head are available for $149.99 and $107.99 respectively with a variety of leg size options ranging from 72 inches to 94 inches for each.
---
Full disclosure: This sponsored article was brought to you by K&F CONCEPT.
---
Welcome to a PetaPixel Showcase, in which our staff gives you a hands-on with unique and interesting products from across the photography landscape. The Showcase format affords manufacturers the opportunity to sponsor hands-on time with their products and our staff, and it lets them highlight what features they think are worth noting, but the opinions expressed from PetaPixel staff are genuine. Showcases should not be considered an endorsement by PetaPixel.