ON1 Photo RAW 2024 is Available Now and Includes Many AI Features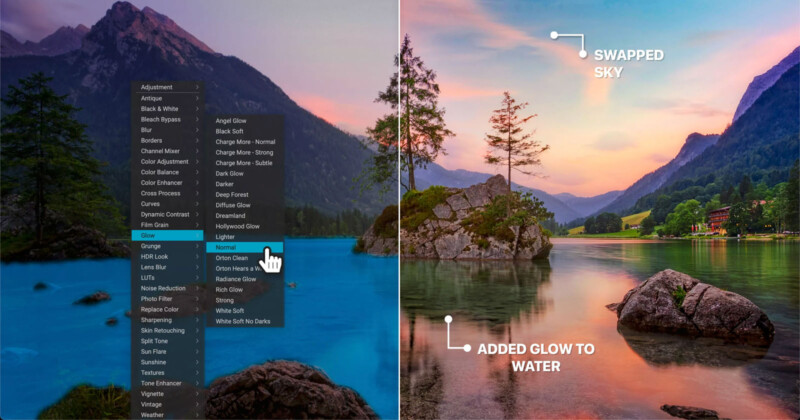 ON1 Photo RAW 2024 is now available and includes a wide range of new features, including some powered by advanced artificial intelligence (AI) technology.
Among the lengthy list of new features is Brilliance AI, a new AI-powered tool that promises intelligent color and tone adjustments that maintain the artistic intent and spirit of an image. The AI-powered color, tone, noise, and detail adjustments are tuned to each specific image based on the software's analysis of the image. Importantly, the user still retains control over the output of the image, and each adjustment can be controlled using a slider.
"Brilliance AI is a real game changer. Many photographers struggle with the complexity of the basic raw processing adjustments needed just to make your photo look like what you remembered when you pressed the shutter," says Dan Harlacher, ON1's VP of Product. "Brilliance AI is like a fast-forward button in your workflow, automating these mundane and complex tasks, preparing it for the fun part of editing — like adding your personal touch with Effects. It's another example of where we can use AI to take away the hard stuff without taking away your creative control."
Brilliance AI can also automatically apply local adjustments. "With the click of a button, photographers can add other regions like water, animals, mountains, etc., achieving stunning results without the need of complex selections, masks, or filters," ON1 explains.
AI plays a significant role throughout much of ON1 Photo RAW 2024. The app also uses AI to recommend special effects, which are like presets, to users. AI is also present in Portrait AI, Sky Swap AI, NoNoise AI, and Resize AI.
The latest version of ON1 Photo RAW also features an improved Highlight Recovery tool, ensuring that photographers are able to return more detail from the brightest areas of their photos.
There have been numerous usability and user interface improvements made as well, including a modernized UI, integrated Browse and Edit modules to make it easier to manage photos, an enhanced Layers Pane, intelligent AI-driven keywords, better searching, and more.
"We are incredibly excited to unveil ON1 Photo RAW 2024, a culmination of our dedication to pushing the boundaries of what's possible in photo editing. This release embodies our commitment to empowering photographers with state-of-the-art AI-driven features, significant upgrades to performance and usability, seamless workflow enhancements, and tools to amplify creativity. ON1 Photo RAW 2024 is a significant leap forward. It reaffirms our mission to provide photographers with the tools they need to bring their photographic vision to life," says Craig Keudell, ON1's President.
Pricing and Availability
ON1 Photo RAW 2024 is available now for $100 for new users and $80 as an upgrade for existing ON1 owners. There is also ON1 Photo RAW MAX 2024, which enables users to take full advantage of ON1 Photo RAW 2024 as a plugin inside Adobe Lightroom and Photoshop, Capture One, Affinity, Corel, and Apple Photos.
Other than these lifetime license purchasing options, photographers can also subscribe to ON1's software via ON1 Everything Plus for as low as $12.50 a month or ON1 Everything for $7.50 a month. ON1 Everything Plus includes 1TB of ON1 Cloud Sync storage and more than 40 in-depth educational courses.
Complete purchasing options and a full breakdown of ON1 Photo RAW 2024's features are available on ON1's website.
---
Image credits: ON1