Incredible Shot of Airplane Crossing the Sun Was Captured by an Astronaut
Astronaut and astrophotographer Don Pettit captured a "lucky shot" when a commercial airplane flew through the frame as he was capturing images of the Sun.
Pettit tells PetaPixel that, with the help of his pilot friends at NASA, he managed to figure out the exact plane (a Southwest airline flight from Cancun, Mexico to Houston) and even sent the picture to the crew who were onboard.
"My jaw dropped down," Pettit says of when he first saw the video clip. "Because that was like a two-and-a-half minute video and the plane flew by in the last quarter of the video."
Pettit had set up a telescope system from "bits" around the NASA base in Houston that consisted of a Nikon 400mm f/2.8 telephoto lens with a Daystar H-alpha solar filter and a 3x barlow which gave his Nikon Z9 an equivalent zoom of roughly 1200mm to 1500mm.
"All the equipment that we have on [the International Space Station], is also available for check-out so you can practice with it before the flight," he explains.
"You can't have a few hours of training on the ground and then show up in orbit and be like 'Okay which button do I push.'
"So NASA has all the photo equipment available to all the astronauts at our leisure we can check out and take it home and learn how to use it."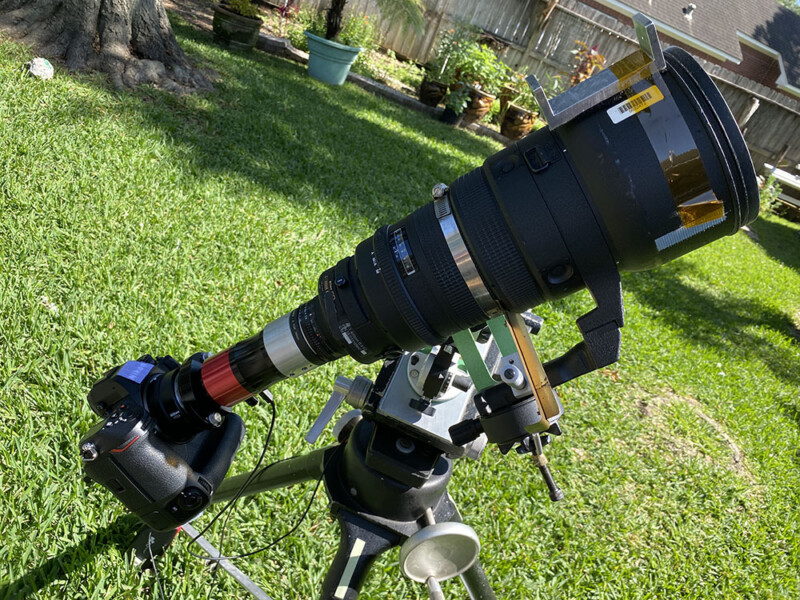 "I checked out one of everything that I thought I could use to make a telescope and then in my little workshop I added a few more bits in terms of special adapters and then I set this up in my backyard to practice because practice makes perfect and you want to really know how to use this equipment."
Pettit was shooting video clips of the Sun at 30 frames per second because individual pictures can contain "distortion from atmospheric effects or vibrations."
To get around this, Pettit shot two to three thousand frames and then chose the best 20 or 30 to stack together in an "amalgam" TIFF file.
"You're watching these videos, two minutes of a video that is of the same subject that doesn't really change much — it's pretty boring," he says.
"And then all of a sudden it's like 'What's that' and there was only like five or six frames that the plane was actually seen."
Active Astronaut
Pettit is a veteran of three spaceflights and remains an active astronaut at 68 years old. He is also a famous astrophotographer known for incredible images he took while onboard the International Space Station (ISS).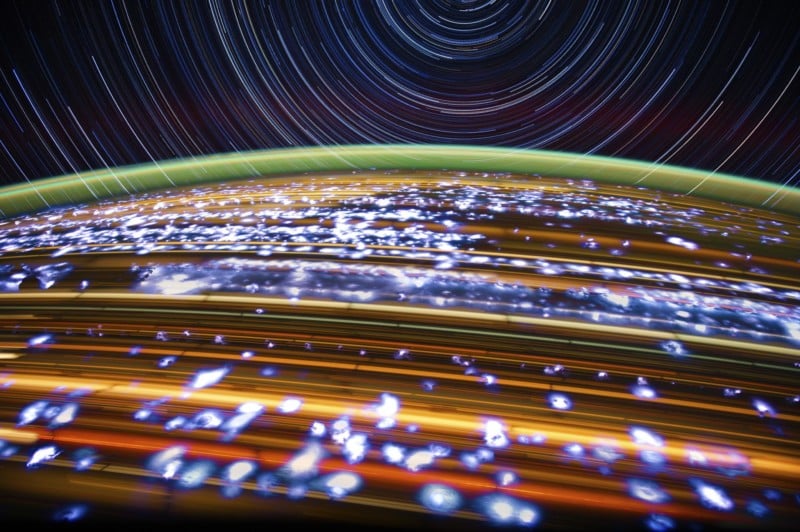 During his first mission to the ISS in 2002, Pettit invented a barn door tracker from "stuff laying around" which is a device that counteracts orbital motion in space allowing photographers to capture sharp images of cities at night.
"Before I made this barn door tracker on the station you would do a handheld picture of cities at night with maybe a one-second exposure and they'd always be blurry particularly if they were done with a telephoto lens," he says. "This was the first time it allowed anybody to get sharp images of cities at night."
Pettit has been shooting photos since he was a boy, starting with a Kodak Brownie camera when he shot and developed black-and-white film himself.
"I was already an expert in photography when I got selected as an astronaut," he explains.
"I just kept moving up and up and dumping as much money as I had into photographic equipment as probably all the people who follow PetaPixel do."
He now uses his experience and expertise to work closely with the NASA Photo/TV department to train astronauts who are heading into space while also specifying what the next generation of camera equipment is going to be.
Pettit says he is "like a kid in a store" because he has access to all the professional camera equipment that is also onboard the ISS.
"I can check it out as needed for doing training and for doing my own training or for experimenting to see how else we can use the equipment when we have crews on orbit and that's what I was doing with the camera system when I was photographing the Sun," he adds.
To see more of Pettit's astrophotography work, check out his Instagram and Twitter (now X).