You Can Now Edit Images in Shutterstock's Library With AI Tools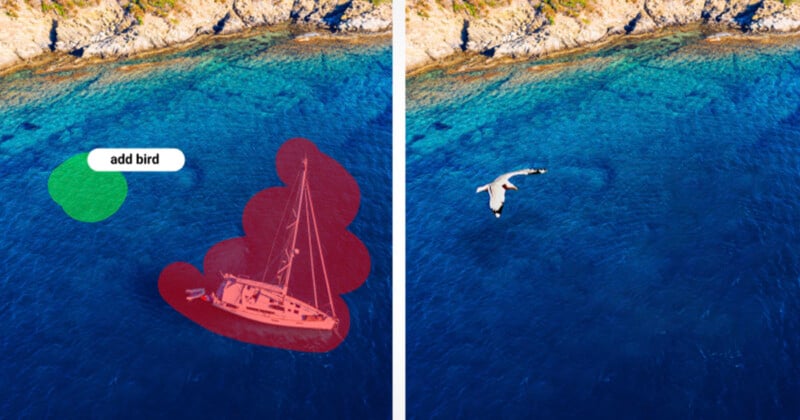 Shutterstock has announced a new AI-powered feature that allows its customers to make photo edits to an image in its library.
Dubbed Creative AI, PetaPixel received a demonstration of the technology which allows the user to alter an image to their liking.
For example, a stock photo showing a beach scene with a red umbrella; if the user is so inclined they can change the color of the parasol to blue.
"This is an unprecedented offering in the stock photography industry," says Paul Hennessy, Chief Executive Officer for Shutterstock.
"Now, creatives have everything they need to craft the perfect content for any project with AI-powered design capabilities that you can use to edit stock images within Shutterstock's library, presenting infinite possibilities to make stock your own."
The new feature has "six signature capabilities," this includes the Magic Brush tool which allows users to brush over an area they want to modify and type in the change they want to see; similar to the Generative Fill tool in Photoshop.
Users will also be offered variations of the AI-generated content, typically four options to choose from.
Picture editors will also be able to expand images as if they were zooming out through a camera lens.
Smart Resize will help people crop a picture to the dimensions required while Background Remover allows users to remove and replace backgrounds.
Shutterstock's AI Image Generator is powered by OpenAI's DALL-E and users can create images from scratch on Shutterstock's interface that will soon be updated with DALL-E 3.
Users don't need to be on a paid Shutterstock plan to use the AI editing tools but Creative AI requires a login. A fee has to be paid if the user wishes to license their remixed images.
Limitations and Compensation
Shutterstock tells PetaPixel that not every image asset in its library will be available to remix. Editorial content, for example, will be barred from the program so images of celebrities and pictures of that nature can't be misrepresented.
There is also premium content that Shutterstock won't allow customers to touch with the AI tools.
Generative artificial intelligence (AI) is a touchy subject among creators. Shutterstock addressed this by promising to compensate artists "if their images are licensed after editing."
"In alignment with Shutterstock's Contributor Account and Content Submission Guidelines, AI-generated or edited content will not be accepted as a submission for licensing on the platform to further ensure the protection of contributor IP and proper compensation of artists," it adds.
Shutterstock stresses that is taking an "ethical and responsible" approach to AI advancements in the creative industry and recently joined the Content Authenticity Initiative (CAI) to join the battle against misleading information online through the implementation of technical standards for certifying the source and history of media content by integrating Content Credentials."