Judge Rules Lawsuit Against Netflix Over Photo in True-Crime Doc Can Proceed
A federal judge has ruled that Netflix may have defamed a Kentucky man, Taylor Hazlewood, after the streaming company used a photo of Hazelwood in a true-crime documentary about a convicted murderer.
Earlier this year, Hazlewood filed a lawsuit against Netflix, alleging that the streaming had defamed him by showing his photo in the documentary, The Hatchet Wielding Hitchhiker, which was launched on Netflix in January 2023.
A photo from Hazlewood's Instagram showing the respiratory therapist holding a hatchet was shown as part of two montages in the documentary, once about eight minutes in and a second time nearly 121 minutes into the feature-length film.
According to Hazlewood, he posted the innocuous photo of himself holding a hatchet in 2019 as part of a post that paid tribute to Gary Paulsen's popular young-adult wilderness survival novel, Hatchet.
While both instances of his appearance are unfortunate for Hazlewood, the second one is particularly problematic. "Is this a guardian angel? Or a stone-cold killer?" asks dialogue, as Hazlewood's photo, hatchet in hand, is shown next to and at the same size as a photo of convicted killer and internet viral sensation Caleb "Kai" Lawrence McGillvary.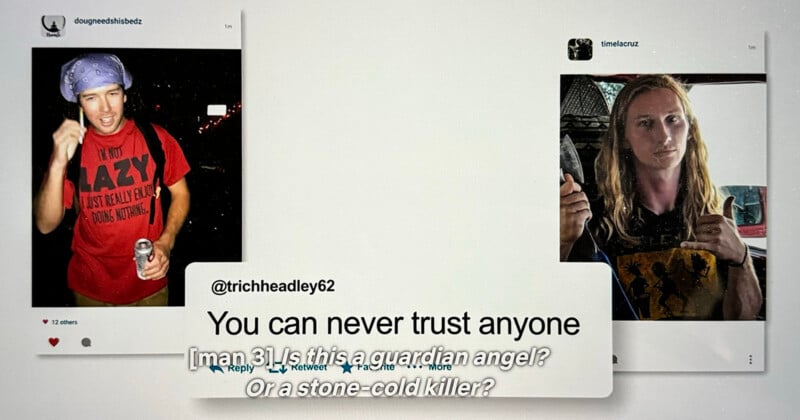 Hazlewood, who has never been associated with McGillvary or murder, alleges that Netflix defamed him and committed misappropriation of his likeness. Hazlewood is seeking $1 million in damages.
"Because of the lack of due diligence, Mr. Hazlewood has a constant fear regarding the impact the film will have on his personal relationships, his employment, and his reputation in general," Hazlewood's attorney, Angela Buchanan, told The New York Times in April when Buchanan and Hazlewood filed their lawsuit.
While Netflix does not publish individual viewing statistics for its programs, the streaming service had nearly 240 million paid subscribers as of the second quarter of this year, so there are many people who could have seen Hazlewood's face in The Hatchet Wielding Hitchhiker.
As The Hollywood Reporter explains, Netflix moved for the suit against it to be dismissed, but U.S. District Judge David Godbey ruled this week that he would not dismiss Hazlewood's claim for defamation.
Godbey has also allowed a claim that Netflix violated Hazlewood's privacy to move forward, arguing that Netflix had failed to "determine the context and ownership of the photograph" and neglected to obtain consent from Hazlewood, which it is safe to say, he would not have granted.
Netflix alleges that it did not need permission because the photo was posted on Instagram, while Hazlewood argues that the photograph was private. As for which side is correct, Judge Godbey will allow that question to be addressed in court.
However, Godbey has dismissed Hazlewood's claim for misappropriation of likeness.
"Hazlewood did not plead additional facts showing any specific value such as reputation, prestige, notoriety, or skill associated with his likeness and therefore has not made out a plausible claim of misappropriation," writes Godbey in his ruling.
Godbey argues that Hazlewood's likeness does not have the commercial value required to substantiate a misappropriation of likeness claim. Hazlewood was provided the opportunity to amend his claim for misappropriation.
"This Order addresses Defendant Netflix, Inc.'s motion to dismiss Plaintiff Taylor Hazlewood's amended complaint [7]. Because Hazlewood has adequately pled his defamation and invasion of privacy claims but not his misappropriation of likeness claim under Rule 12(b)(6), the Court grants in part and denies in part the motion. The Court grants Hazlewood leave to amend his complaint," orders Judge Godbey.
Godbey continues, explaining that Hazlewood adequately pleaded his case to make a plausible defamation claim because he met four criteria required under Texas law, including proof that the defendant "published a false statement," "defamed the plaintiff" through that false statement, "published the statement with the requisite degree of fault regarding the truth of the statement," and that the plaintiff experienced damages.
In its move for dismissal, Netflix alleged that the documentary did not explicitly accuse Taylor Hazlewood of murder or any other crime. "Nothing in The Hatchet Wielding Hitchhiker can be reasonably labeled as accusing Hazlewood of anything, much less a specific crime," an attorney for Netflix wrote in a court filing.
"To the contrary, even Hazelwood's allegations confirm that innuendo is the only way a viewer could reach the warped and implausible conclusion Hazlewood alleges in his complaint: that despite the clear subject and focus of the film (Kai, the hatchet-wielding hitchhiker), Hazelwood's presence in two montages suggests he too is a criminal or worthy suspicion," continues Netflix's legal team.
Hazlewood has 26 more days to amend his claim for misappropriation of likeness. In any event, Hazlewood's lawsuit against Netflix on the claims of defamation and invasion of privacy may move forward, putting Netflix in an unenviable position. Judge Godbey's complete ruling can be read at The Hollywood Reporter.
This is not the first time that Netflix has been sued for unauthorized use of an image and invasion of privacy. Earlier this year, a family sued the streaming service for using photos of their house, reportedly taken by a drone, in an advertisement for a reality television show.
The Hatchet Wielding Hitchhiker was produced by Raw, although the British production company has not been named in Hazlewood's lawsuit.
---
Image credits: Header photo licensed via Depositphotos.