Horseshoe Crab Photo Wins 2023 Wildlife Photographer of the Year
The Natural History Museum has announced the winners of its prestigious Wildlife Photographer of the Year competition, with accomplished French photographer Laurent Ballesta earning the eponymous grand prize title for the second time.
"Wildlife Photographer of the Year" Laurent Ballesta earned the title with a stunning image of a tri-spine horseshoe crab accompanied by three golden trevallies. Ballesta, an underwater photographer and marine biologist, captured the otherworldly image in the protected waters of Pangatalan Island in the Philippines.
The tri-spine horseshoe crab has survived for over 100 million years but is currently facing cataclysmic issues such as habitat destruction, overfishing for food, and fishing for the crab's distinct blue blood used to develop vaccines. However, off the coast of Pangatalan Island, there remains hope for the species' survival.
"To see a horseshoe crab so vibrantly alive in its natural habitat, in such a hauntingly beautiful way, was astonishing," says jury chair and photo editor Kathy Moran. "We are looking at an ancient species, highly endangered, and also critical to human health. This photo is luminescent."
Ballesta is only the second photographer to be awarded the Grand Title more than once throughout the competition's 59-year history. Ballesta also won Wildlife Photographer of the Year in 2021 for an image of camouflaged groupers.
Young Wildlife Photographer of the Year
17-year-old Israeli photographer Carmel Bechler has been named Young Wildlife Photographer of the Year 2023 for his image, "Owls' Road House," a fascinating shot of barn owls inside an abandoned roadside building.
Bechler captured the image from the family car, which acted like a hide and utilized natural light and long exposure techniques to capture the scene with light trails of passing vehicles.
Bechler has been photographing wildlife since he was 11, and his new Grand Title marks his first award in the annual contest. "I hope to share with my photography that the beauty of the natural world is all around us, even in places where we least expect it to be, we just need to open our eyes and our minds," Bechler says.
"This photograph has so many layers in terms of content and composition. It simultaneously screams 'habitat destruction' and 'adaptation,' begging the question: If wildlife can adapt to our environment, why can't we respect theirs?" says Moran.
Category Winners
Alongside the two Grand Title-winning photographers, the Natural History Museum selected 19 total category winners plus many commended images. A selection of commended and winning photos are featured below, and the full gallery is available on the Natural History Museum's website.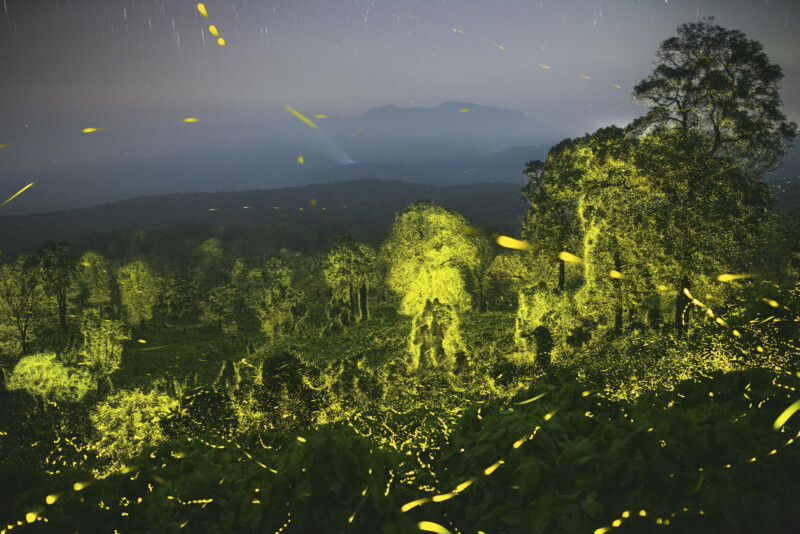 Each entry was judged anonymously by an international panel of experts, with photos judged for their originality, narrative, technical excellence, and ethical practice.
"Whilst inspiring absolute awe and wonder, this year's winning images present compelling evidence of our impact on nature — both positive and negative. Global promises must shift to action to turn the tide on nature's decline," remarks Dr. Doug Gurr, Director of the Natural History Museum.
All winning images will be displayed in a newly redesigned exhibition at the Natural History Museum in London, England, beginning on October 13. The show will tour across the United Kingdom before heading outside England, with visits planned at venues in Australia, Belgium, Canada, Denmark, France, Germany, New Zealand, Singapore, and more.
Next Year Marks the Competition's 60th Anniversary
Entries for next year's Wildlife Photographer of the Year competition, the 60th edition of the renowned photo contest, will open on October 16, 2023. The competition will feature a new special prize and some important rules changes. The full details are available on the Natural History Museum's website. Entries close on December 7, 2023.
---
Wildlife Photographer of the Year is developed and produced by the Natural History Museum, London. All photos are individually credited and provided courtesy of Wildlife Photographer of the Year.