'DUALITY' Series Showcases Stunning Light Painting and an Artist's Growth
Australia-based photographer Denis Smith uses light painting techniques to create incredible, dynamic works of art. His latest project, DUALITY, is still built upon light painting but it represents a marked stylistic departure for Smith.
Smith's stunning work has been featured on PetaPixel multiple times, including back in 2011 and more recently a few years ago. Smith's work has always been incredible, but DUALITY is more intimate.
"This work is personal, expressive, and will require thought to engage with," Smith explains. "For the first time since I picked up a camera in 2009, I don't need anyone to like it. This has been the most liberating feeling."
That said, DUALITY is irresistible; it is impossible not to like.
New Techniques
DUALITY represents multiple firsts for Smith. Alongside it being the first time he has felt completely untethered by the need for his work to appeal to people, it is also the first time that Smith has combined traditional painting with light painting techniques to create the final images.
"The DUALITY body of work is a little unique for me. I approached it in a fresh way. Wanting to tell a story, and using techniques that reach that end. Many of the techniques are 'standard' light painting techniques melded together to achieve the look I was after," Smith tells PetaPixel.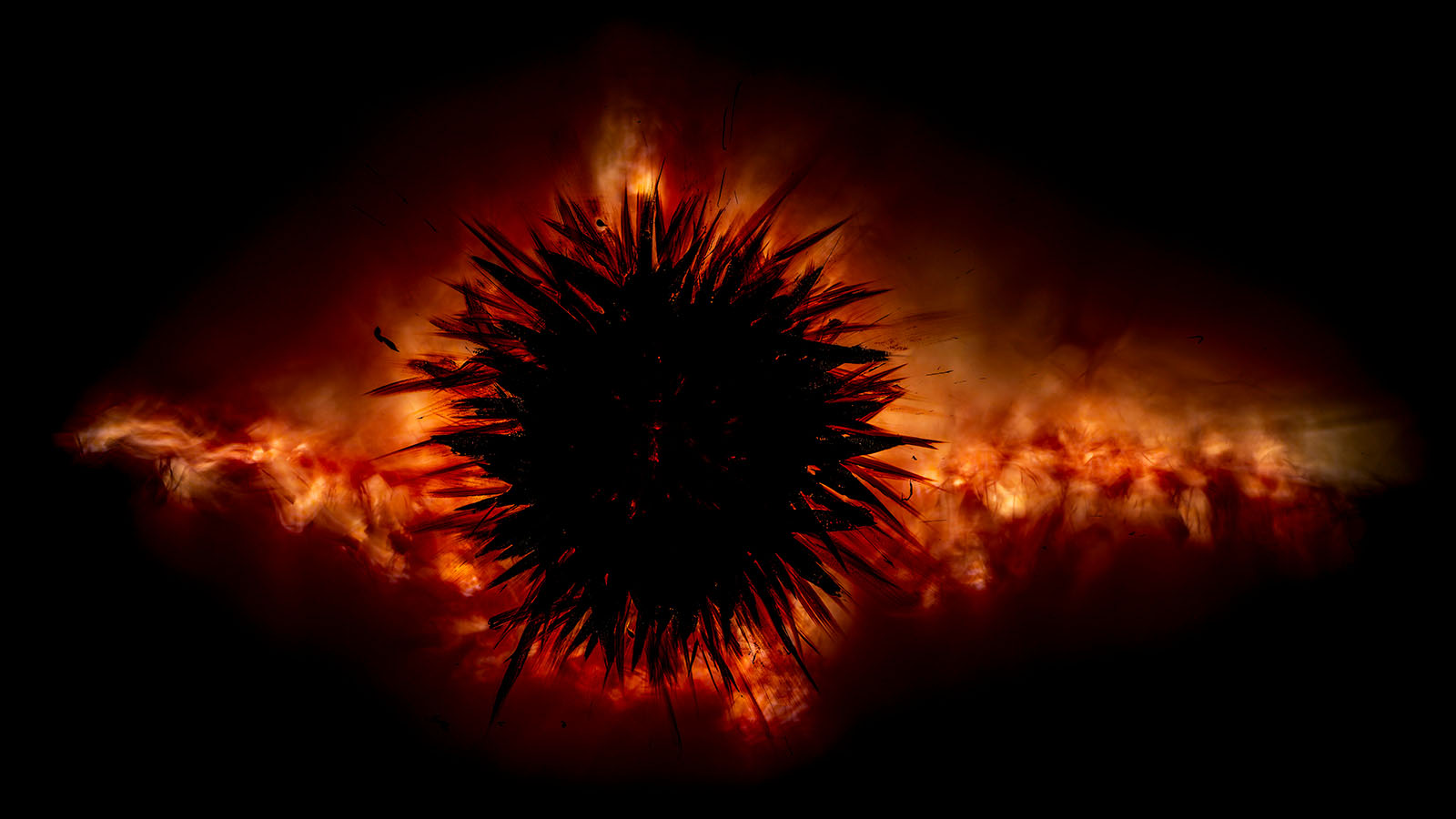 "The idea of DUALITY is to explore what is and isn't real in a social media world, what our true self is in this space. I needed a sense of out of focus, blurry light, mixed with sharp strong shapes to represent this DUALITY," Smith says.
"Using a translucent material and working behind, then in front, achieved this. In light painting we always create in a single exposure, so there was a lot of moving around the rig I had built as I was creating these images. By varying the distance the light source was from the material, gave a sharper, softer feel," he continues. By combining acrylics, the translucent material, and lights, Smith's DUALITY images take on an ethereal look with tremendous depth that is unique to the series.
Social Media
It is critical to zero in on Smith's mention of social media. The photographer has long used platforms like Instagram as part of his career. An online presence has been an important way for him to connect to people, share his work, and carry out professional tasks.
However, in August 2022, Smith's social media accounts were hacked and ultimately deleted. He lost more than a decade's worth of connections with people and massive follower counts. While he has recently started up a new Instagram page to try to reconnect with people, the year away from social media has had an indelible impact on Smith's art.
Physicality in 'DUALITY'
There is a very physical spirit to DUALITY. Movement has always been vital to Smith's light painting. After all, light must be physically moved during the exposure — it is a much more hands-on approach to photography than most genres. However, the sense of movement within space has been dialed up to 11 in Smith's latest work, and there is a specific focus on hands.
"I have always been fascinated by the use of hands in ancient art. I have been lucky enough to see with my own eyes the use of pigment sprayed across hands on cave walls by the first nations people of Australia, and this is seen all over the ancient world. It felt like we were together, connect across millennia," Smith tells PetaPixel.
Smith's good friend Jason Rinehart uses a similar technique as Smith employs in DUALITY, an inspiration that Smith was quick to point out to PetaPixel and discusses in the video featured above. A clip from that longer video is also available below.
Although Smith did not make special mention, likely because he is a very humble artist, it is worth noting that he actually inspired Rinehart more than a decade ago with his ball of light work.
"I remember being so captivated by the story Denis Smith from Australia was telling and how relatable what he was saying was. The story was so real with raw human emotion that ultimately became a huge inspiration which propelled my own creativity to really start pushing my light painting work," Rinehart writes on Instagram. "Well, here we are now, 11 years later, and the same artist that inspired me is talking about how I've been a huge inspiration for him through his new project, DUALITY." Rinehart continues, expressing the honor of being an inspiration to his friend who more than a decade ago inspired him.
Like Rinehart, Smith employed the aid of his daughter, Brittany, for some of the images in DUALITY.
"My daughter Brittany lives in New Zealand, my home country. She is an incredibly talented artist. Through COVID, we were separated for an extreme amount of time, one of the most painful periods of my life. During the creation of the DUALITY body of work she visited, and we were in my studio photographing some of her work for an upcoming show. I asked if she would help me make an image," Smith says.
"We spent a few hours in the studio, working together, in itself a moving, beautiful experience. An image came from that session that ended up on the exhibition. That piece, DUALITY FIVE, became my favorite in the entire body of work. It is her hand in the image. She is behind, reaching out, on the other side. Without really trying it ended up representing how similar her and I are, but also the deep sense of disconnect I feel with her being so far away."
The father and daughter team also collaborated on DUALITY TWELVE. This work uses a piece of Brittany's art as an out-of-focus background, while Denis created a sharp, defined piece of light painting in the foreground.
Colors
"When I went into the studio to start creating this body of work, I had no real direction around color. I knew there would be some black as a juxtaposition to the bright vibrant colors of the past. As the lights turned off, and the work started to develop, warm tones, reds, orange and amber came. These are colors that have always made me feel intense, but oddly safe," Smith explains.
While there are pink, purple, and blue hues that appear in DUALITY, they exist mostly as pleasing complements. They add color contrast and create lovely palettes.
"There were 3,500 images made in the DUALITY sessions, and when I look back over them, warm colors dominated," says Smith.
Painting
"This was the first time I have ever applied paint as a form of artistic expression, as opposed to renovating the house," Smith says. While new to him, he is a natural at it. Of course, that makes sense, given that Smith has been painting with light for many years.
However, there is something distinct about using acrylics on a two-dimensional space and then integrating it into a three-dimensional space alongside light, which is then, of course, presented as a two-dimensional photograph. Translating depth onto a print is challenging enough in and of itself, but Smith has taken it further in DUALITY.
"It was an incredibly rewarding experience," Smith says.
Juxtaposition
Juxtaposition in DUALITY goes far beyond color palette or artistic medium — there is a constant theme of contrasting twoness that runs throughout the entire body of work.
Smith touches on it in his exhibition walkthrough video and references it when speaking with PetaPixel, but it is worth further consideration when viewing his images. The balancing act between the real and the unreal is acutely felt throughout the work.
The bright, vibrant light crafting precise shapes against a background so black that it is practically a void is exceptionally impactful, especially when hands are in the image, coming at the viewer from the darkness.
While the idea of "liminal space" has become popular online in recent years, even being the subject of dedicated subreddits and social media accounts, places of transition have played a vital role in art throughout much of human history.
A state of transition can be physical or psychological, and DUALITY encapsulates both in a compelling way. By using visual representations of physical depth in his work, Smith captures moving from one place to another. However, the intimate and personal nature of the work reflects Smith's growth as an artist and the transition he has experienced personally and professionally in the last few years.
More from Denis Smith
Denis Smith's brilliant photography is available on his website. He also has a YouTube channel, School of Light, focused on light painting. Denis is also back on social media with a renewed focus on connecting with fellow artists.
All the images in DUALITY are available to purchase through Smith's website.
---
Image credits: All images © Denis Smith