Framed Photo Found at Estate Sale for $2,200 May Sell for $250,000
In late 2021, photographer Jeff Sedlik acquired an old, faded, framed print at an estate sale in Connecticut for $2,200. After opening it, he realized it was actually two signed Alfred Stieglitz prints that together may sell for upwards of $250,000.
Sedlik's find has now been put up for auction through Christie's and bidding will start tomorrow, September 19. The duo of photos is titled A Venetian Courtyard and has been dated to 1894 and the Christie's auction listing includes the two platinum prints, flush-mounted on board, signed, and annotated in pencil.
"A Venetian Courtyard, 1894 is a quintessential representation of the aesthetic movement known as Pictorialism, a movement to which Alfred Stieglitz was central. Taken in Venice, Italy on a honeymoon trip with his first wife, Emmeline 'Emmy' Obermeyer, this image, among many other significant pictures produced on that European voyage, burnished his reputation as the principal American photographer of the age," Christie's writes.
"In this carefully balanced composition, a woman stands at an ancient well in the center of the image, a bucket of water at her feet. The well was one of many scattered throughout the city, serving the residents of the storied city. Sunlight dapples the buildings in the background. Behind Stieglitz, the gentle murmurings of a canal could be heard just feet away from where he stood. Ever so soft in focus, the woman is seen in profile, seemingly lost in her work. The mundane routines of her morning have been romanticized, placing the viewer in a position of silent witness to a simple and daily act. In work of this period, Stieglitz demonstrates a dedication to the themes of shared humanity and quiet reflection. A Venetian Courtyard is an important example of the intertwining of these sentiments."
This particular pair of prints was apparently believed to have been lost or, worse, destroyed before it was acquired by Sedlik in the estate sale auction two years ago.
"It is arguably the most important print of this key image, only a few of which are known to exist," Christie's continues. "To our understanding, it is the only print of this image made for exhibition by Stieglitz, and the only print of this image actually exhibited during his lifetime."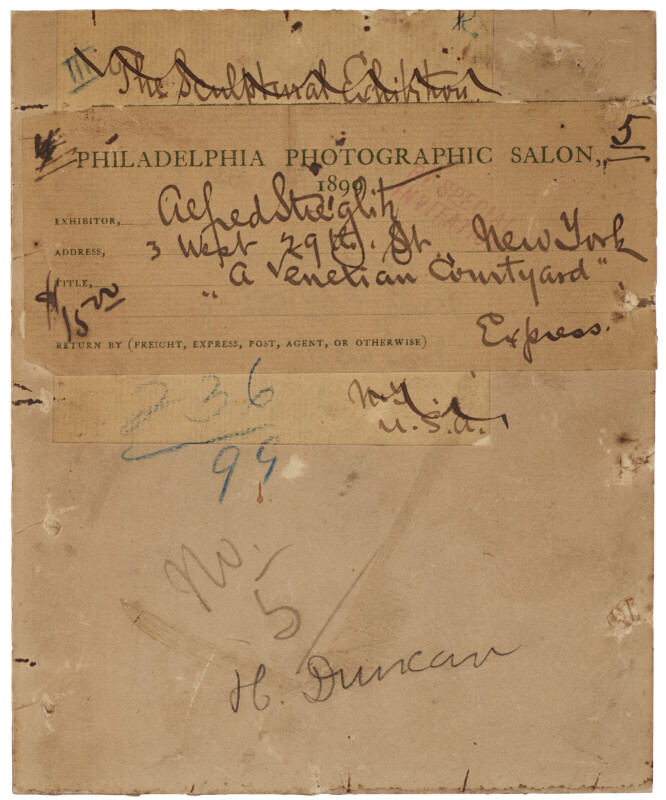 Prior to its recent rediscovery, this particular print was last publicly seen in 1899 when it was exhibited at the Camera Club of New York. The cropping, which is unique to this print and considered to be Stieglitz's favorite version of the photo, mixed with the extreme rarity of this photo (there are only five known to exist, two of which are included in this auction listing) contribute to its value.
Christie's estimates it to sell for between $150,000 and $250,000 — a massive increase in value compared to what Sedlik acquired them for.
---
Image credits: Christie's