Microsoft Adds Photoshop-Like Background Removal Feature to Paint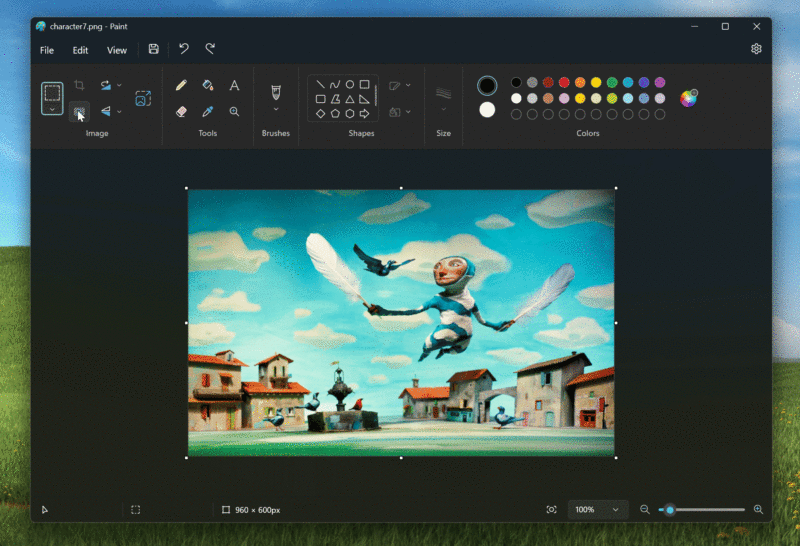 Microsoft Paint is not dead. In fact, it's getting a background removal tool à la Photoshop.
The update is starting to roll out to Windows Insiders in the Canary and Dev Channels, according to Microsoft. The Windows Insider Program lets people sign up to preview upcoming features. Anyone can register using their Microsoft account.
The new tool is meant to detect and isolate the subject of an image, allowing users to remove the background with a single click. To use the feature, users can find the new remove background button in the toolbar. It doesn't seem to be labeled, but it looks like an outline of a person with lighter diagonal stripes in the back. Users can also use the rectangle tool to hone in on what part of the image they want highlighted.
Just last month, it was reported Microsoft planned to add artificial intelligence features to some of its apps, including Paint, Photos, and Camera. While the background removal tool has been officially announced, the rumor was that Paint could get AI image generation, like Dall-E. Regardless, Microsoft Paint clearly seems to be doing better than when it was briefly killed off a few years back.
Now, Photoshop's version of this tool tends to have mixed results. The difficulty or ease of the feature heavily depends on how busy the background is, how clearly the lines between it and the subject can be delineated, and how much contrast there is between the colors. It will require some testing to see how well Microsoft's Paint app version stacks up beyond the short video clip provided in the announcement.
The addition certainly adds to Microsoft Paint's functionality for a streamlined editing experience. The Windows app isn't attempting to mirror the full functionality of Photoshop, but the ability to easily remove backgrounds will likely prove useful to many.
People can also provide feedback on the new feature in Feedback Hub (WIN + F) under Apps > Paint, according to Microsoft. The company said it will even be looking for thoughts and suggestions regarding the update.
Paint and Photoshop aren't the only apps that now have one-click background removal. Canva does as well, albeit behind a paywall, as does Adobe's free Express app.
---
Image credits: Microsoft