New SKN Plugin for Photoshop Simplifies Skin Retouching Without AI
NBP Retouch Tools has announced a new $99 SKN plugin for Photoshop that promises to transform skin editing into a seamless process that's efficient and enjoyable for retouchers, and doesn't just rely on artificial intelligence (AI) "magic" to complete.
According to the company, the new plugin avoids the use of AI as it can often lead to unpredictable results and restricts individual creativity. Instead, it automates the use of functions and tools that experienced retouchers already employ regularly and delivers a finished result that is easy to use and incredibly fast for both beginners and professionals to leverage.
"I've never been disingenuous about it, I understand that panels like SKN are not for every edit or every project. However having the ability to clean up skin on a portrait quickly, with flexibility, and without the results looking cheesy, that's a function even I myself use across many things. But to be clear, the Tone functions of SKN are incredibly powerful for any portrait project even at a commercial level," says NBP Plugin Tools Founder Nino Batista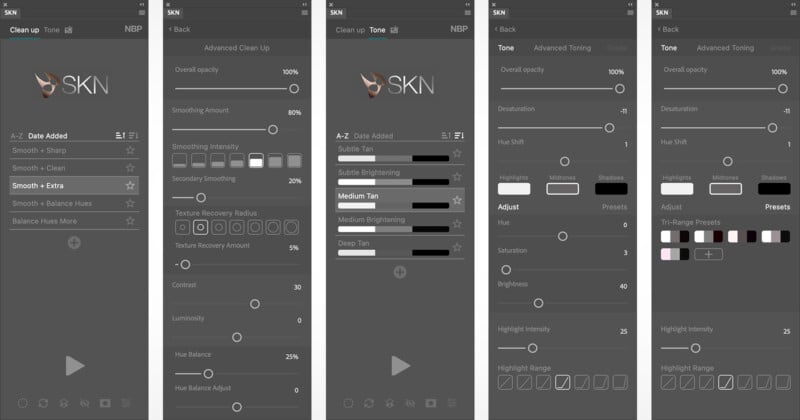 Batista says SKN was designed for flexibility in a familiar place for Photoshop users by placing everything in a group within their layers panel. What makes this tool different from most other plugins and AI tools for Photoshop is that it's entirely non-destructive and doesn't "box you into an interface where you have to commit to settings" in an all or nothing format.
Once the tool is initially run, users can make adjustments to all of the settings (including the masks) using the interactive panel or manually within the generated layers and groups. If an editor makes adjustments to any of the settings, buttons, and sliders within the panel, the changes are automatically applied to the layers created in the Photoshop file, providing real time feedback on the changes.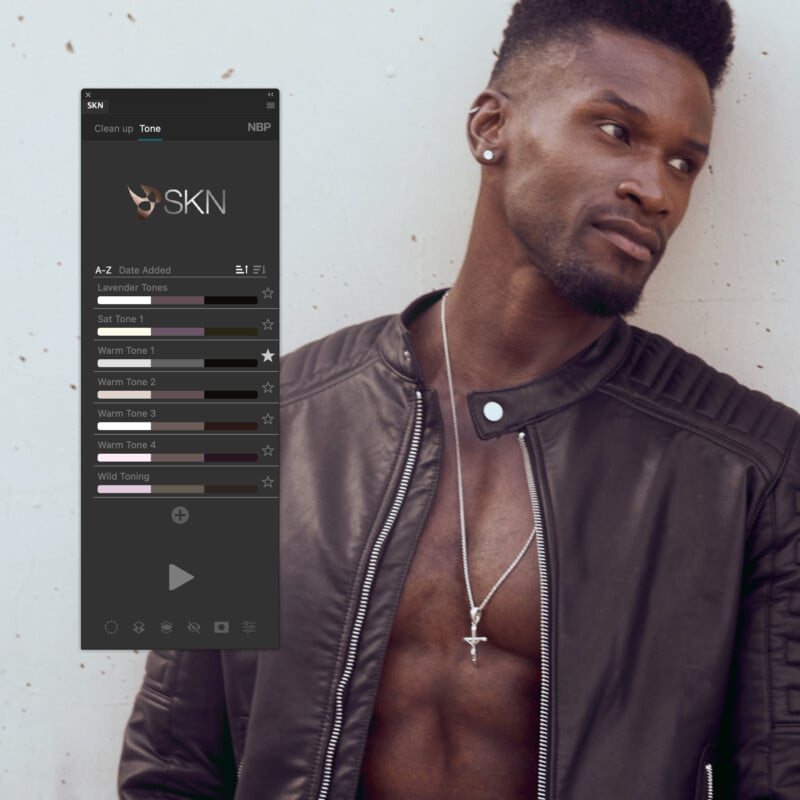 The process is meant to make cleaning up skin and applying a color grade (tones) fast and easy to help creatives speed up their workflows. The combinations effectively makes this a two-in-one sort of panel. This includes the "Clean Up" functions often referred too as "skin smoothing", which gives users the ability to leverage control over various frequencies (modification, adjustment, reprocessing at different settings) directly on the Layers window and with the flexibility to change things on-the-fly.
The Tone functions apply a customizable color gradient that dials in to the exact skin hue and shaping users want and gives them control over the highlight intensity/range, gradient map color washes (including multiple blend modes), and several overall settings that can be adjusted with just a simple click.
Additionally, users have the ability to save the Clean Up and Tone functions as a preset within the SKN panel so they can be reused on other images to save even more time in their workflows.
Pricing and Availability
NBP SKN is scheduled to be available September 8 for $99 on both Windows and Mac platforms running Adobe Photoshop 24.5.0 or newer. Existing customers of NBP Magic Automatic 2023 and/or NBP Actions 14: Skin Depth Pro will be emailed a code for a further discount. Those interested in the plugin can view an entire series of videos detailing its capabilities and instructions on the company's YouTube Channel.
---
Images Provided by NBP Retouch Tools