The Khadas Mind Blurs the Line Between a Desktop and Portable PC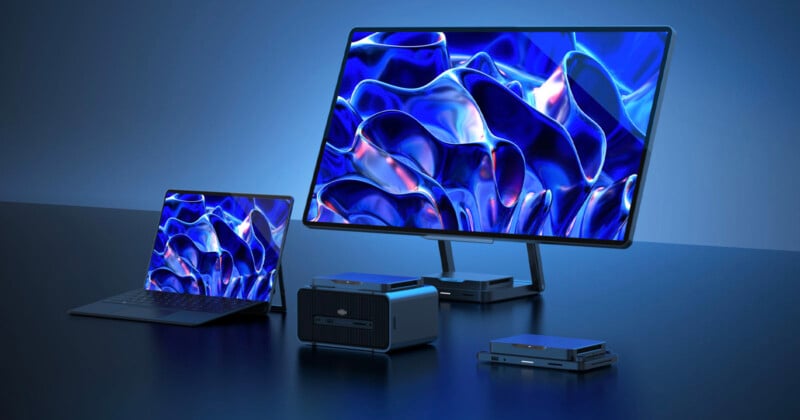 The Khadas Mind is a new workstation solution that aims to be a computer that travels with a user but is just as comfortable in a permanent location. Designed to fit into an ecosystem of accessories, it blurs the line between desktop and portable PCs.
Designed by Khadas, the Mind is at its core a small rectangle that fits easily in a purse or backpack. The "mind" in the product name can be thought of as just like the core brain of the experience that can connect to different peripherals depending on the desired use case. The computer itself weighs a scant 0.99 pounds and is a quarter the size of an A4 sheet of paper, making it significantly lighter and smaller than a laptop.
Additionally, it can integrate with a 5.55Wh standby battery that allows it to sleep for up to five hours which provides a distinct advantage over other mini PCs. The thought is that the tiny computer can be disconnected from a wall power source without needing to shut it down, like a laptop.
The computer is powered by an Intel 13th-gen Core i7-1360P processor with 12 cores and 16 threads which can peak at 5 GHz. On its own, it uses integrated Iris XE graphics and 32GB of dual-channel memory. Khadas Mind also includes an internal M.2 NVMe PCIe 4.0 2230 SSD (512GB/1TB) with an additional PCIe 3.0 M.2 2230 SSD slot for storage expansion located in a compartment in the base of the Mind.
Khadas says that the Mind uses a "remarkably effective" heat dissipation system that features VC liquid cooling, pure copper cooling fins, and a cooling fan based on magnetic levitation. The company promises that even when under 100% load, the CPU temperature maintains itself below 80 degrees Celcius while the area around the exhaust vent on the casing remains a considerably cooler 40 degrees Celcius.
The Mind features two USB-C ports, an HDMI port, and two USB-A ports. But that's not where the Mind ends, because it can grow and adapt to multiple needs.
An Evolving Modular Mind
On its own, the Khadas Mind would be a relatively impressive but power-limited miniature PC that would be nice, but not super unique in the computing space that would lend itself to the office space but probably not for creative professionals or gamers. Where it separates itself is in the suite of accessories that Khadas has designed to work with the Mind that turns it into a computer that can evolve to be basically anything a user wants.
The Mind is designed to be modular thanks to a unique docking capability that allows high-speed, high-bandwidth interfacing with other computing parts that change how it can be used.
The Mind Link interface is a 122-pin, multi-purpose socket connector that supports USB 3.2 Gen2, HDMI 2.1, PCIe 5.0, and provides a reliable 10A power supply with up to 10,000 re-plug cycles, Khadas says. This connection will allow it to work with the Mind Dock, Mind Graphics, and Mind xPlay units, but Khadas doesn't say its possible use cases end there and leaves the door open to additional links in the future.
The Mind Dock
First is the Mind Dock, which expands the I/O of the Mind by providing eight additional ports (including one USB-C, two USB-A, and two more HDMI ports), a power supply, and AAC speakers. When linked, Mind Dock supports up to four simultaneous 4K 60Hz displays, includes a built-in SD card reader with a 200 MB/s transfer speeds, and a 2.5 Gbps Ethernet port.
Mind Graphics
When integrated Irix XE graphics aren't enough (and they rarely are outside of simple computing and word processing), the Mind Graphics unit significantly beefs up performance via an Nvidia GeForce RTX 4060Ti desktop graphics card. Utilizing an electronic switch, Khadas says the Mind Graphics effectively prevents unintended disconnections of the graphics card while it is in use.
When connected, the Khadas Mind becomes significantly more powerful and able to handle far more demanding workloads, effectively turning it into a true desktop computer whose only major bottleneck would be the P-series CPU.
Mind xPlay
Khadas has aspirations of adding more modules that allow the base Mind unit to adapt even more readily to different demands, and the first in that line will be the xPlay, a portable display that has a built-in battery that basically turns the Mind into a two-in-one laptop and tablet.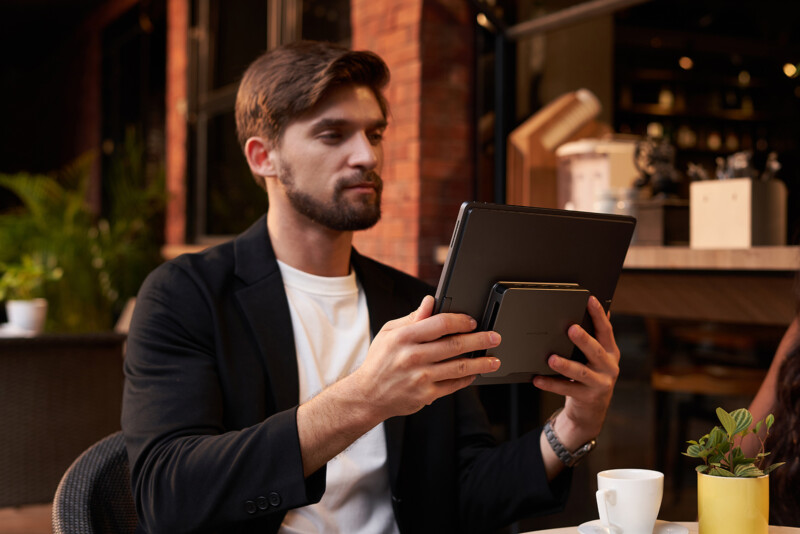 Khadas also intends to release the Mind Talk, a unit designed to support video meetings with better audio quality.
Pricing and Availability
The Khadas Mind is currently available to back on Kickstarter and it has blown past its funding goal within just a few hours of launch, already pulling in more than $130,000.
The base Khadas Mind unit is expected to retail starting at $800 but is available to back starting at $600. The Mind plus the Mind Dock starts at $928 (will retail for $1,278) while the Mind along with the Mind Graphics unit can be backed for $1,498 (eventual retail will cost $2,098). Altogether, the whole Mind bundle can be backed starting at $1,627, which is a discount off the eventual retail price of $2,277.
---
Image credits: Khadas
---
Disclaimer: Make sure you do your own research into any crowdfunding project you're considering backing. While we aim to only share legitimate and trustworthy campaigns, there's always a real chance that you can lose your money when backing any crowdfunded project.