Love Fujifilm Simulations? You Can Get Official Patches to Rep Your Favorites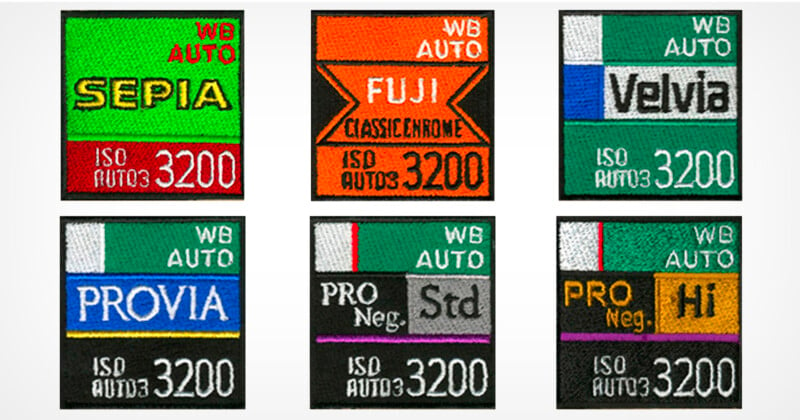 One of the reasons Fujifilm digital cameras are so popular among photographers is because the company offers simulations that mimic the look of classic analog films. Now, the company is giving you a way to show off your favorites: embroidered patches.
Fujifilm touts its X Series cameras as particularly great at reproducing color. The company says that images look "superb" straight out of camera thanks to its knowledge of color science that dates back decades.
"Based on this, we developed FUJIFILM Film Simulation modes, so photographers using X Series and GFX digital cameras can experience the same performance," the company says.
"Our Film Simulation modes mimic not only the color of some famous analog films, but the tones and contrast, too. You can access them through your camera's main menu system, but it's faster through the Quick Menu (just press the Q button), or a dedicated function button (Fn) assigned to Film Simulation modes."
Knowing how popular these film simulations are, Fujifilm has produced a set of 11 embroidered appliqué patches. These machine-embroidered patches can be heat-applied to fabric surfaces like clothing or backpacks and let photographers show off their favorite simulations.
It's very uncommon to see fashionable branded merchandise from camera manufacturers since few have anything that really begs to be shown off (perhaps Leica is another that might be able to do it). Fujifilm, therefore, is in a bit of a unique position since all of its simulations are based on actual analog films from the past which were individually branded. As such, each of these patches is unique and also has the "nostalgia" factor working in their favor. Photographers rarely have much style to their equipment choices — especially in the bags department which typically features varying degrees of blacks and grays — so adding a touch of color will very likely be a welcome addition.
The patches measure two by two inches square and promise vibrant textural embroidery and long-lasting application. The company currently offers Acros, Astia, Classic Chrome, Classic Neg, Eterna, Monochrome, Pro Neg Hi, Pro Neg Std, Provia, Sepia, and Velvia patches for $9.95 each. All of the patches can be ordered directly from Fujifilm's website.
---
Image credits: Fujifilm