Kodak Specially Manufactured Black and White 70mm Film for Oppenheimer
As "Barbenheimer" sets records at the box office this weekend, Kodak has revealed it manufactured a special black and white film stock for use in Oppenheimer.
The Eastman Double-X Black and White film in 65mm was specifically created for use with the IMAX and Panavision System 65mm film cameras.
Oppenheimer tells the story of theoretical physicist J. Robert Oppenheimer, known as the father of the atomic bomb. The movie follows a non-linear narrative and director Christoper Nolan and cinematographer Hoyte van Hoytema use black and white to distinguish between two time periods.
"It was a gutsy choice. One of my very first phone calls was to Kodak, enquiring if they had any 65mm large-format black and white films tock," van Hoytema tells the Kodak website..
"But they had never made that before, and early on it was uncertain as to whether they would or could achieve it in time for this production. But they stepped up to the plate and supplied a freshly manufactured prototype Double-X 5222 65mm film stock, delivered in cans with handwritten labels on the outside."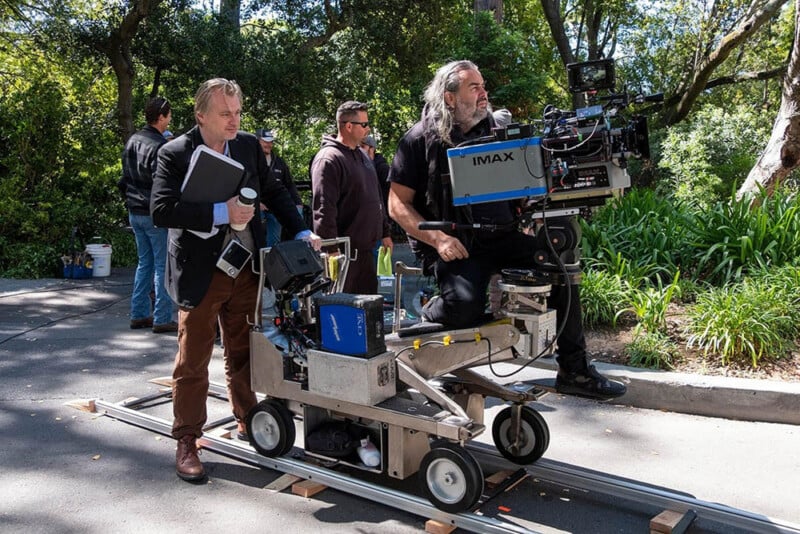 But even though Kodak made the working prototype, the film stock had never been run through an IMAX camera before and it required a reconfiguration of the laboratory film processor.
"It became quite a complex engineering process — encompassing things like the thickness of the backing for the film emulsion, and making new gates and pressure plates in the cameras so as to avoid scratches," says van Hoytema.
"But wow, was it worth it!? When Chris and I saw the first projected tests — portraits of Cillian Murphy and Robert Downey Jr. — we were blown away and were like little kids with big smiles. We'd never seen anything like it — very special, very beautiful.
"Although I shoot a lot of commercials using digital cameras, I still believe the film is more engaging to watch and is much closer to the human visual experience.
"There's still nothing that beats the resolution, depth, color, and roundness of the analog image, nor in the feeling overall that film conveys. When you watch an analog print, especially in an IMAX theatre, the level of impact is freaking inspiring."
Van Hoytema says there are plenty of other ways to create black-and-white images but nothing compares to the real thing.
"Shooting B&W also took me right back to my student days at the Polish National Film, Television & Theatre School in Łódź, where understanding the greyscale, using your spot and incident light meters, and making your own personal judgment were critical in making the final image," he adds.
The final film reel for Oppenheimer weighs 600 pounds and is 11 miles long. The movie is in cinemas now.