Kayaker's Scary Encounter With Orca Pod Leads to Dream Photos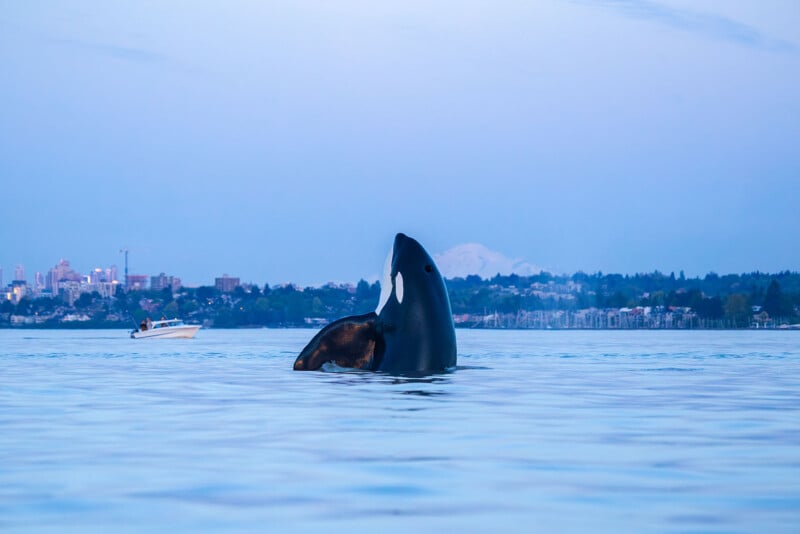 A kayaking photographer in the waters around Vancouver experienced "awe, terror, and exhilaration" all at once when a pod of killer whales surrounded his tiny vessel.
On May 10, Liam Brennan was out on the water for a casual kayak when he got the photos of a lifetime that show the enormous orcas swimming in front of the Vancouver skyline and even spy hopping with Washington's Mount Baker in the background.
"I heard what I thought was a whale blow way off in the distance," he tells PetaPixel. "I looked at the horizon and I saw the big tall dorsal fin of the male orca and immediately I knew that it was an orca and my dreams were coming to reality right there."
Brennan says he spotted the pod of orcas under one kilometer away (two-thirds of a mile) but then they swam underwater and appeared just ten to 15 meters away (30 to 50 feet) from his kayak.
"At one point I was surrounded, I had two large male orcas whose dorsal fins are taller than me," he says.
"Their fins alone are over six feet and then their mother was just behind me too and I've spoken with researchers that have helped me identify that these are in fact transient orcas that consume marine mammals which is different to the resident orcas which are also in the Salish sea here in British Columbia."
Brennan, who as well as being a handy photographer has also just graduated from an environmental science undergrad course, says he has never had an experience like it.
"I was nervous," he adds. "I know they've never killed or really even attacked humans in the wild other than this recent news from the Strait of Gibraltar.
"So that was some reassurance but it was a mix of awe, terror, and exhilaration all summed into one and really fortunate how the photos turned out and I had the reflexes and the knowledge to rely on."
Science and Photography
Brennan is passionate about both photography and ecology and he was able to identify the pod of orcas and even individuals from the nicks on their fins, their saddle pack (the great area behind the dorsal fin), and their eyepatch.
"My images were good enough that a researcher was able to identify the pod and in the case of the spyhopper you can actually see its head to identify the individual.
"It's a pretty amazing testament to science that I can look back and read news articles about these individual whales. There were news articles about people watching them hunt sea lions and porpoises and even eating a whole whale — certainly eating things way larger than me and the kayak which was pretty cool."
Capturing Killer Whales on Camera
Brennan has a brand new Canon mirrorless R6 which was safely at home because "saltwater doesn't mix with electronics" so he was using an old Canon 6D which he describes as "ancient."
"I have the old 100-400mm Canon L lens too — the old tech gets the job done," he says.
"I always bring my DSLR with me just in case something like this happens. The skyline images are something I had envisioned many years before. It's such a strong juxtaposition and I actually haven't seen anyone take a similar image."
To get a sense of how close the orcas were to him, he was shooting at around 200mm on the full-frame sensor of a 6D.
"It really helps convey how wildly close these animals approached me," Brennan adds.
More of Brennan's photography can be seen on his website, Instagram, Facebook, and Linkedin.
---
Image credits: All photos by Liam Brennan.