A Photographer's Journey Capturing the Beautiful Violence of the Ocean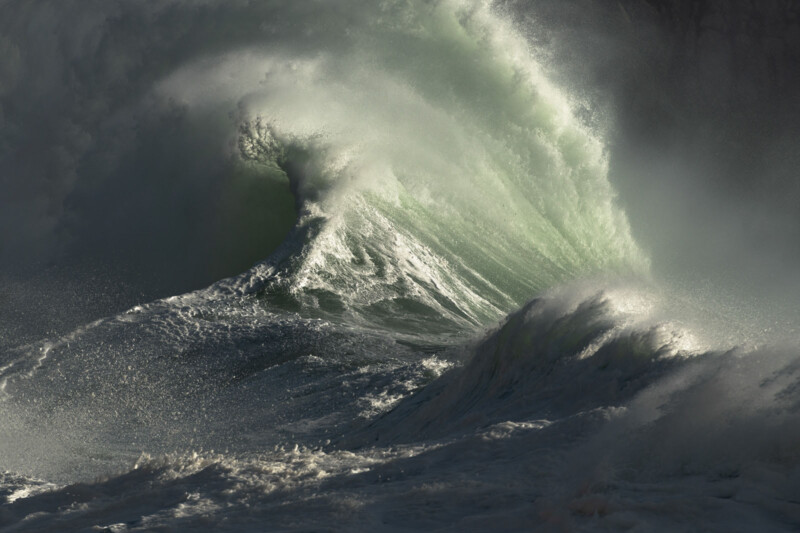 British professional photographer Mark Dobson of Wild Seascapes is well-known for his spectacular seascape and water photography. His work enchants viewers by showcasing water's staggering power and beauty, especially violent ocean waves. PetaPixel spoke with Dobson to learn more about his brilliant work.
A Focus on Mood over Moment
While many landscape — or seascape — photographers focus on the entirety of a scene and try to capture brilliant, sweeping vistas, Dobson's focus is recognizing the "mood" of a scene and starting from there.
"My main approach is to capture the mood rather than the overall scene. This is achieved by studying the waves and watching where the drama takes place. When arriving at a location, the camera will stay in the bag for thirty minutes or so. I'll watch the light and how it interacts with the waves," Dobson tells PetaPixel.
When surveying the ocean, it seems like there can easily be too much to consider. There's a lot there. Dobson looks for areas where waves are colliding, as "this can create incredible shapes," he explains.
"One other thing I'll be looking out for is seabirds. They can add so much to an image. Patience is needed here waiting for the birds and the wave to work together in unison. Composition is still required to achieve an impacting photo," Dobson adds.
Scouting and Focal Length
Having grown up along the British coast, Dobson is intimately familiar with coastal regions' ever-changing tidal conditions and rapidly shifting weather. It's not a matter of him throwing his gear in a bag and heading to the seaside; he plans around tidal conditions and keeps a close eye on the swells.
"Depending on the direction of the swell, tide times, and light. I'll decide on a location the day before. Different beaches or coves can work best on different tides. I have areas that work for waves on low, mid, or high tide. This opens up a great choice for sunrise or sunset shooting. I'll always spend a while studying the waves when arriving at the location. Before settling on a position to shoot from," he explains.
He also adds that researching ocean charts is extremely helpful.
"Researching charts is a massive help; predicting when the conditions will be optimum for shooting waves. Looking at the larger picture, I'll check the swell charts in the North Atlantic during winter. Storms often start to materialize around Greenland and Northern Canada before making their way across the Atlantic, and intensifying before they reach our shores in the UK and Northern Europe. During the summer and early Autumn, I'll keep a close eye on hurricane season, tracking any potential swell that may head our way," Dobson says.
As for focal length, Dobson's go-to choice for shooting waves is around 400mm — much longer a lens selection than most other genres of landscape photography.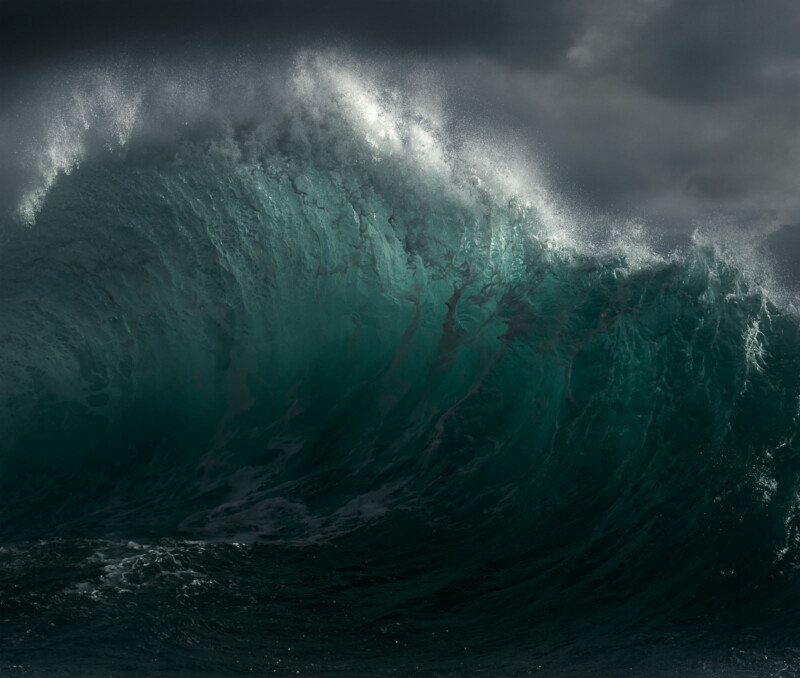 Shooting Speeds
For a long time, Dobson says he used his camera's continuous high shooting mode, to ensure that he captured the perfect moment. However, with experience, he has shifted away from that and mostly uses continuous low.
"Memory cards can fill up quickly when shooting in high burst modes," Dobson remarks.
As for shutter speed, it depends on the mood he's trying to capture. In cases when Dobson wants to capture every droplet of water, he starts at 1/1000 second shutter speeds.
"Depending on lighting conditions, the ISO sometimes has to be increased to achieve this speed. In constantly changing light, you'll need to keep a close eye on your exposure and adjust as necessary," Dobson explains.
Sometimes there's just not enough light to capture high-speed action.
"I'll make the conditions work in my favor. I'll shoot long-exposure shots of the waves. I've found this to be a creative advantage. You'll always return home with images regardless of what the weather throws at you."
Composition and Color are Critical to Mood and Impact
Dobson previously explained that he constantly scours the seas for areas where waves collide and light breaks through the water. These areas of light are vital to his compositions.
"I'll concentrate on getting the right balance of darks and lights within the frame, honing the viewer into the most important part of the image. Our eyes are attracted to light, and this is where I'll compose the most important part of the image," Dobson says.
When translating the ocean's mood into a photograph, color is essential. Dobson is especially adept at capturing the critical colors of the ocean.
Dobson explains his color workflow: "I used to shoot in auto white balance until about four years ago. I changed to primarily shooting using K (Kelvin mode). This has proved to be much more effective. While white balance modes can be changed in post-processing. I've found the Kelvin setting to give reliable results. If I decide to make any color changes within Adobe Photoshop, the selective color adjustment will be my go-to process."
Dobson's Return to the Coast Sparked a New Career
"I grew up on the South Coast opposite the Isle of Wight. We lived close to the sea, and I'd spend weekends with friends riding our bikes on the seafront. I later moved to London and spent a great deal of time living the city life. It wasn't until 2017 that my wife and I moved to Cornwall and began a new chapter. That's when my professional career as a photographer began. I was originally a postman for fifteen years," Dobson says.
Serenity Has Its Appeal, Too
While Dobson is perhaps best known for his images of violent, crashing, turbulent waters, he also has images of traditional landscape scenes and even more abstract photos of still waters.
"While shooting clam waters may not carry the thrill and excitement of a storm. It does offer the opportunity to slow things down. I like this approach. Watching the ever-changing patterns on the ocean's surface looking for pockets of light," says Dobson.
While he often uses a telephoto lens when photographing wild seas, his approach is quite different when shooting calm waters.
"The technique is to get as level with the ocean surface as possible without getting the camera wet. Patterns are particularly important here for an impacting image. Both slow and fast shutters will work here, try both and see which results stand out the most," Dobson explains.
More from Mark Dobson
A lot goes into capturing beautiful seascape photography, including location scouting, understanding the weather, and of course, all the artistic and technical aspects of making photos. Mark Dobson offers numerous workshops through his website, including storm chasing in Cornwall, England, and workshops in beautiful European locations including France, Iceland, and Portugal.
More of Mark Dobson's brilliant seascape photography is available on his website and Instagram.
---
Image credits: All images © Mark Dobson / Wild Seascapes