Wildflower Photography: Tips to Capture the California Superbloom
Capturing wildflowers can be an incredibly enriching experience that allows you to immerse yourself in the vibrant colors, delicate petals, and the intoxicating scent of nature in full bloom.
However, it can be challenging to find the right approach to truly capture the essence and beauty of these ephemeral wonders. There are a few techniques that I love to use to really get the most out of wildflower photography, and I used them specifically to create a new series capturing the superbloom. Here are my three favorites.
Technique 1: Painterly Intimates
Using a telephoto lens to compress the scene and focus on small details of the landscape is a technique I love. It allows you to showcase the ridges of the hills and capture different color patterns. This type of photography requires slowing down and analyzing the scene to identify unique patterns and structures.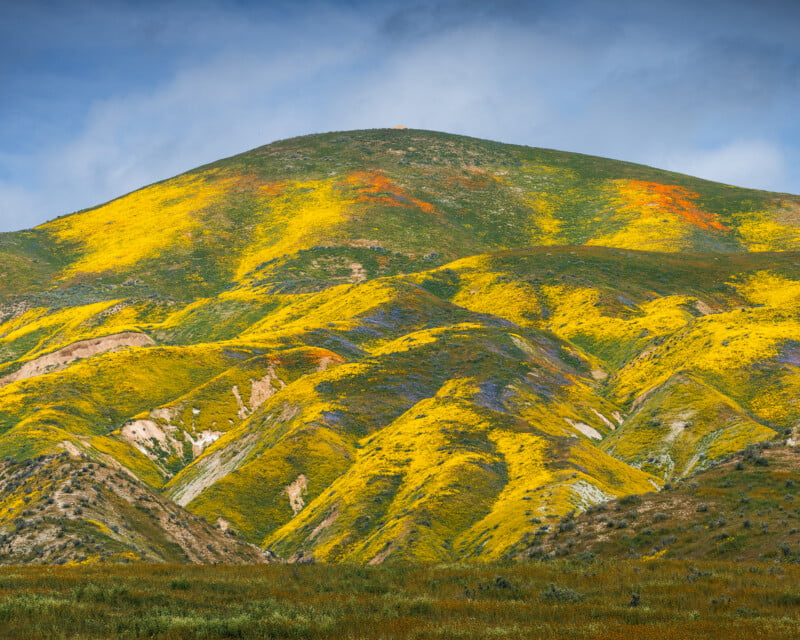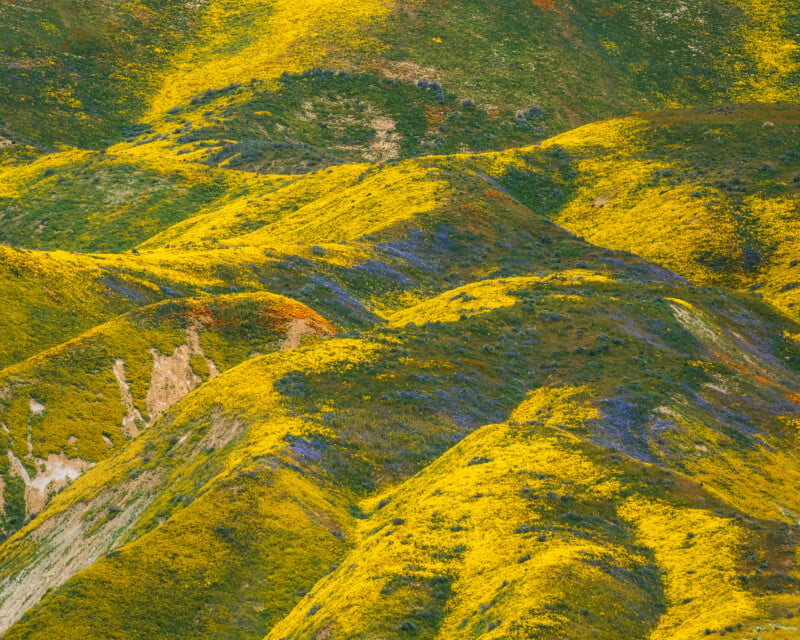 If a composition doesn't immediately inspire you, don't give up. Your initial test shots may not be portfolio-worthy. If using the telephoto lens feels overwhelming, start wide and gradually zoom in, exploring intriguing shapes and areas.
Technique 2: The ULTRA Wide
To emphasize the beautiful shapes of the flowers, try getting up close with a wide-angle lens. This technique offers a surreal perspective on landscapes. While it may not resonate with everyone, I personally enjoy magnifying tiny flowers within the frame. To capture these types of images effectively, include a focal point or background subject for the flowers to lead up to, such as trees, rock formations, or mountains.
When getting extremely close to the flowers, consider focus stacking—capturing multiple images at different focal points and then merging them. Use a higher aperture like f/16 to minimize the number of images needed. Focus stacking can be done in software like Lightroom, Luminar, or dedicated programs like Helicon.
Helicon is by far the best in my experience. Be mindful of wind conditions, as it can make focus stacking challenging almost impossible. If the flowers are swaying, wait for a moment of stillness to take your stack. Or if the wind does not subside, pull your camera back to capture fewer images. With larger flowers like lupine, focus stacking may not be necessary to showcase their beautiful shape.
Technique 3: Aerial Photography
Capturing wildflowers from above offers a unique perspective of the flowers. You can of course shoot grand landscapes from above, like below. But my personal favorite technique is to aim the camera straight down. This provides an abstract and textured view of the flowers. Move the drone around in different positions to isolate shapes and sections. I am always looking for symmetry, repetition of shapes and different color arrangements.
I hope some of these tips are helpful and if you haven't tried one of them I highly recommend it. Play around and see which ones resonate with you the most.
---
About the Author: Michael Shainblum is a photographer, filmmaker, and educator based in San Francisco, California. He has been working professionally as a photographer and filmmaker for 17 years since the age of 16. He has been commissioned by clients such as Disney, Nike, Samsung, Apple, and Google. He also shares his knowledge via his Youtube Channel, Instagram, and workshops.