Satellite Photos Show the Scale of California's Stunning Superbloom
Southern California's superblooms look absolutely stunning from space right now, and it's likely to get even more spectacular in the coming weeks.
NASA's Landsat 9 satellite captured breathtaking photos in the Carrizo Plain National Monument this month, showing a blossoming landscape. After an unusually wet and stormy winter, there is an abundance of flowers to marvel at. These superblooms, as they're known, don't have an official scientific definition, the Los Angeles Times reports, but any large enough blossoming of flowers can be called a superbloom.
But as Death Valley National Park ranger Abby Wines tells National Geographic, it's still too early to tell how spectacular the superblooms will end up being or how it will compare to recent phenomena, though 2023's flowers are off to a great start.
There are several ideal viewing spots the California Department of Parks and Recreation recommends in southern California as well as the Bay Area. But if you can't make it out to the West Coast, NASA's Landsat 9 satellite has you covered. If anything, it's probably the best view out there.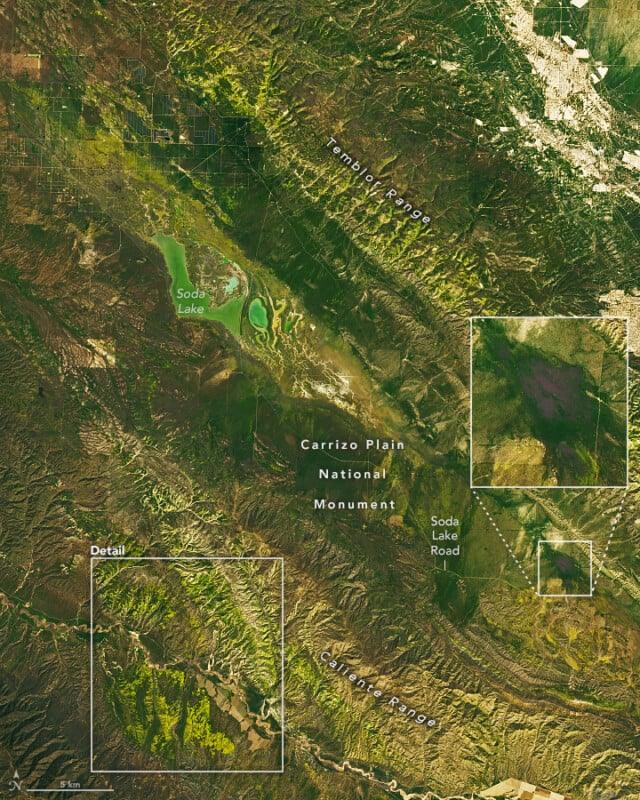 The sea of purple amid the lush green mountains is awe-inspiring, especially as it captures just how vast the superbloom really is. On the ground, meanwhile, you might have a harder time truly grasping the beauty of the surrounding nature.
"It's really hard as a naturalist to enjoy the places that are overrun with tourists and Instagram models and people that are not used to being out in these places," as Joan Dudney, UC Santa Barbara assistant professor at the department of environmental studies, put it to the LA Times.
Much of the area is also filled with traffic from Coachella's music festival at the moment, as The 2023 Theodore Payne Foundation Wild Flower Hotline notes.
"The pleated slopes of Carrizo Plain National Monument are colored yellow with wildflowers. Visit soon as the region is beginning the downside of peak bloom," the Theodore Payne Foundation's latest update reads.
The Foundation, which provides tips and information essential for flower finders also reminds people not to trample or collect the blossoms, to stay on the trails, and of course, to take plenty of pictures to remember the incredible sights.
---
Image credits: NASA Earth Observatory images by Lauren Dauphin, using Landsat data from the U.S. Geological Survey.