F1 Bans Fan's 'Pro' Camera, So He Brings a Floppy Disk Camera Instead
A Formula 1 racing fan attending the recent Miami Grand Prix was told at the gate that he couldn't bring in his mirrorless camera, so he came up with an unusual alternate plan: he instead decided to shoot the race with a floppy disk camera made in 2000.

Charlotte, North Carolina-based photographer and Formula 1 enthusiast James Tu says that Formula 1's arrival in Miami last year was a dream come true.
"Miami F1 was a stars-aligning event for me," Tu tells PetaPixel. "As an automotive enthusiast, I dreamed for years of going to an F1 race to experience the sounds, energy, and excitement in person, and this year I was gifted tickets to attend on the start/finish line through a friend!"
Restrictions on Bags and Cameras
Leading up to the grand prix on May 5th through 7th, Tu studied the event's policies and learned that it was very restrictive when it comes to backpacks. The F1 Miami Grand Prix and Hard Rock Stadium stated that "For the safety and security of all those attending the Formula 1 Miami Grand Prix, guests are encouraged to not bring any type of bags," but that certain types of small bags (e.g. fanny packs, diaper bags, and water packs) would be allowed.
There were also strict policies on the types of cameras attendees could bring.
Point-and-shoot cameras and cameras with consumer-grade detachable lenses will be allowed in order for guests to take photos, provided that they are only for personal and private non-commercial purposes. However, monopods, tripods, selfie sticks, audio recording devices, and video cameras will not be permitted inside Miami International Autodrome. Cameras may be subject to additional screening.
To minimize his risk of being denied entry, Tu showed up at the race with a small camera sling bag, his Sony a9 mirrorless camera, and a tiny 40mm prime lens. But even that relatively small and innocent-looking setup was turned away at the gate.
"My goal was just to enjoy the event as much as possible while having a small setup for capturing some moments with friends," Tu says. "On the first day of the event, I showed up to the gate with my compact, fool-proof setup in tow – or so I thought.
"Entering the gate they asked all spectators with bags to go through bag check where they then asked if we brought any illegal items as well as any cameras. Being truthful to an extent, I mentioned I had a small camera and a compact lens for some 'fun snapshots.' Of course, this is where the drama starts and I was immediately barred from entering with 'any camera.'"
No amount of explaining or pleading worked to make the event security personnel change their mind.
"I asked what the reasoning was and also mentioned the rules they had on the website – turns out the security personnel's supervisor issued a blanket rule to ban all cameras," the photographer says. "A couple minutes of back and forth (with dozens of people queuing behind) prompted the supervisor to come by, which he vehemently told me under no circumstances any camera would be allowed in."
In the security supervisor's mind, it all came down to Tu's camera being too "professional."
"Even after showing him the rules on the website and pleading, he would not concede (in his head, I had already lost this argument)," Tu says. "My camera was 'a professional camera in every way and would not be allowed in whatsoever.'
"In my defeat, I asked him what camera could possibly be allowed if a tiny prime lens couldn't, and he half-jokingly mentioned 'One of those roll-up cameras you buy at Walgreens, that's it!'
"It also wasn't lost on me that everyone carrying a phone made in the last 5 years or newer shot incredible photos/video beyond people's imagination, but I digress."
Tu ended up leaving his camera outside the venue and enjoying day one without a standalone camera.
A Floppy Disk Camera for the Win
For the next two days of the three-day Grand Prix, Tu decided to try a very different route.
"I had decided to change up my strategy for days two and three, and brought out one of my 'fun' cameras – the Sony Mavica MVC-FD90," he says.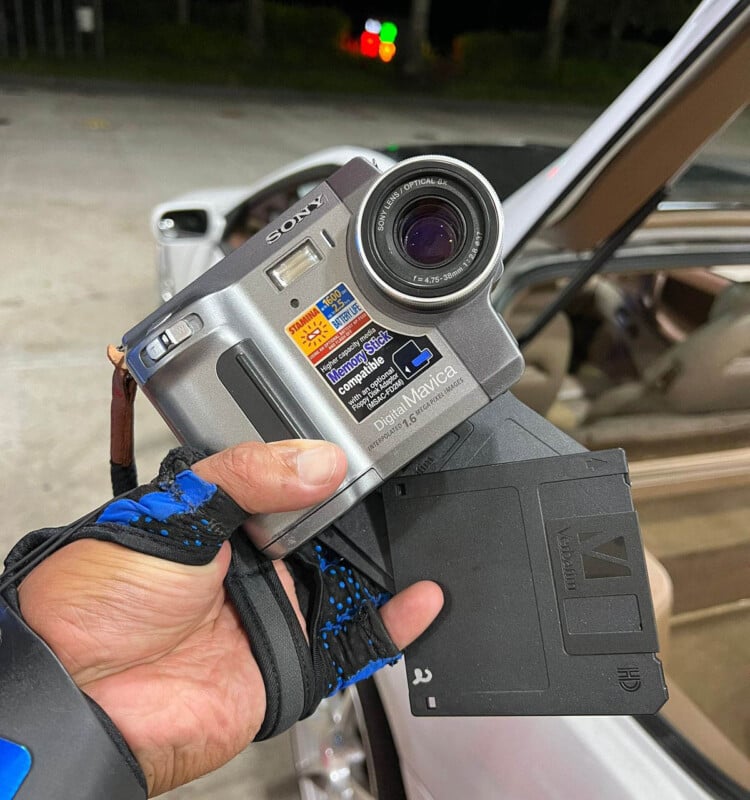 The Sony Mavica MVC-FD90 was launched back in 2000 and uses standard 3.5-inch floppy disks — what young people refer to as the "save icon" — to store the digital photos it shoots. Each disk can store up to 6 photos. The front of the camera features a 4.75–38mm f/2.8–3.0 lens, which has an 8x zoom range that's equivalent to 41-328mm in 35mm terms.
"This camera, despite its 1.2 megapixels of grain and use of quite fragile floppy disks has a special place in my heart," Tu says. "It was bought new by my father back in 2000 and we took it everywhere on trips with us all around the country. I doubt any photos of that time exist, but the camera certainly does – and with some new batteries she still works as good as new!"
Event security had absolutely no problem with the floppy disk camera, and Tu was able to breeze through the checkpoint on days two and three with the camera and 10 floppy disks.
"I got quite the laugh when I popped out a floppy disk from the camera and the security guard just laughed and waved me in," he says. "All throughout the rest of the weekend you could catch me hot-swapping floppies from my back pocket – and garnering the most puzzling looks from people who actually got DSLRs and mirrorless cameras inside."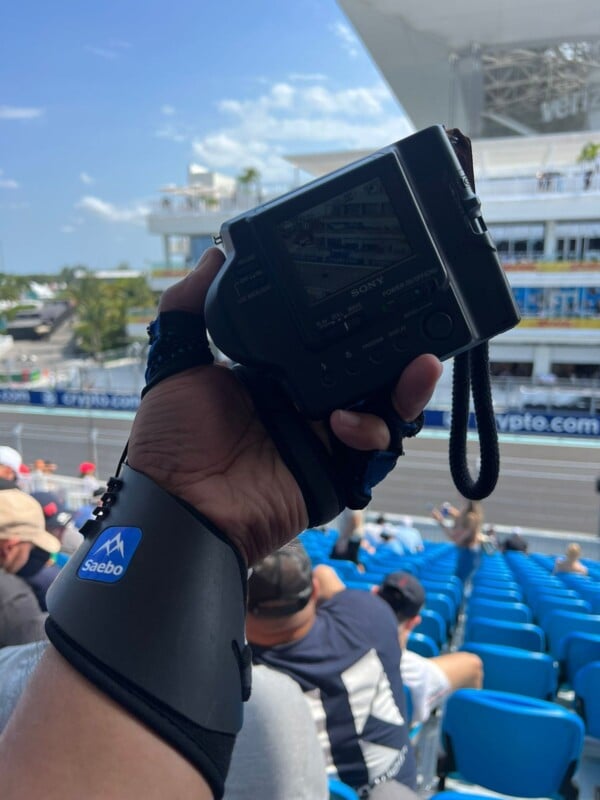 The Results Speak for Themselves
"F1 Miami on floppy disk was a go – and I think the results speak for themselves," Tu says. "The event was incredible all the same; and the photos still tell the story in a different way."
A Love for Cameras and Cars
Tu has spent years combining his two loves by doing automotive photography.
"One of my all-time favorite hobbies is photography," he says. "I love everything about the technology of cameras, the physics behind different lenses and their effects, and also the vast history of photography itself – all in the pursuit of capturing moments to share for years to come.
"I consider myself a 'semi-professional' photographer – I've had the privilege and opportunity to shoot for a variety of events and one-on-one clients; specifically in the automotive space, but I'm not as serious or dedicated as the full-time pros who are masters of their craft.
"Naturally, one of my goals was to see if I could photograph the event in my own way. When I go to automotive/racing events as a spectator it becomes my personal challenge to shoot as well as I can with the limitations of being a spectator – you get used to fences and barriers real quick!"
You can find more of Tu's work on his website and Instagram.