Photojournalist Controversially Turns to AI to Illustrate 'Inaccessible' Stories
A distinguished photojournalist has sparked controversy after releasing a "post-photography" series entitled 90 Miles that is entirely generated by AI.
Michael Christopher Brown used the artificial intelligence (AI) image generator Midjourney to produce a series of images that explores historical Cuban events and the realities of Cubans attempting to cross the 90 miles of ocean that separate Havana from Florida.
Brown is known for his reportage that documents life and conflict in Africa and the Middle East for prestige publications like National Geographic and The New York Times.
However, the documentarian has come under heavy criticism for his embrace of AI imagery in 90 Miles with fans of his photography outraged; calling him "unethical", his images "disturbing," and threatening to unfollow his Instagram account.
"Michael, I have been a fan of your work for years, and have always held you in high regard as a photojournalist," writes one documentary photographer.
"This is something I can't get behind, especially when it is for profit. Using AI to tell a story you weren't there to document is one thing in itself, but selling those AI-generated images…sorry, but not sorry. Lost a lot of admiration from me."
Brown is minting 400 images from 90 Miles that can be purchased as NFTs.
"The more criticism and debate the better, my role in this was just to create the imagery and put it into context for the community," Brown tells PetaPixel as he swats away the disapproval.
"The criticism does not affect me, I've received a significant amount of criticism for other projects in the past so my skin is fairly thick at this point."
Using AI to Illustrate Inaccessible Stories
Brown explains that for 25 years he has kept a list of subjects he wanted to document with his camera but was unable to due to impossible access.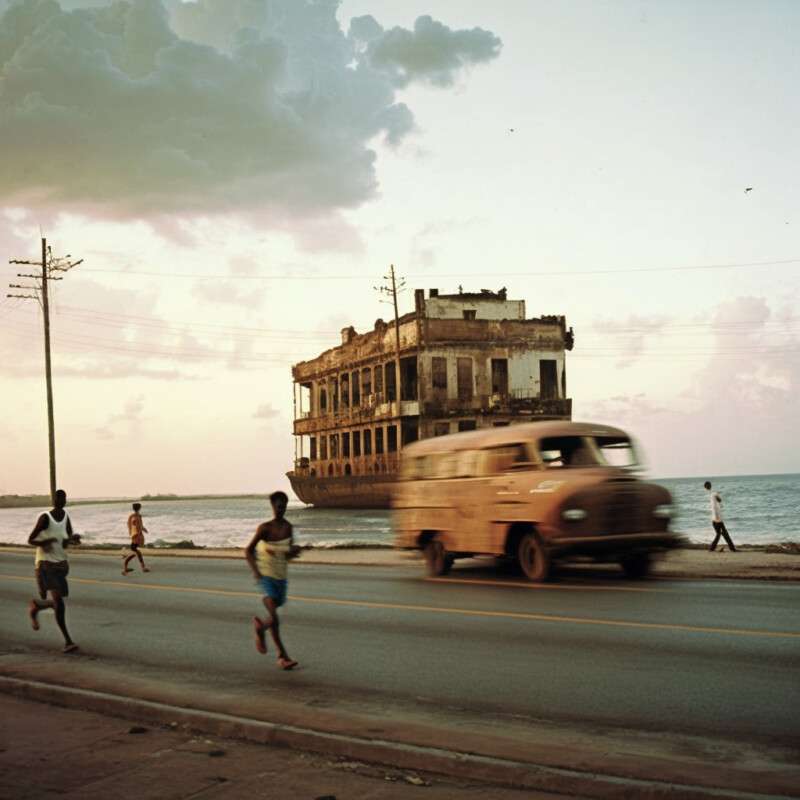 The photographer says he spent time in Cuba and heard incredible stories of people who escaped the island to journey to the United States. But owing to their nature, there is very little documentation of these events.
Brown attempted to recreate the sinking of the tugboat "13 de Marzo," a horrific incident in 1994 when 41 Cubans drowned at sea trying to reach the United States. There were allegations that Cuban authorities sank the boat on purpose and then refused to rescue the passengers.
"I just see this imagery as storytelling, nothing more nothing less," Brown explains.
"As definitely something more similar to say, a film — something that is based on a true story than actual documentation. I am exploring the possibilities of the AI medium as an artist."
But angry Instagram users are now bombarding his real photos with comments such as "How do we know it's not AI" and "Best AI yet."
"People may attack me and be critical of me all day long," Brown tells Blind magazine.
"I welcome it as it draws attention to AI and the possibilities for storytelling. The imagery is not difficult to create and is quickly becoming more photorealistic."
Brown says he does not compare his AI images to his photojournalist work and there is a clear difference between the two mediums.
At the top of each Instagram post containing synthetic photos is a clear label "This imagery is not real."
Creating Documenatary-Style Photos With AI
Brown created 90 Miles with Midjourney v4 and v5, he says v4 was more illustrative but v5 is more "commercial looking." So, he says that he had to "prompt against" the algorithm. Text prompts are what are used to generate the images.
"One example of this occurred when using the word 'Cubans,' a generated image often yielded imagery of people from the Indian subcontinent," Brown explains.
He tried to avoid using subjective terms and went for a "baseline interpretation" by the AI to get more authentic-looking and less flashy images.
"Image processing time depends on the image. It can take from several hours for one image to say 15-20 minutes, it really depends on the complexity that I am going for," Brown explains. "I purposely have done no work to them after."
You can tell Brown didn't work on the images in Photoshop later because some of the subjects only have three fingers or thumbs where there should be finger — a telltale sign of AI image generators.
AI and Photojournalism
Fake or staged images are a sensitive topic in the world of photojournalism, and Brown should at the very least be given recognition for making it abundantly clear that 90 Miles was computer-generated — unlike some.
"90 Miles was created in order to explore, analyze and discuss what AI may enable for reportage illustration and to surface public conversation and questioning around what work of this nature may mean for image-based storytellers who care about reality and truth," Brown says.
"I spent years as a documentarian, dedicating and risking everything to capture real stories in the most candid and pure way possible."
Brown says that while 90 Miles is imperfect and representative of early AI technology, the quality will only improve and the line between what is real and what is fake could become increasingly opaque.
"But even in that world, my hope is that the role of the documentarian becomes not only more necessary but more influential," adds Brown.
"That anything AI is clearly marked in the metadata as being so, and that things like the analog camera and film perhaps remain our least advanced but most trusted tools.
"If we do this right, nothing will threaten photography because photography is among the only ways we have to confirm reality and monitor power and truth. Our jobs have never been as important as now, and will only become even more so."
Brown is selling 90 Miles as an NFT project, details for which can be found here and here. More of his work can be found on his Instagram and website.
---
Image credits: All images by Michael Cristopher Brown.