Photographer Captures 'Once in a Lifetime' Photo of a Wolverine
A photographer attempting to shoot ospreys in the wild was not having much luck when suddenly an ultra-rare wolverine appeared.
Gordon Cooke could not believe his eyes when the elusive creature suddenly appeared unexpectedly and quickly trained his camera on it.
"I was not having luck finding the osprey, but some crows were in the nearby trees gathering nesting material, so I started photographing them," Cooke tells PetaPixel.
"I heard something crashing through the marsh area nearby. I wasn't sure what it was, but it was moving quickly," he continues.
"It finally broke into the open and posed for me temporarily, allowing me to get my shots, before disappearing again."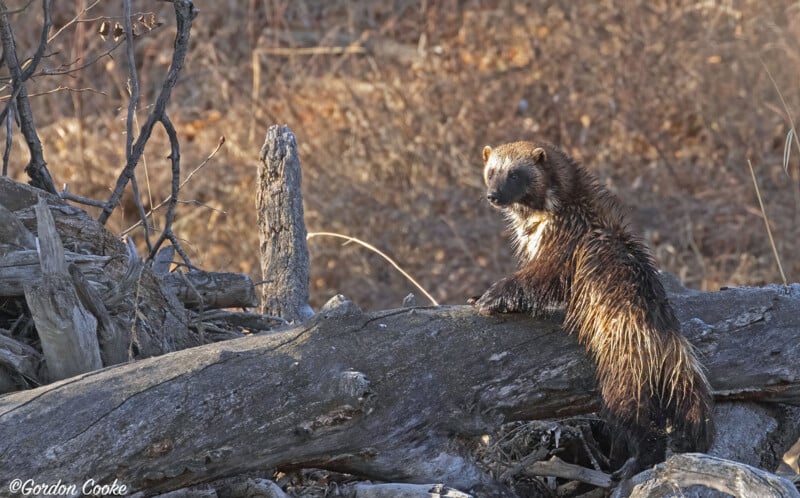 Cooke captured the photos in Calgary, Alberta where they were once common but loss of habitat has led to a significant decline of the muscular carnivore.
He only had five seconds with the wolverine and initially thought it was a porcupine. But he had his Canon R5 with a 100-400mm lens ready.
"It felt great. It is moments like this that make all the early wakeups and all the hours in the field worth it," Cooke says.
"To be honest, I was surprised how viral this has gone, but it has been a great experience. I am glad the people enjoy the photos as much as I enjoyed taking them."
Wolverines are the largest member of the weasel family and are bear-like. They have a reputation for ferocity and strength with the ability to kill prey many times larger than itself.
"I think that is the dream for most wildlife photographers to capture because they are such a beautiful, elusive, and interesting creature," adds Cooke. "But I never thought I would ever get pictures of one like this."
Yes, this happened. Once in a lifetime for me. I never expected to see or photograph one in Calgary. Wolverine. Pictures taken April 15 2023. #wolverine #Calgary #Alberta @ParksCanada @NatureAlberta @NatureCanada @NatureYYC pic.twitter.com/VqAjgHkGNu

— Gordon Cooke (@GordonCooke9) April 16, 2023
Cooke shared the photos on his Twitter page where they received 100,000 views with local Calgary press picking up on the story.
More of Cooke's work can be found on his website and Twitter.
---
Image credits: All photos by Gordon Cooke.