Explore the Underground Home of 11 Million Priceless Photos
Around 50 miles (82 kilometers) north of Pittsburgh, Pennsylvania, and 220 feet (67 meters) underground, there are roughly 11 million images protected by armed guards. This incredible repository is the famous Bettman Archive, which houses photographic records of many of history's most important moments since the first camera was invented in the early 19th century.
BuzzFeed News let PetaPixel know that it published an exciting deep dive into the Bettmann Archives, including many must-see images. Thanks to a rare opportunity from Getty Images, BuzzFeed News photo editor Kenneth Bachor and contributing photographer Ross Mantle deliver an informative look at the incredible archives that readers should go check out.
The Bettmann Archive, now owned and operated by Getty Images, was started in New York City in 1936 by German immigrant Otto Bettmann, who had been a curator of rare books in Nazi-occupied Berlin. Bettman was dismissed from his position at the Prussian State Art Library when Adolf Hitler began forcing Jewish people from civil service.
Upon arriving in the U.S., Bettmann continued his curatorial work and rapidly expanded his image collection by advertising in magazines. When he came to America, Bettmann already had about 15,000 images he brought overseas in a couple of trunks.
In 1960, Bettmann moved his archive from 215 East 57th Street in New York City to the Tishman Building at 660 Fifth Avenue.
During his lengthy time in charge of the archives, Bettmann developed an impressive business model that still persists. He licensed the images he collected to editorial and advertising clients, including famous photos like Charles Clyde Ebbet's "Lunch Atop a Skyscraper," the Apollo 11 moon landing, Malcolm X meeting Martin Luther King Jr., the Hindenburgh exploding, and Queen Elizabeth II posing with her famous corgis.
In 1981, the same year he sold his archive to Kraus Thomson Organization, a 78-year-old Otto Bettmann told The New York Times that "Instead of visual cliches, I provided [clients] with a graphic shorthand that illuminates the present by revealing the past, preferably with humor."
The Kraus Thomson Organization then sold the archive to Corbis in 1995. Corbis moved the archive from Manhattan to the Iron Mountain National Underground Storage Facility in 2001-2002 to preserve the litany of photos and film negatives.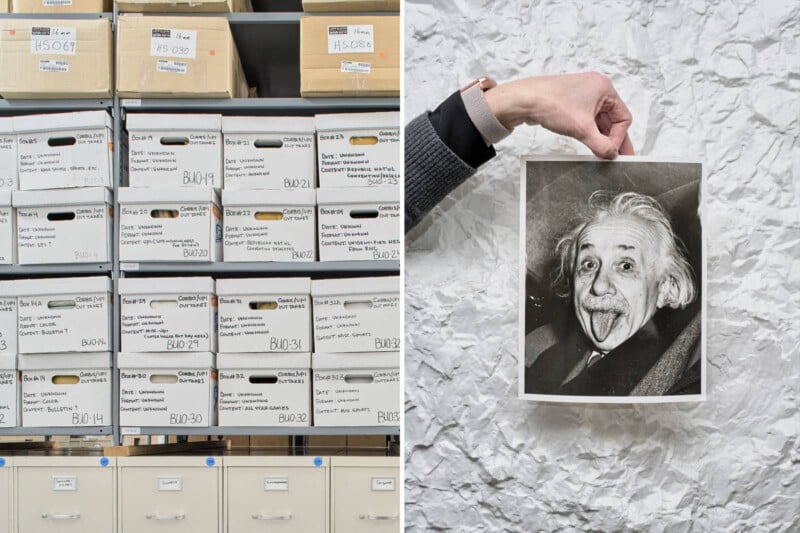 Getty Images took over the collection in 2016 before Visual China Group acquired Corbis.
BuzzFeed News asked Bettmann Archive's two archivists, Leslie Stauffer and Sarah Kubiak, about their day-to-day lives working in one of the world's most secure and vital photo archives. Each day, Stauffer and Kubiak work alongside a priceless collection of images. Mantle's images make the collection look oddly mundane, with old-school filing cabinets, industrial shelving units, and lots of cardboard boxes. However, the collection is anything but mundane.
"The Bettmann is housed in a high-security facility. Iron Mountain bought the defunct limestone mine from US Steel and created vaults for many other private businesses and government agencies. Their safety measures ensure the protection of all their clients' assets. Every day when we enter the mine, our cars, belongings, and persons are searched similarly to TSA," Kubiak explains to BuzzFeed News. "The archive is located 220 feet underground and is the furthest business within the facility. The mine is made up of 'streets' that have unmarked doors hiding all the treasures inside. The Bettmann collection is stored in an airlock-protected vault that is 38 to 42 degrees Fahrenheit and 40% humidity."
Even with the protection offered by the Iron Mountain National Underground Storage facility, a former limestone quarry, the archives will not last forever. The storage room's temperature is being gradually lowered to a chilly -4 degrees Fahrenheit (-20 degrees Celsius), which film preservationist Henry Wilhelm concluded was the ideal temperature for the archive. At this freezing temperature, the photographs will degrade about 500 times slower than in New York City.
Stauffer and Kubiak's path to the archives is an interesting one. "We both started working at the Bettmann Archive as Slippery Rock University graduate student interns in 2004. We were later hired by the Corbis Corporation as full-time employees," explains Stauffer. They both transitioned to working for Getty Images following Corbis's sale.
In the excellent article, the archivists delivered extensive insight into the archive's operations to BuzzFeed News, including that their office has no running water to protect the collection. They work in a challenging environment with (understandably) strict procedures, but they find their work extremely rewarding.
"We provide the photographic evidence of historical facts. Making the historical photography contained in the archive accessible to the public is what's rewarding," says Stauffer.
"Being able to provide our clients with imagery that specifically meets their needs so they can tell their stories in a unique and differentiated manner is the most rewarding part of the job for me," Kubiak adds.
Surrounded by so many iconic and amazong images, do Stauber and Kubiak have particular favorites? Find out and learn the full story of the Bettmann Archives and see dozens of excellent behind-the-scenes photos, at BuzzFeed News.
---
Image credits: Ross Mantle for BuzzFeed News