Photographer Captures Eagle Flying off with Pepperoni Pizza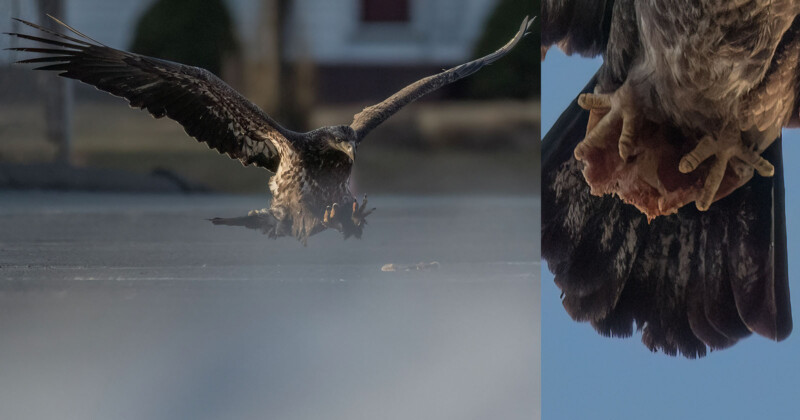 A photographer captured the incredible moment a juvenile bald eagle swooped down for a slice of pepperoni pizza and flew away with it.
Nature photographer Doug Gemmell captured the remarkable moment in Connecticut on March 8 and tells PetaPixel that he "was not really surprised" the eagle went for the pizza.
"I went out to Wethersfield Cove in CT looking to capture photos of some eagles," he explains. "My hope was to capture action shots of them either fishing or playing together in the sky. To do this I will walk around the cove on the path and stay close to the water so I can watch for any action.
"Part of the path takes you near the DMV parking lot. The nice thing about that spot is there is a lot of open sky.
"I was standing on the bank below the parking lot when I watched the eagle coming closer. As he started getting near the ground and his legs stretched out I knew he was landing.
"What I didn't see was a snow bank in my way. I snapped a couple of photos just before he went to the pavement and by the third photo it was just snowbank.
"I grabbed more photos of the eagle being chased by crows before heading out of sight. I don't know if he even was able to eat the pizza because the crows wanted that slice as well."
Gemmell says it's not surprising the eagle went for the pizza because they will often grab things before deciding on whether to keep them or not.
The photographer says that the photos have spread joy with people online making jokes about the eagle's toppings preference.
"An eagle grabbing a pizza lends itself to fun conversation," he says. "Our national bird even likes a good pepperoni slice."
But there is also concern that the eagles and other raptures could face problems grabbing food from parking lots with the number of rodent boxes that permeate built-up areas.
A Passionate Nature Photographer
Gemmell used a Nikon D500 with a 200-500mm lens attached for the pizza eagle photos. He regularly photographs the majestic birds.
"I have hundreds of photographs with eagles flying, eating, carrying grass sticks and food to nests," he says. "I love them so much, their beauty and gracefulness is amazing to me."
Gemmell posts his stunning captures to his Facebook page. "I enjoy taking photos of nature," he adds. "From animals to landscapes, I always try to get my best shots."
---
Image credits: All photos by Doug Gemmell.