Photographer Gets Life Advice From 1,000 Strangers in 48 States
Photographer Imran Nuri has driven 15,298 miles in 12 weeks to speak to 1,019 strangers and seek life advice in the lower 48 United States.

The first time
Nuri,
an artist and storyteller, thought about this idea was in 2019 when he was a junior in business school and all his friends were getting amazing internships while he wasn't.
"Do I really want to go work for some company in corporate America for my summer when I could be doing something a little riskier?" Nuri asks PetaPixel. "Like living in my car, driving across the country, and talking to total strangers to get their stories and experience. I'll learn more than I could from working at JPMorgan Chase.
"I sat on that idea but [eventually] let it go by the wayside. It wasn't until the end of 2021 that I began to think, okay, we've been in a pandemic for two years… it's time to do that idea and turn it into a photo series. So, at the beginning of 2022, I figured out the logistics and took off for the road trip in May of 2022.
One of the first things that my dear father told me almost 60 years ago is that we should follow the rules of serenity. Accept the things that you can't change, but for the things that you can, do so. It took me a long time to arrive at that because I didn't want to listen to my father.
"I spent about $10,000 overall on this trip, which was not money I had already," Nuri says. "I had to take out a loan, a little bit of Patreon support from friends and family, and then all my savings."
I was always a people pleaser worried about other people's opinions, and that took years away from being happy, living in the moment, and loosening up. I was always worried about "Oh well, what if they say this? Or what if they say that?" about what I was doing. But now, at the wise old age of 36, I've realized it doesn't really matter what people think of you.
"I traveled clockwise. I went up to the Northeast, went down to Florida along the east coast, zigzagged my way over west, went up the west coast, and then zigzagged my way back to Columbus, OH," says Nuri.
Selecting the Camera
Nuri, who has taught himself film photography and spent $1,400 on film and developing alone in 2021, picked a Yashica Mat124G (the last twin-lens reflex Yashica made in 1970) with a fixed 80mm Yashinon lens (normal for 6×6 format). Although it has a built-in exposure meter (you must manually transfer the aperture and shutter speeds), the visual storyteller had no use for it.
I wish I would have known that it's okay for there to be a difference between what you think you want to do and what you end up doing.
A long time ago, I used to get in a lot of fights. I used to get real mad and real mean. I got locked up in 1988, did all of my 20s, 30s, and 40s. I've got a better control on my temper now. I'm 56 now, and I'm in control of my life. I like the man who I became.
"I actually didn't use the light meter," says the photographer. "I just, often, overexposed my shots. I shot almost everything wide open [f/3.5] at 1/500 sec, the camera's fastest [shutter speed]. So almost all my images are overexposed by three [stops].
"When I took the photos, I wanted to ensure the background and surroundings were there. Most photos are not close-ups, they're almost full-body portraits."
As you get older, you start thinking about other people's feelings a lot more than you did when you were in your 20s. When you're 20, you're just a little jackass. And as you get older, you realize that everything you do affects other people. You start caring about their feelings. You don't care about their feelings when you're a little jackass. What you do and say always comes back to you, especially in a small town. I wish I was good to everybody when I was younger.
"There are a few reasons why I picked the twin lens reflex camera," Nuri says. "Firstly, you must hold it at the waist level, so when you take portraits of people, they look confident, powerful, and tall.
"[Next was] using a medium format 50-year-old lens. You get an interesting look to the photo. You inevitably get a little bit of that swirly bokeh, which is aesthetically pleasing.
I think the big thing has been knowing that what exists doesn't have to exist. Things can change. Things can improve. The status quo is not necessarily something that is created by nature.
Monogamy doesn't work. I figured that out after six years of monogamy. It didn't work. It wasn't good. I'm married to someone who I have an open relationship with now, and I feel more fully able to be myself, have interesting experiences, and still have a close, committed relationship with my husband.
"Number three, of course, is that the camera is such a unique thing to look at. I knew that it was gonna make it easier for me to engage strangers who would be like, 'Why are you using this camera?'
"And they wouldn't be able to see the photos [unlike in a digital camera]. I wouldn't be able to see my photos. I would just focus on the experience, less on the results of the photos."
Never go to bed angry at someone. My father passed away in his sleep a while back while we were in the middle of an argument.
Don't be a f**kin' dick.
"I didn't want people to get distracted by color," explains the artist storyteller. "I thought that black and white would make it easier to accept the person as they are, without getting distracted by the color of their sweater or the color of the background. I also knew that black and white film would be more versatile in overexposing my shots and cheaper to develop, so it was logistical and artistic that I chose to do black-and-white film."
Only 8 out of 1,000 people Blinked During their Photos
The life-advice-seeking photographer captured a little over 1,000 people but was lucky to get only eight blinks in the process.
Don't let visitors, even in your own house, come up to you as a kid to touch you or hug you. I was raped by a rabbi who visited our house. It happened when I was a little kid before the "safe touching" concept was out there.
Stop hating each other because you disagree. I've done that a lot when I was younger. If my half of the ship goes down, yours doesn't stay afloat— we're all doomed. There are so many people out there fighting and trying to destroy the other half of the ship.
"The biggest reason I didn't get the blinks is that I said, 'I'm gonna count down three-two-one and take the photo on One.'
Blinks were very critical as he shot only one frame per subject!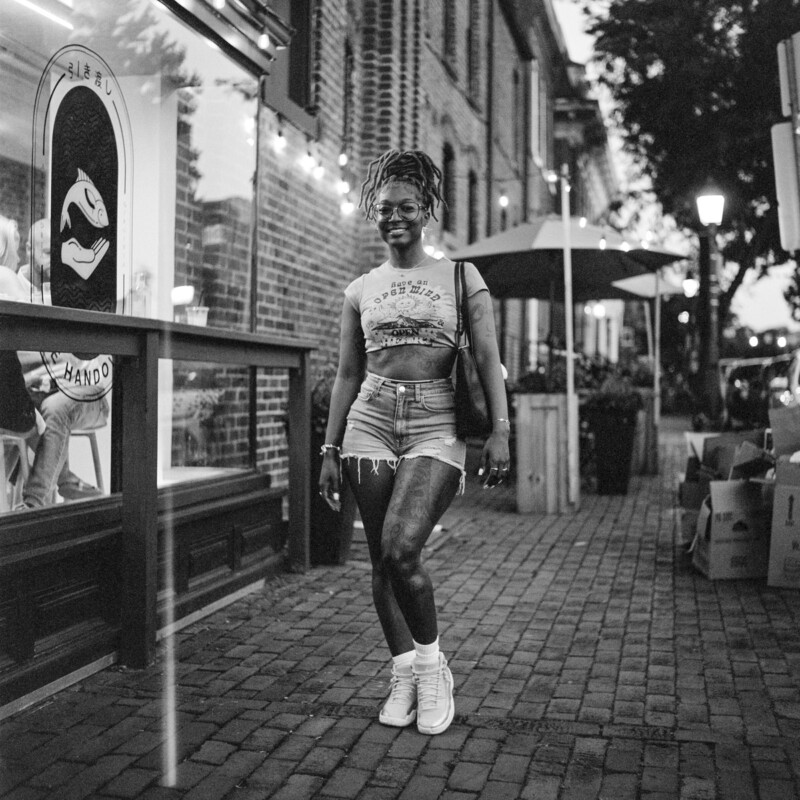 Nobody thinks about you as much as you think about yourself, so don't take yourself too seriously.
I would go back and tell myself, "you're not afraid of water" so that I would end up learning how to swim, because look at me now— I'm sitting here looking at the ocean, and I can't even experience it fully.
"I wanted to be poetic in the sense that if their photo didn't turn out, it wasn't meant to be, that's it, you know, I was like if, if they blinked, it wasn't meant to be, if for some reason the camera malfunctioned, it wasn't meant to be.
"But also film is definitely expensive, you know, I bought 100 rolls of [Kodak] TMAX 400, 120 film and it cost $839."
Something I learned the hard way is don't do drugs. I wish I could go back and tell myself, "don't do 'em." I could have been a D1 athlete in two or three sports. People said it wasn't a gateway drug, but sure as hell it was. I look back and I want to say I regret it, but I had to go through that to become who I am now.
Be more patient with friends. When you're younger, you're more impatient. When you get older, you think a little more and understand a little more before making a decision.
Just keep riding. I've been riding since I was 18, and now I'm 70 years old. It gives me peace of mind when I'm on the road. I have to stay focused and it gives me a sense of clarity. Nothing else matters when I'm on the road.
Words of 'Life Advice' were as Important as the Photos
The project had a twofold objective: Photograph and get life advice from 1,000 strangers. However, time was limited, and he had to travel through all the lower 48 states. As a result of this, the average conversation was only five minutes.
Something I figured out for myself that I wish I knew earlier was how to set boundaries. I feel like a lot of people lose self-respect when they don't create those boundaries with others. Having children and going through real-life situations created a space for me to dig deeper and to understand that the reason I've gone through some of those things is because I didn't set boundaries.
Had I known then what I know now, I wouldn't have rushed into things. I would've taken my time, been patient, and done my research instead of just jumping headfirst into things without knowing anything. Whatever you do, don't do it too quick. Be patient.
"Sometimes it was a lot more, sometimes even shorter," says Nuri, who holds a BSBA (Bachelor of Science in Business Administration) from Ohio State University. "I recorded almost every conversation. I had a microphone [RODE Wireless GO II]. I wore one, and then I would hand another to them that they would speak into and record right into my phone."
Driving the Country, Sleeping in the Car, and Safety
Nuri, who once captured circular photos, drove 15,298 miles, making it a tiresome 182 miles daily.
Don't get pregnant.
You don't really have control, so just let it go and let it be.
I wish I would have known how important your health is. I went through the windshield of a car in a car crash in October of '89 and spent 15 days in a coma. I woke up the village idiot. If I would've paid a little bit better attention to my health, that may not have happened. It took years and years to grow back from the cerebral cortex injury. All my friends said, "You've changed!" but I'm happy right now with where I'm at.
"I would fall asleep in my car around midnight or later," says Nuri. "On waking up, I would sit in my car and journal. I'd brush my teeth in the rest area, look at the map, and say, 'Where is the next rest area that I'll get to?' I would drive to the nearest city or make stops along the way, talk to people, and then I'd keep driving until I got to the rest area. I never got to a rest area any earlier than sunset, with fantastic summer weather too.
"The number one concern was safety. So, I tinted my windows to be extremely dark so nobody could see if I was there[when sleeping at night]. In addition to that, I always had pepper spray right there next to me. I also slept with my glasses on as in an emergency, I would have to get up, turn on the car and go."
Take your time in finding a life partner. Don't let the sex cloud your judgment about a person, and don't rush into marriage. They should be your best friend over everything else.
Don't compromise on the things you don't want to compromise on. Stick with your gut. Stick with what you know and believe in. Don't settle for less.
Nuri wishes he could have traveled to less populated areas.
"Because for this trip, I was trying to meet more than ten people on average daily," he laments. "I had to be quick about that, so I went to more populated areas. I wish I could have gone into smaller neighborhoods, which I was a little hesitant about, just naturally being a brown man in America."
When you know you have control over a situation, there's no need to stress about it. When you know you don't have control over a situation, still, there's no need to stress about it.
I wish I would've known to go to college earlier than I did. I started going to college when I was 32 to study business management, but I wasn't able to finish my degree until I was 55.
Showers, Sleep and Food
"I showered at Planet Fitness; yeah, I had a gym membership," says the explorer. "I could go to any location anytime.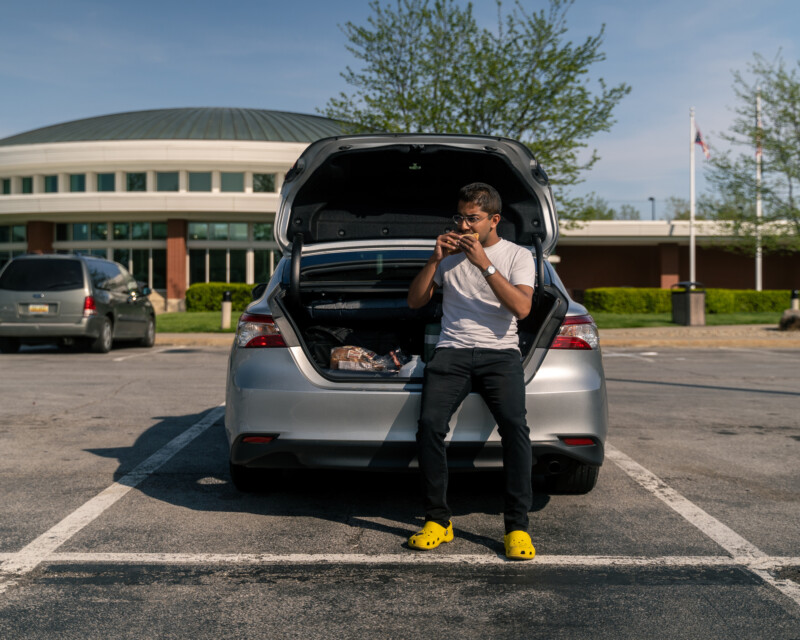 "I slept in my Toyota Camry most of the time. I believe 20 out of those 84 nights, I slept on a couch or bed. It was 5-6 nights in a hotel, and then the other times were with friends around the country.
"Gas was a considerable expense. My budget was so tiny for food I had to minimize the cost. I think I had like $12 per day that I was allowed to spend maybe $15, so it was mainly like a four-for-four from Wendy's or two cheeseburgers from McDonald's — any fast food I could find."
Getting a Book Deal
Nuri considered self-publishing his book on the project but abandoned it to look for a regular publisher.
"I thought about it," admits the film photographer, "I think Kickstarter would lend itself really well to this series. But at the same time, getting a traditional book deal will give me more opportunities to show up on the news, gain public speaking engagements, and do book signings.
"I'm still looking for an agent. This week, I reduced my work hours to spend more time querying agents who will fish me out to publishers to get a deal."
Even while he is working on creating a book for his current project, he is planning and even executing the next.
"I've been working on another series about Grief and Loss and how we experience it outside of death," he explains. "I've already made four photos using a large format camera for that. I intend to make, I think, three or four more. I hope I can finish it this year or next year."
You can see more of Imran Nuri's work on his website and Instagram.
If you want to be the first to know when the book Advice from America launches, you can sign up here.
---
About the author: Phil Mistry is a photographer and teacher based in Atlanta, GA. He started one of the first digital camera classes in New York City at The International Center of Photography in the 90s. He was the director and teacher for Sony/Popular Photography magazine's Digital Days Workshops. You can reach him here.
---
Image credits: All photos courtesy of Imran Nuri.