Couple Finds Trove of 2,000 Cameras and Lenses in Storage Unit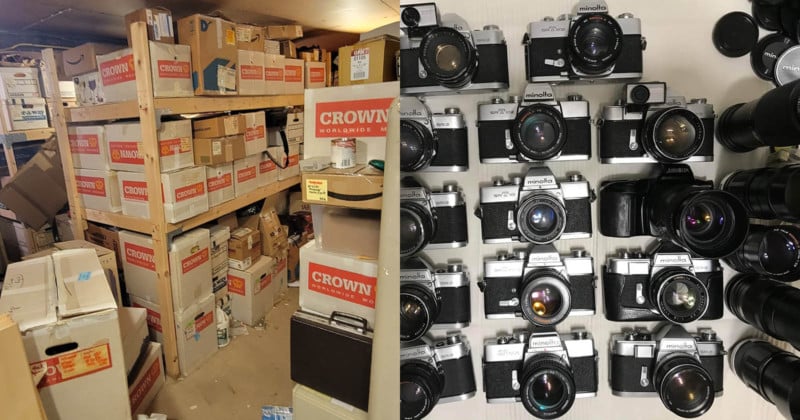 A Massachusetts couple tasked with cleaning out a storage unit was blown away after finding that it contained roughly 2,000 vintage cameras and lenses.

Kristen Cusumano, who works part-time at a tanning salon, was asked by her boss in December to empty out a storage unit.
"I'm a very organized, and energetic mother of two!" Cusumano tells PetaPixel. "I'm in my mid-30s and live paycheck to paycheck; working part-time at a tanning salon.
"I am also a starving self-taught 'artist' — I still feel weird calling myself an artist because I don't consider myself one, but others seem to think I have what it takes to make a living off it!
"My boss, the guy who owns the salon, happens to own several other properties around town, including a storage unit. One of the guys who rented out a unit passed away a few years ago and eventually my boss had to empty out the unit.
"My boyfriend was doing some work for him at the time, and my boss asked him if he'd be interested in clearing out the unit. My boyfriend loves doing that kind of stuff, and when he found out that we could keep whatever we found inside as payment, he agreed immediately."
The boss informed Kristen and her boyfriend, Fridrik, that there were "some cameras" in the unit. It was only after they began bringing boxes into their apartment that the couple began to realize what they had on their hands.
"[We] got excited thinking we might find something like three or four cameras," Cusumano says. "When [Fridrik] brought the first few boxes to our apartment we figured we might have 100-200 cameras in the unit!
"We were still excited at this point! It wasn't until New Year's Eve (two weeks later) when he decided to bring ALL of the camera boxes to our apartment that we realized we were in WAY over our heads."
After clearing out all the boxes, the couple now estimates that the collection contained over 1,000 film cameras and roughly 1,000 lenses.
Kosmo Foto, which first reported on the discovery, describes the trove as an "entire film camera museum."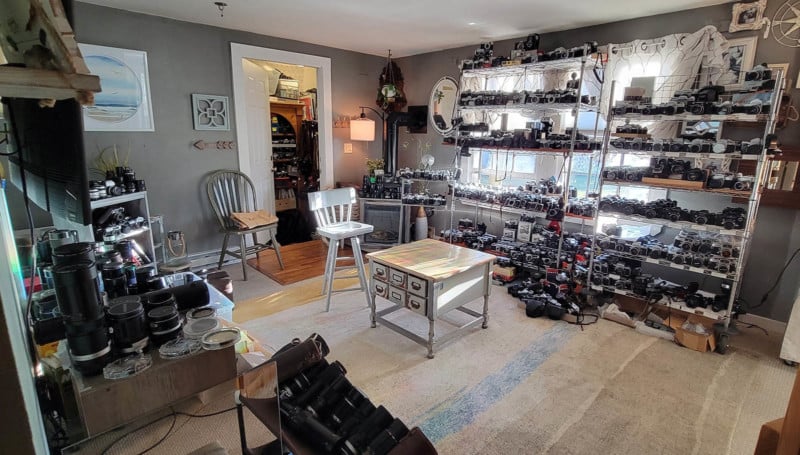 "My clean freak OCD was on overdrive!" Cusumano says. "My apartment is TINY so you can imagine it might be hard to store such a large collection, but my motto is where there's a will there's a way! We made it work!"
The equipment the couple found is a film photographer's dream.
"The vast majority of the collection is Miranda and Minolta," Cusumano says. "There's also a good amount of FEDs, Voigtlander, Zorkis, Zenits, Fujicas, Yashicas, Pentaxs, Prakticas, Mamiya Sekors, Exaktas, Olympus's, Exas, Petris, Konicas, and some TLRs and other brands I can't think of at the moment.
"To top it off we have enough cases, flashes, tripods, adapters, filters, body caps, lens caps, magazines, mounts, books, pamphlets, price guides, and service manuals to open up a store."
The couple has begun to sell some of the gear through Cusumano's eBay store, and some items have already fetched a pretty penny.
"The most valuable items we've found so far have been a Minolta MD 135mm 1:2 lens that we sold for $2,300, a Minolta CLE in a bag with two M-Rokkor lenses, and a Leica lens," Cusumano says.
Other items of note include "5 Minolta SR-2s, 3 Orion Miranda Ts (all mostly mint, one with a beautiful Zunow lens), 10 Miranda Ts (one of them with an Ofunar lens and another with a Zunow), a Miranda Supreme lens, a Minolta XK, and a Soligor Miranda 85mm f/1.8 lens."
The couple has also picked out certain cameras and lenses for their own film photography use.
"I'm keeping the Minolta XK, the TLRs, and most likely one of each of the Minoltas since we have so many of them and they're just so aesthetically pleasing to me," Cusumano says. "Fridrik will most likely be keeping an Orion and Miranda T and probably one of each of the Mirandas for the same reason."
It's unclear how long the camera equipment was hidden away in the storage unit, but many of them may now be destined for actual photo-making again.
"I'm just glad to get them out of that ugly storage unit and out into the hands of people who will use them!" Cusumano says. "And possibly be able to live without struggling for a little while! Definitely a blessing!"
---
Image credits: All photographs courtesy Kristen Cusumano.