Artist Uses AI to 'Time Travel' and Take Selfies in The Past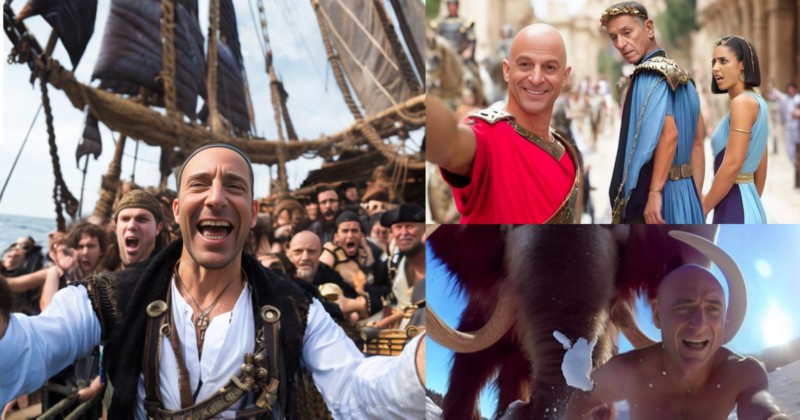 An anonymous artist has used artificial intelligence (AI) to "time travel" and take selfies in the past.
Known simply as "Stelfie the Time Traveller", the character has become an online sensation with his AI-generated selfies taken at some of the greatest moments in history.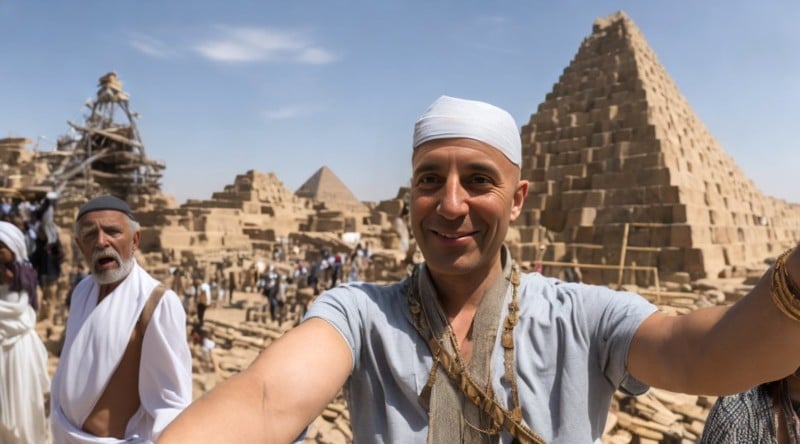 Stelfie — an account that describes itself as "A parody of life and history powered by AI" on Twitter — uses Stable Diffusion to create hyper-realistic portraits of his travels through time.
In his hilarious "photographs," Stelfie is seen running away from a mammoth in the Ice Age, witnessing the construction of the pyramids in Egypt, sailing with Vikings, and encountering Ulysses and the ancient Greeks inside the Trojan Horse during the siege of Troy.
In another particularly amusing image, Stelfie recreates the viral "distracted boyfriend" stock photo — which shows a man looking at another woman while walking with his irritated girlfriend — but changes the historical setting to Ancient Rome.
In Stelfie's AI-generated photo, Julius Caesar checks him out as he strolls hand-in-hand with an irate Cleopatra.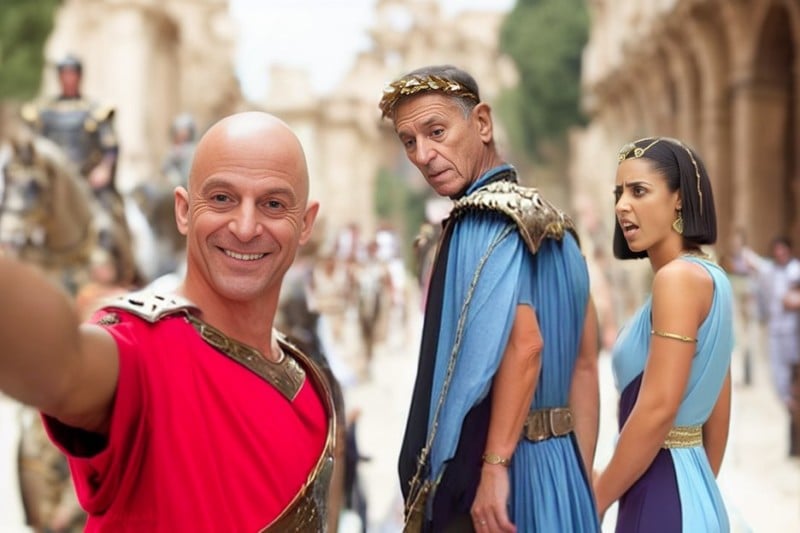 In other lifelike images, Stelfie poses for a group photo with Christopher Columbus and his crew. He also meets Albert Einstein, Vincent Van Gogh, and Charles Darwin.
Stelfie also hangs out with Leonardo da Vinci and his subject Lisa del Giocondo as he paints the Mona Lisa.
The Process
According to Stelfie's website, the anonymous artist says that he does not use his real face in the historical selfies. Instead, he uses a face generated with the Character Creator tool.
The artist then uses a combination of Stable Diffusion 1.5 and a custom AI model for the landscape to create the shots.
📳Log #8 : a lucky landing
Do not fooking make a sound.
Thanks#Stelfie #Timetravel #StableDiffusion #NFTCommunity pic.twitter.com/eGca22ZFXj

— Stelfie the Time Traveller (@StelfieTT) December 17, 2022
"Achieving a rough version of the Artwork could take from 1h to 3h," the artist writes. "Extra steps in Photoshop are needed to adjust proportions and camera focus."
The artist spends time refining all the details like the clothing, objects, landscape angle, and secondary characters to make sure the artwork has a convincing selfie aesthetic.
The artist uses "outpainting" to extend an image to create larger-scale scenes based on the image's original visual elements, such as shadows, reflections, and textures.
As well as this, he also uses "inpainting" which means inserting AI-generated imagery into the images to fix errors and sculpt the scene. The overall process can take from 3 hours to over 15 hours.
More of Stelfie The Time Traveller's work can be seen on his Instagram and Twitter.
---
Image credits: All photos by Stelfie The Time Traveller.