Shooting News from the Sky: A Drone Photographer's Unique Perspective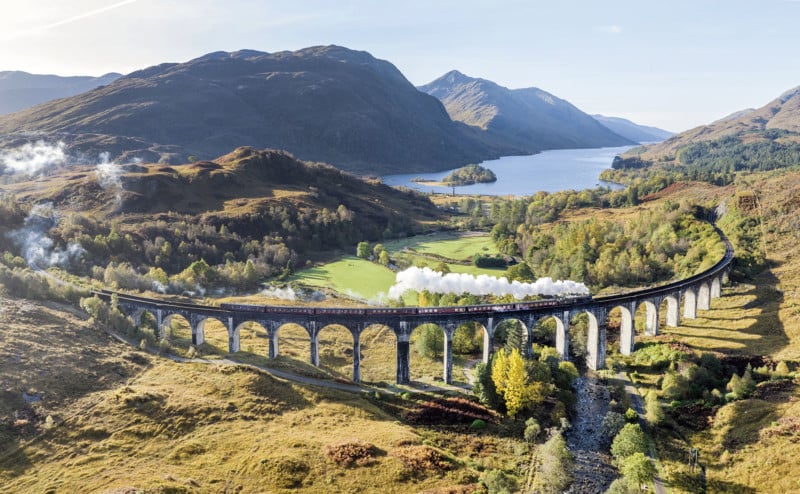 A photographer who has shot news photos for the past 30 years started using a drone to capture stories from a fresh perspective.
Chris Gorman runs Big Ladder and uses a DJI Mavic 3 Pro to shoot pictures for newspapers and corporate clients.
The U.K.-based photographer tells PetaPixel that while smartphones have affected the photography market, "you can't put an iPhone in the air."
He says: "You're seeing the world from a completely different perspective. Particularly four years ago, it's an angle that's never been seen before."
British newspaper picture desks receive 40,000 photos a day, and Gorman's decision to adopt drone photography early on has helped him stand out from the crowd.
"It's increased my profile, yes. But, I've been very lucky," he explains.
"A lot of it's down to be able to get stuff published and that's 30 years of experience in the industry. I just happen to be one of the first to go into the drone world and to be a bit more creative."
Before starting Big Ladder, Gorman worked as a picture editor and a news photographer which helps him understand why certain pictures sell.
"There's a lot of people out there who aren't photographers and bought a drone and decided to be a photographer. I was a photographer and decided to buy a drone," he says.
"It's a camera that can go anywhere, it can go low-down, go over water."
Gorman gives the example of the traditional Christmas Day swim in Cornwall, England.
"I was able to send the drone out to sea and look back at the people in the sea. Everyone runs in the sea and then goes back out, if you're using a conventional camera all you get is the back of the heads. But I got 500 people running toward the camera."
In 2022, Gorman says that drones have become far more common among photographers.
"Four years ago, I had the playing field to myself. But in London, which is reflected in America, most of them have drones now as well," he says.
"From my experience, at least 50 percent of press photographers will carry a drone.
"What you want to remember is a lot of drone flights require planning, you can't just turn up at a news event and fly your drone. You'll get in trouble."
Pilot's License
Gorman is a Civil Aviation Authority (CAA)-fully certified pilot. The CAA provides a map of where he can fly his drone and where he can't.
The DJI Mavic 3 Pro is geo-sensed meaning that even if he wanted to fly in certain restricted zones, he wouldn't be able to.
"If I want to fly in Central London, I need air traffic control permission, permission from the Metropolitan Police, and the landowner's permission. Then, I have to send those permissions via a portal to DJI in China and they will geo-unlock your drone."
In 2023, Gorman will run workshops about drones and using them for news photos. For more information about that visit his website.
More of Gorman's work can be seen on his Big Ladder pages: Twitter, website, Instagram, and Facebook.
---
Image credits: All photos by Chris Gorman/Big Ladder Photography.