The 2023 Pirelli Calendar is Dedicated to Muses
Pirelli has unveiled its 2023 calendar shot by Australian fashion photographer Emma Summerton.
This year's Pirelli calendar is themed "Love Letters to the Muse." In the photographs, Summerton honors the women who have guided and inspired through a world whose meaning has changed over the years.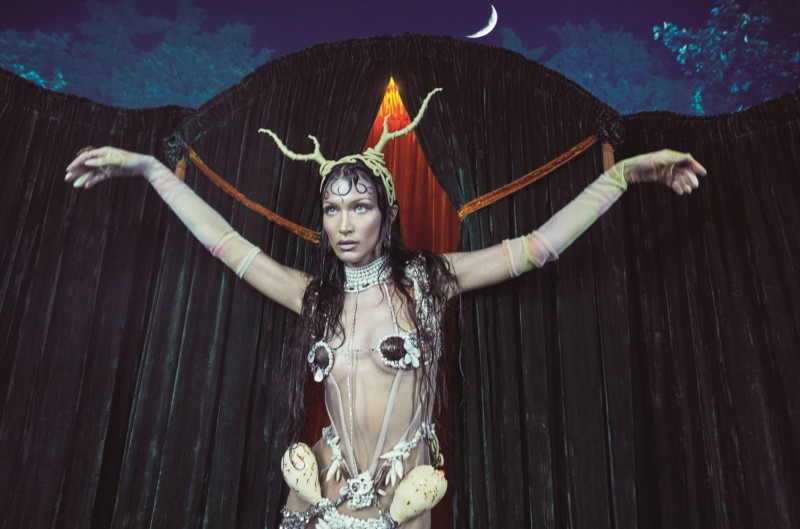 The "magical realist" 48th edition was presented at the Pirelli HangarBicocca contemporary art museum in Milan and features 14 models including Bella Hadid, Emily Ratajkowski, and Cara Delevingne.
This marks the first time in eight years that the calendar will be comprised of models instead of a combination of actresses, musicians, athletes, and activists. However, many of this year's subjects are multihyphenates.
For example, model Ratajkowski who authored the feminist essay collection My Body appears as "The Writer."
Meanwhile, Ashley Graham is dubbed "The Activist" in connection to her campaigning for body positivity. And Delevingne, who is also an actor is called "The Performer."
According to Pirelli, Summerton's work has always attempted to look beyond the surface relationship between model and photographer. She is instead driven "by who the woman in my image is".
In the photographs in the 2023 calendar, Summerton celebrates the "beauty, strength, intrigue, and talents" of the women who have inspired her throughout her life.
"I wanted to go back to the etymological root of the word 'muse,'" the Australian photographer explains. "The muse originally represented the source, not just inspiring but also possessing talents in literature, science, and the arts."
The Pirelli calendar is one of the biggest fashion photography events of the year, shining a spotlight on the photographers shooting the images.
Summerton is the fifth woman to shoot the calendar. Her predecessors were Sarah Moon in 1972, Joyce Tenenson in 1989, Inez Van Lamsveerde in 2007, and Annie Leibovitz in 2000 and 2016.
The annual trade calendar is published by the Milan-based tire manufacturer Pirelli. It was first published in 1964 and featured photographs by Robert Freeman, who is known for his images of The Beatles.
The calendar has evolved since its debut edition. For the first 10 years, the calendar only included photographs of fully clothed women, but began to shift to a more risque feel, with a heavy emphasis on nudity.
However, the emphasis on nudity toned down as times shifted.
Last year's Pirelli Calendar was created by musician Bryan Adams. Titled "On the Road," it featured celebrities like Cher, Grimes, and Iggy Pop.
The Pirelli calendar does not go on sale. Instead, 20,000 copies of the calendar are distributed as a corporate gift to celebrities and corporate customers.
---
Image credits: All photos by Emma Summerton/Pirelli.