Photo Auction Features the Works of Ansel Adams, Steve McCurry, and More
A stunning collection of photographs from some of the world's most renowned photographers will go to auction next week where some are expected to fetch up to $18,000.
Hindman's photographs auction will feature works from Ansel Adams and Diane Abus as well as contemporary photographers such as Steve McCurry and Sebastião Salgado.
A highlight landscape photo in the auction is a serene Ansel Adams piece entitled: Half Dome, Merced River, Winter, Yosemite National Park, California, 1938. It's estimated to go for between $10,000 and $15,000.
Adams was an avid conservationist and regularly visited Yosemite to capture his signature black-and-white photos, he also had a gallery there.
In addition to the Half Dome image, two additional Adams Yosemite photos are for sale. Moon and Half-Dome, Yosemite National Park, 1960 and Oak Tree, Snowstorm, Yosemite, 1948. The pieces are expected to sell for around $6,000 and $4,000 respectively.
A Sebastião Salgado photo of a dried-up Lake Faguibine in Mali speaks to the photographer's themes of cultural erosion, poverty, and climate change.
Moving away from landscape photos, there are two extraordinary fashion photos. Horst P. Horst's (Mainbocher) Corset from 1939 is set for an estimate of $7,000 to $9,000. The frame was taken on the evening Horse fled Paris for New York to escape the outbreak of the Second World War.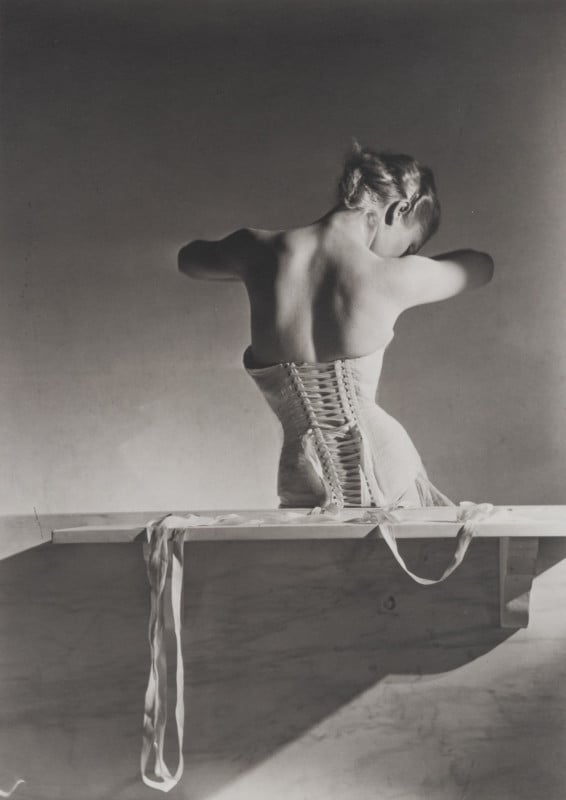 Young Velvets, Young Prices, Hat Fashions, for British "Vogue" taken from the roof of the Condé Nast building on Lexington Avenue in New York City, 1949 is expected to reach $3,000 to $5,000.
Also for sale is Sharbat Gula, Afghan Girl, Pakistan taken by American photojournalist Steve McCurry which famously appeared on the June 1985 cover of National Geographic magazine.
The auction starts on December 6 when the bidding will begin at 13:00 Central Time.
There are two auction sessions planned for December 6, one in the morning and another in the afternoon. Photo buyers close to Chicago will be able to bid in-person at Hindman's saleroom but it is also possible to do via telephone, absentee bid, and online.