Affinity Photo 2 Adds Tons of Features, Still Doesn't Require a Subscription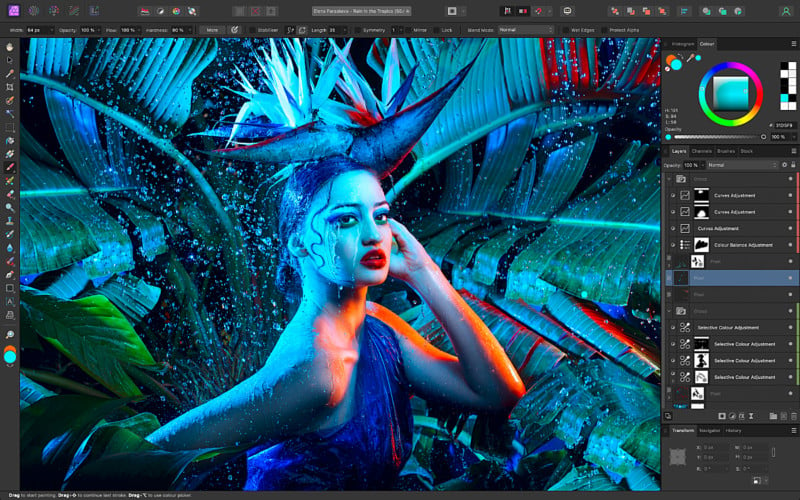 Serif has announced Version 2 of its Affinity Creative Suite with a huge list of updates to Designer, Photo, and Publisher, all of which still don't require a subscription.
Affinity Photo 2 adds 10 new features to the platform, all of which are listed below. A detailed breakdown of Affinity Designer 2 and Publisher 2 can be found on Serif's website.
Non-Destructive RAW Develop
Affinity Photo 2 now supports what Serif calls non-destructive RAW develop, which allows editors to go back and change develop settings at any time, even after adding additional layers or adjustments to the file. The software also allows editors to choose to embed a document file or link externally to reduce file sizes.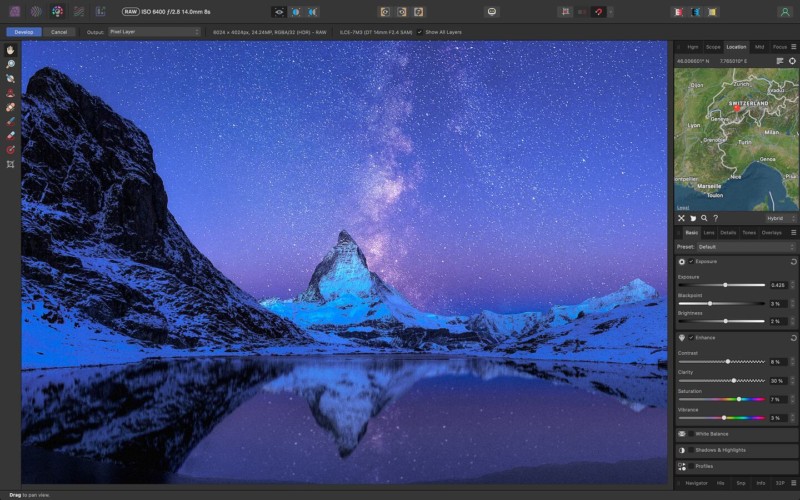 Compound Masks
The compound masks feature allows editors to combine multiple mask layers together non-destructively using add, intersect, subtract, and XOR operations. Serif explains that this means separate masks that have been created can be maintained non-destructively while creating new masks based on those component parts.
Live Mesh Warp
Live Mesh Warp allows editors to apply a non-destructive warp to an image or file so that it can be distorted to match the surface of an underlying template. Serif says it is highly effective for mock-up work, where users might place document files and composite them onto surfaces such as book or magazine pages.
Normals Adjustment
While this feature might not be particularly useful to photographers, Affinity Photo 2 has added what Serif calls Normals Adjustment, which allows editors to change lighting information that exists on existing normal maps. The company says it is great as a standalone feature for texture artists, but also allows the editing of lighting layers generated from 3D rendering software.
Live Masks
Much of what Serif has added to Affinity Photo 2 is based on the idea of non-destructive edits, and Live Masks continues that. It allows editors to build multiple non-destructive workflows which update automatically based on the properties of the underlying image.
Hue Range
Hue Range allows editors to create a mask based on a specific color in an image, which they can apply adjustments, effects, or just paint on the automatically generated mask for their chosen hue.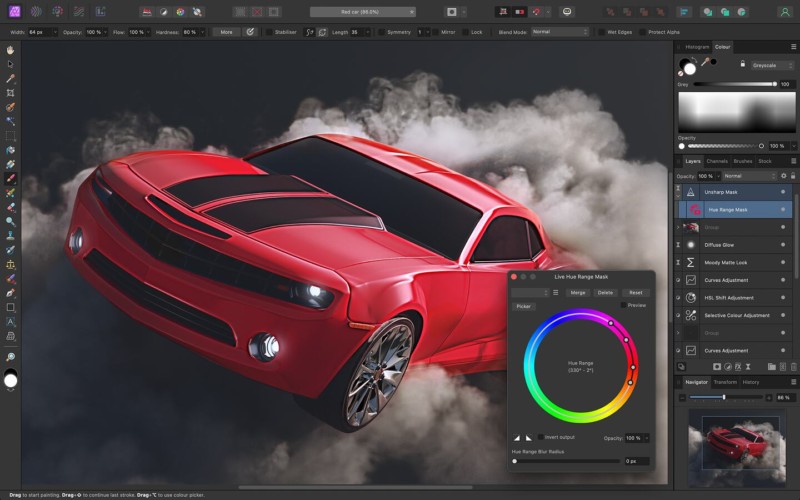 Band-Pass
Band-Pass creates a mask focused around the edges within an image. Serif says this has wide uses for retouchers who work on different frequency layers but also enables the creation of what it calls artistic effects.
Luminosity
Editors can now mask specific luminosity ranges in Affinity Photo 2. For example, they can mask specific ranges of highlights or shadows (or anything in between) to apply controlled adjustments to those areas.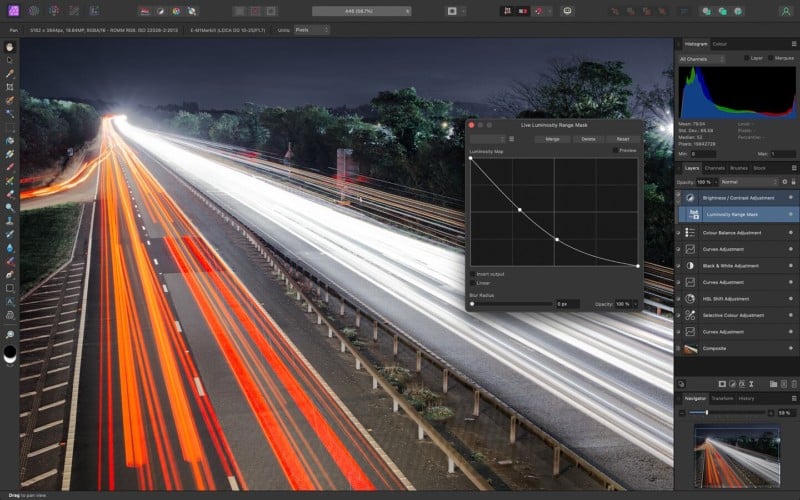 Saved Layer States
Affinity Photo 2 now supports saved layer states, which allows editors to save different visibility states of their layer stack to quickly review different design options or versions of their work.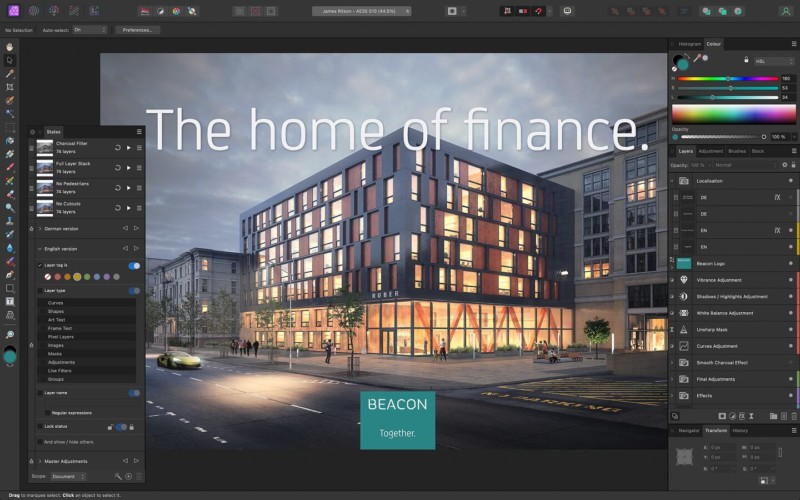 "Either create a manual layer state to save your layer visibility as it currently is or smart layer states which let you specify whether you want to turn layers on or off based on one or more of the following filter criteria: layer color tag, layer type, layer name and lock status," Serif explains.
JPEG XL Import/Export
Finally, Affinity Photo 2 now supports JPEG XL, which lets editors export to a format that is growing in support — particularly on web browsers — for wide color gamut and HDR images. This format is also supported by some HDR displays.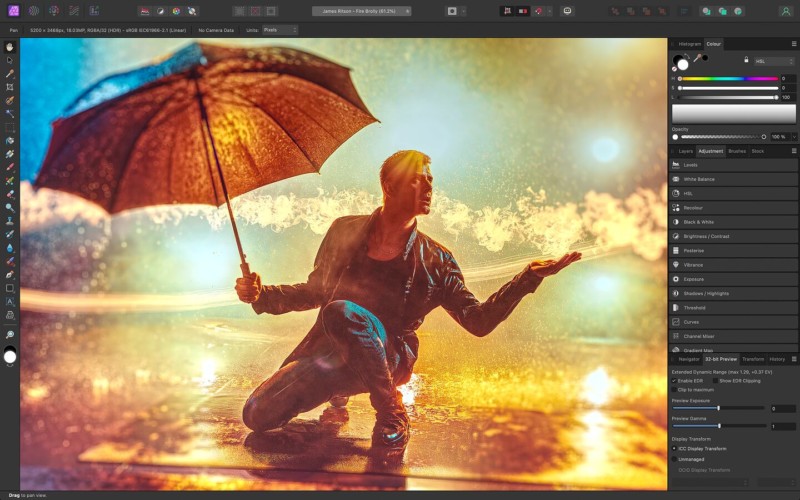 iPad Support
Affinity Photo 2 is also supported on iPad, optimized to take advantage of the increased memory limits that have been available since iPadOS 15. iPadOS 16 users will also get the added benefit of the new virtual memory swap which dramatically increases performance on very large documents.
Additionally, all Serif Affinity apps have a new command controller radial menu that gives quick access to common modifiers on all tools and a quick menu, which gives fast access to clipboard options and nine customizable shortcut operations with a three finger swipe. Finally, a new compact mode for the layers and brush panel allows editors to keep these panels open while maximizing document real estate.
Pricing and Availability
Serif Affinity Photo 2 can be purchased standalone for $70 (currently discounted to $41) and $20 for the iPad app (currently discounted to $12). It is also available as part of a three-software bundle with Publisher 2 and Designer 2 for $170 with a Universal License. This Universal License also allows contains Affinity Photo 2, Affinity Designer 2, and Affinity Publisher 2 for use on Mac, PC, and iPad together for a single all-inclusive amount.
At launch, this bundle is discounted by 40%, making the whole Universal License package $100 with no subscription. Serif did not mention how long it would offer this discount. All purchase options can be found on Serif's website.
---
Image credits: Serif