Tokina's Trio of Compact Super-Telephoto Lenses Launch Globally
Kenko Tokina has launched an IndieGoGo campaign for its three compact super-telephoto APS-C prime lenses: the 300mm f/7.1, 600mm f/8, and 900mm f/11.
The trio of reflex-style telephoto lenses was announced last month but, at the time, were only available in Japan. That changes today as the company's IndieGoGo campaign is meant to service multiple other regions.
Tokina describes the The SZ 300mmPRO Reflex F7.1 MF CF, SZ 600mmPRO Reflex F8 MF CF, and SZ 900mmPRO Reflex F11 MF CF as fully manual lenses that use the catadioptric-type optical design, commonly called reflex or mirror lenses. These lenses are exclusively designed for APS-C mirrorless cameras and are available for Sony E, Canon EF-M, and Fujifilm X mounts.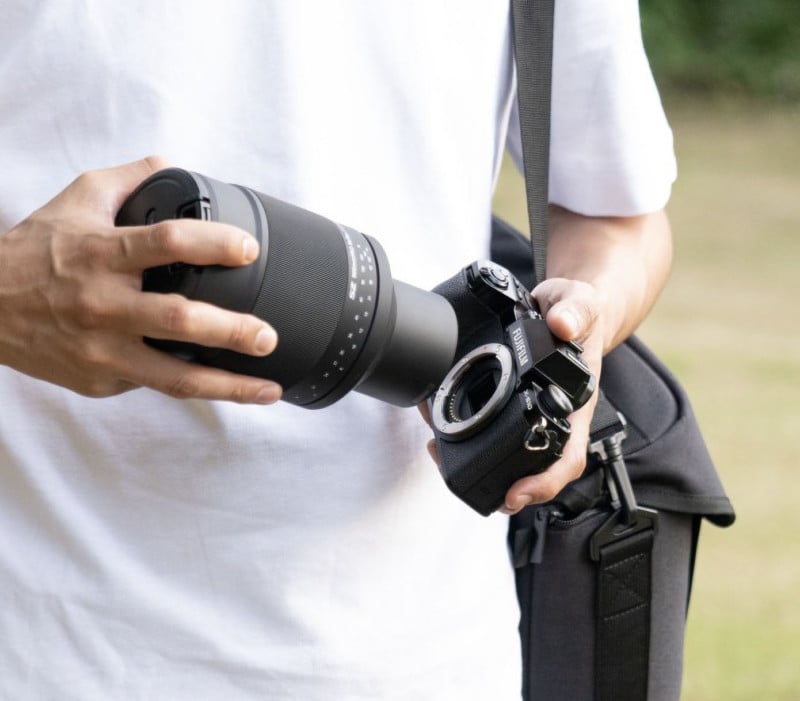 Because they use the catadioptric optical design, the lenses are both very lightweight and compact, especially considering their super-telephoto focal lengths.
"Telephoto type lenses are a really attractive and desirable type of lens for many photographers because they capture objects in minute details that the human eye cannot see. However, these lenses are traditionally large, heavy, and expensive. They are not a lens that can be enjoyed casually. Tokina's compact and lightweight mirror lenses are the solution to this problem," the company says, explaining why it continues to make use of the catadioptric-type design.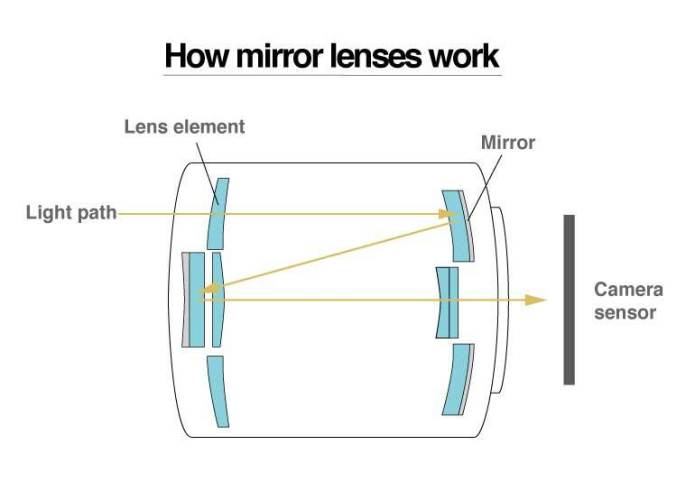 "In the past many manufacturers developed mirror lenses. However, film and DSLR cameras at that time had low resolution, no zoomable rear display and image stabilization, and limited ISO range. This made manual focus mirror lenses extremely difficult to use," Tokina continues.
"Fortunately, camera technology has shown amazing progress in the past 10 years. Better sensor performance, larger ISO ranges, and image stabilization and focus assist features allow users to capture photographs with mirror lenses that were previously impossible."
Tokina has been making mirror-style lenses for the last couple of years and some of its more recent lenses have been pretty good, according to PetaPixel's Ryan Mense, who has tested the company's recent mirror lenses. The design of the lens means not only are they much smaller than typical telephoto lenses, but they're also lighter and cheaper too. Tokina's 400mm f/8 reflex lens, for example, costs only $250 and is both tiny and mighty.
The main side effect of using the catadioptric optical design is the shape of the bokeh, which looks very different from the defocus area of standard lenses and is often described as "donut shaped."
That bokeh appearance and the fact that mirror lenses are very often not equipped with autofocus are the two main perceived "drawbacks" of the design, although there are many photographers who like the pattern of the out of focus areas.
The three lenses are available to back on IndieGoGo until November 29. Tokina's 300mm f/7.1 lens starts at $322, the 600mm f/8 starts at $484, and the 900mm f/11 starts at $565. Tokina expects to deliver lenses to backers by January 2023.
---
Disclaimer: Make sure you do your own research into any crowdfunding project you're considering backing. While we aim to only share legitimate and trustworthy campaigns, there's always a real chance that you can lose your money when backing any crowdfunded project.