The Winners of PetaPixel's Wild Personalities Photo Contest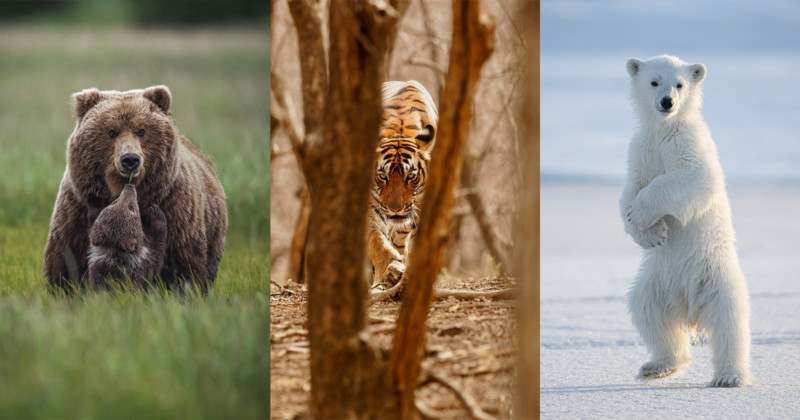 The Galápagos Islands is a bucket list destination for almost any photographer, thanks to the remote archipelago's diverse wildlife and stunning scenery. After winning the grand prize of the PetaPixel Wild Personalities Photo Contest, sponsored by OM SYSTEM and Lindblad Expeditions, one photographer and their chosen guest will be able to experience the "living museum and showcase of evolution" onboard Lindblad Expeditions' newest ship, the National Geographic Islander II, as well as an OM SYSTEM OM-1 camera kit.
The PetaPixel Wild Personalities Photo Contest ran from August 23rd to October 14th, 2023. In that time, the four judges received a staggering amount of submissions, which were carefully analyzed and voted on through multiple rounds. The real challenge began when we settled on the final 20 photos, as each was as captivating as the previous. After a final round of anonymous voting, the grand prize winner and four finalists were selected.
The grand prize winner will receive an adventure for two aboard Lindblad Expeditions' newest ship, the National Geographic Islander II (a $19,580 value). In addition, the Grand Prize winner will be able to photograph Galápagos' captivating wildlife with their powerful OM SYSTEM OM-1 camera body ($2,199.99), M.Zuiko 12-40mm F2.8 PRO II lens ($999.99), and M.Zuiko 40-150mm F4.0 PRO lens ($899.99). The total value of the grand prize is $23,679.97
The four finalist will receive a Olympus OM-D E-M5 Mark III camera body and M.Zuiko 12-45mm F4.0 PRO lens ($1,899.98) as well as a Lindblad Expeditions Maritime Jacket ($210.)
PetaPixel, Lindblad Expeditions and OM SYSTEM are proud to announce the winners of the PetaPixel Wild Personalities Photo Contest.
Grand Prize
Rylee Jensen
This incredible and rare capture by Clearfield, Utah based photographer Rylee Jensen of two large bears playing in a river quickly rose through the ranks to easily make it to the final round of judging. While judging the final round was no easy task, a majority of the judges selected Jensen's photo, propelling her to the grand prize.
Jensen describes the moment: "While wading through the Brooks River in Alaska's Katmai National Park, these two subadult bears caught my eye. I crouched low in the water and clicked away, thoroughly entertained by the push-and-pull antics of these two. They wrestled and chased each other up and down the river for over an hour, completely wrapped up in each other and paying no attention to either me or the countless stream of salmon beneath their paws. To the untrained eye, playing bears may seem like they are brawling, especially with their powerful paw swipes and wide open jaws. But the slight grin on the faces of these bears seems to give their intentions away. After spending years in the company of bears, this is one of my favorite photos I've ever taken and one that I feel best encapsulates their unique range of expressions."
Jensen's photo garnered rave reviews from the judge's as well. OM SYSTEM Ambassador Jay Dickman says: "Two bears duking it out in a stream, playful or not, now that's something we don't see every day. The body language contained in the two giants speaks to what is happening in this photo. A great background helps the image, but the intrigue and story still comes down to that moment just before interaction."
Lindblad Expeditions Director of Photography and OM SYSTEM Ambassador Ralph Lee Hopkins added: "What an amazing and rare moment! It is challenging enough to capture one brown bear standing in a salmon stream with a clean background, let alone two. And if you are lucky enough to get two in your image, being able to capture the facial expressions and body language that Rylee captured here is a one in a million chance. Us viewers are left wondering what is about to happen next. Are they playing, or are they fighting for dominance? Maybe neither, as the bears expressions and body language make it look like they are deep in conversation. An all around fantastic image that deserves the grand prize."
Finalists
Tiffany Taxis
Wyoming based wildlife photographer Tiffany Taxis capture this remarkable image of a goofy, yet adorable fox. Taxis says: "While photographing an energetic fox family, my attention was captured by one of the fox kits as it ventured away from the group and took interest in a long blade of grass. The kit began playfully pouncing and biting at the grass which made for some lighthearted images."
Alex Spielman
Pennsylvania based photographer Alex Spielman proves that you don't always need to travel far to photograph wildlife. Spielman describes how he captured this incredible photo close to his home. "Watching Herons fish is one of the most gratifying experiences as a bird photographer," he says. "This shot was taken at John Heinz National Wildlife Refuge at Tinicum in Philadelphia, Pennsylvania, and captures the beauty of these birds in a very unique way. On this particular morning, after waiting for a half hour or so, this Blue Heron pulled a crayfish out of the water. The weight may have been too much, so the crayfish was thrown from the Herons mouth. This particular frame captures that whole scene unfolding, which was quite amazing to witness."
Shane Morrison

Shane Morrison has an extensive background in biology and animal behavior, which has translated into practicing wildlife photography in his home state of Colorado.
"Over the last three years, I've studied Swift Foxes (Vulpes velox) on the short-grass prairie of Colorado," Morrison says. "They are the smallest canid in North America standing only about 12 inches at the shoulder and weighing about six pounds."
"One morning, at dawn, as golden light swept across the prairie, I watched as this young Swift Fox kit dug up a large Wood Rat (Neotoma micropus), cached by its parents the night before. He began to play, repeatedly shaking it and tossing it high into the air."
Karthik Subramaniam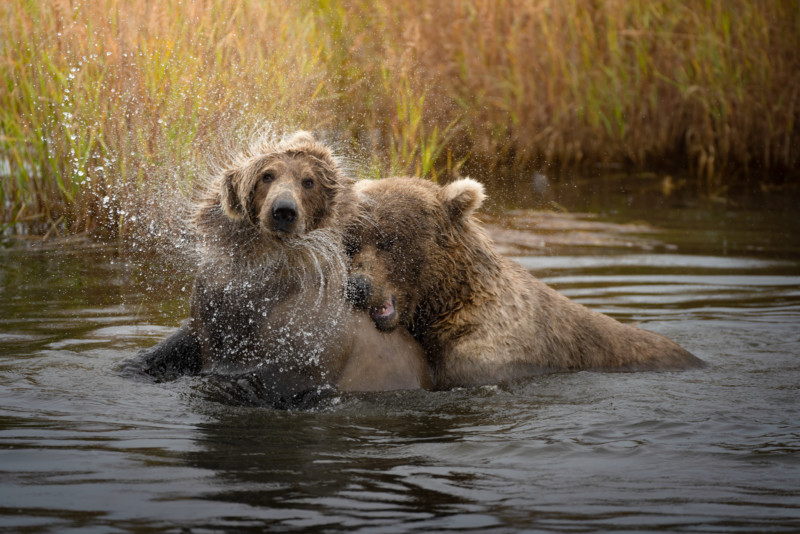 California based photographer Karthik Subramaniam has a stunning feed full of dream-like wildlife photographs, and like most who entered the PetaPixel Wild Personalities Photo Contest, he had a hard time choosing which photo to submit. Based on his recognition as one of the four finalists, it seems that Subramaniam chose wisely.
"I love observing and capturing unique moments with wildlife, especially ones that show their behavior and interactions," Subramaniam says. "This image is on the top of my catalog for wildlife behavior. I visited Brooks Falls at Katmai National Park in Alaska this September to photograph coastal brown bears. Observing bears up close was an experience that I will never forget."
"One evening, I was walking on the bridge back to Brooks camp for a break, and noticed these two bears play-fighting in the water and I knew immediately my break had to wait. I took a few photos of them playing, and this image was the one that drew me in immediately. I was in awe of the way it came out, with water swirling around one bear's face while the eyes were looking straight at me. It was a surreal moment that I was not only lucky to witness, but also able to capture."
Honorable Mentions
While these images didn't make the top five selections from the judges, they were very close.
John Philip Mellor
Shijun Pan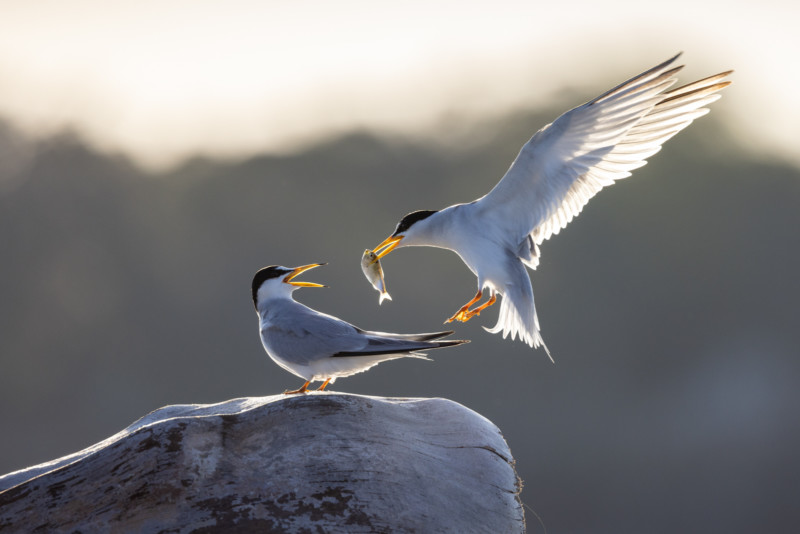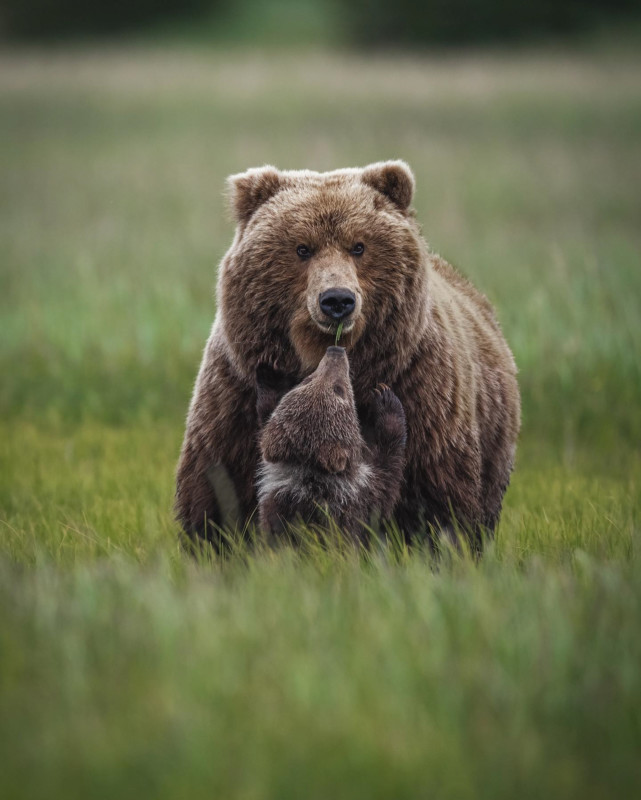 Kristen Barron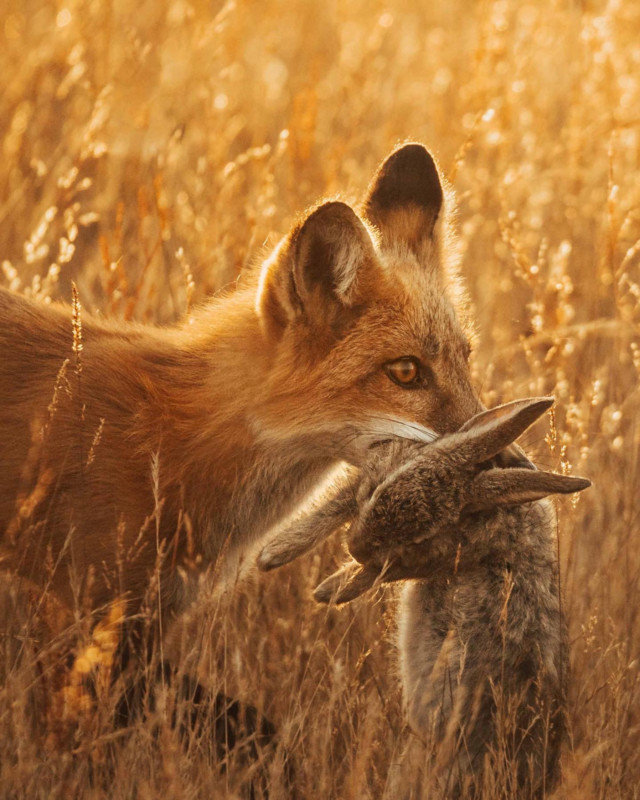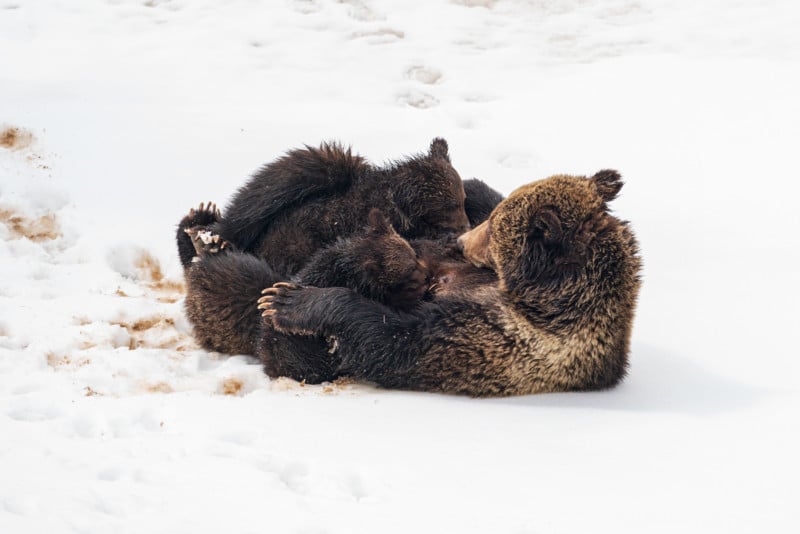 Lynda Rodig
Tina Brannon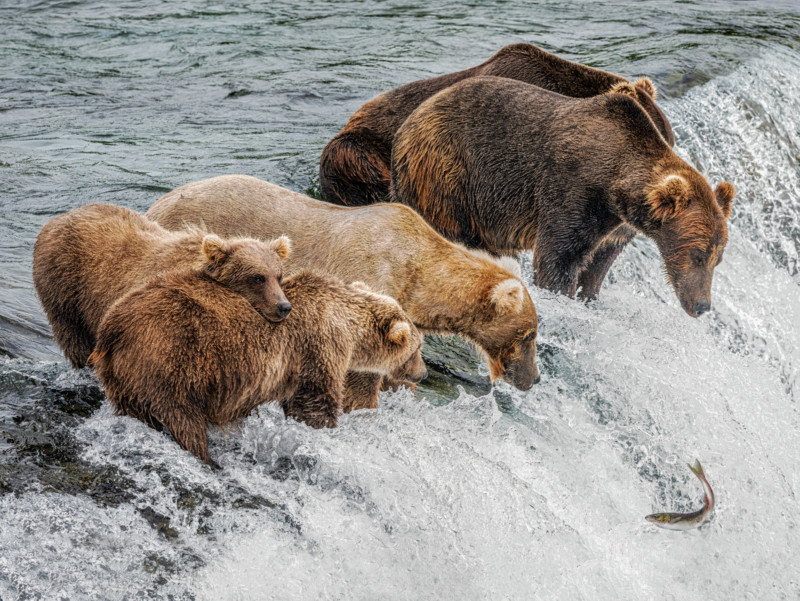 Rick Morgan
Francisco Jose Schopfer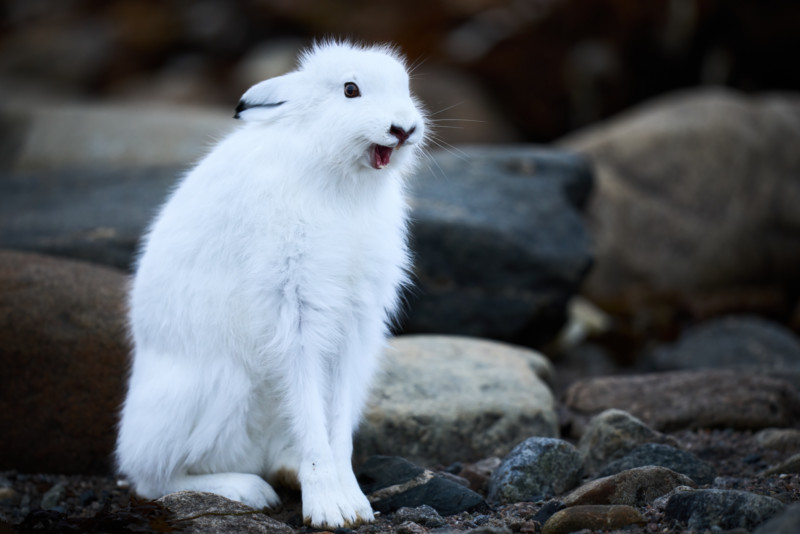 Brad Johnson
Narin Tipsrisukond
Alan Crain
Jonathan Grobe
Meet The Judges
The Wild Personalities Photo Contest was judged by four acclaimed wildlife, nature, and travel photographers.
Ralph Lee Hopkins is the Lindblad Expeditions Director of Photography and an OM SYSTEM Ambassador who travels the world documenting the adventures that await Lindblad Expedition passengers.
Brooke Bartleson is an OM SYSTEM Ambassador, professional wildlife photographer, bear viewing guide, and wolverine research technician based in Southeast Alaska.
As a Pulitzer Prize-winning photojournalist, National Geographic photographer and an OM SYSTEM Ambassador, Jay Dickman is a highly traveled, experienced, and internationally celebrated photographer.
PetaPixel Travel Editor Michael Bonocore has been documenting landscapes, wildlife, and cultures around the world for over a decade. His photography and writing have been featured in countless online and print publications, including National Geographic.
About OM Digital Solutions Corporation : OM Digital Solutions Corporation is a leading provider of award-winning digital imaging and audio solutions, noted for its precision optics and groundbreaking technologies.
After being split from Olympus Corporation in 2021, OM Digital Solutions was newly formed to infuse its imaging heritage of 85 years – including its technologies, products, services, and brand legacy – into a new agile company, unleashing the full potential of its business.
Today, OM Digital Solutions develops best-in-class products using the OM SYSTEM brand that challenge the boundaries of product design and functionality, fulfilling the needs of consumers and professionals alike.
About Lindblad Expeditions Holdings, Inc. : Lindblad Expeditions Holdings, Inc. is a global provider of small ship expeditions and adventure travel experiences recognized as the category leader for its pioneering, cutting edge programming and conservation commitment. Lindblad focuses on ship-based voyages through its Lindblad Expeditions brand and on land-based travel through its subsidiaries, Natural Habitat, Inc., Off the Beaten Path LLC, DuVine Cycling + Adventure Co. and Classic Journeys, LLC.
Lindblad works in partnership with National Geographic to inspire people to explore and care about the planet. The organizations work in tandem to produce innovative marine expedition programs and to promote conservation and sustainable tourism around the world. Guests interact with and learn from leading scientists, naturalists and researchers while discovering stunning natural environments, above and below the sea, through state-of-the-art exploration tools.