Iconic Lucha Libre Photographer Lourdes Grobet Has Died
Famed Latin American photographer Lourdes Grobet has passed away at age 81. Grobet is perhaps best known for her iconic images capturing the culture of "Lucha libre Mexicana" or Mexican professional wrestling.
Grobet began to view the culture and world of Mexican Professional Wrestling through her camera lens in the 1980s. Known as Lucha Libre Mexicana, Mexican professional wrestling had been a favorite sport in Mexico, and one which Grobet had adored since a young child.
Though becoming a fan through televised wrestling programs, her father never encouraged it, rebuffing her pleas to take her to an actual event. As an adult, Grobet began to not only capture the athletic spectacle of the events, but also the people behind the mask, who all too often felt more comfortable in their costumes, rather than out of them.
Central to documenting the world of Lucha Libre, Grobet wanted to focus on the gender imbalance of female wrestlers who she called "las luchadores," or the fighters. Grobet is known for saying that women wrestlers were "living a double struggle of being a woman, and a fighter." Through her camera lens, she was able to capture their daily lives and how they often lived extremes between the calm of motherhood and the chaos of the wrestling ring. She also found that many would wear their masks in their "day jobs," to maintain the mystery of the character.
Born to Swiss and Mexican Parents, Grobet had an interest in art from an early age. She got her start in painting, having traveled to Paris to study with notable artists such as Mathias Goeritz, Gilberto Aceves Navarro, and Katy Horna, among others. However, she soon realized that the art world had grown stale in her eyes, and she sought a more contemporary way to express her artistic vision.
"Looking around, and after asking myself the inevitable questions about what art is, it became clear that for me it was a language, a way of saying things," Grobet told Angelica Abellayra in 2005, "and so I had to find the best way of saying them."
She turned to photography as a more contemporary way of capturing the world around her. In the 1970s, Grobet found notice with a pair of photography shows, Casa del Lago: A la mesa (To the table), a photomural of household appliances, and Hora y media (Hour and a half), a show in which she walked across a wooden frame, tearing away aluminum foil while being photographed.
After which, Grobet sought to improve her photography skills by studying the art form at the Cardiff School of Art and Design in Wales, before returning to Mexico City where she joined the artist collective known as Proceso Pentágono, which sought to capture artistic experimentation in response to social oppression.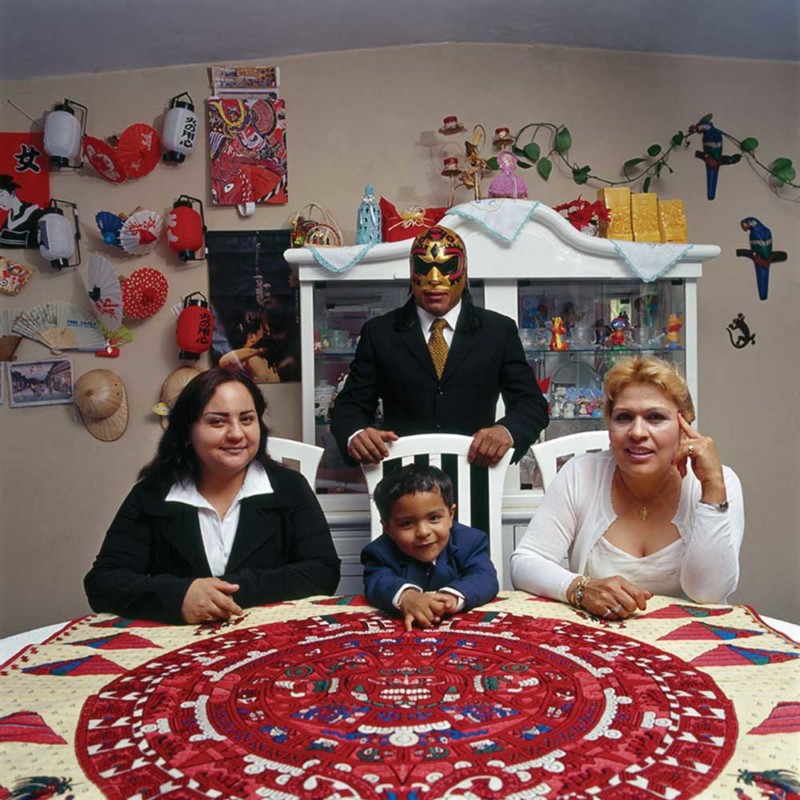 Grobet also worked as a photographer for Mexican theater, with actors performing original plays out in the fields that captured the history and culture of the indigenous people of Mexico. These were plays put on in the classic sense, with original costumes and no technological means such as microphones or theater lights.
Grobet published nine books throughout her career, mostly with Spanish publishers. Her most recent 2005 photographic collection "Lucha Libre: Masked Superstars of Mexican Wrestling" and many of her iconic images can be found in the collections of the Fundación Cultural Televisa and Centro de la Imagen in Mexico City; Harry Ransom Center, the University of Texas at Austin; and Musée du Quai Branly in Paris.
There are no details on her passing, but she is survived by her four children: Juan Cristóbal Pérez Grobet, Alejandra Grobet, Xavier Pérez Grobet, and Ximena Grobet.
---
Image credits: All photos courtesy Lourdes Grobet and family.