Apple iOS 16 Enhances the Intelligence of its Camera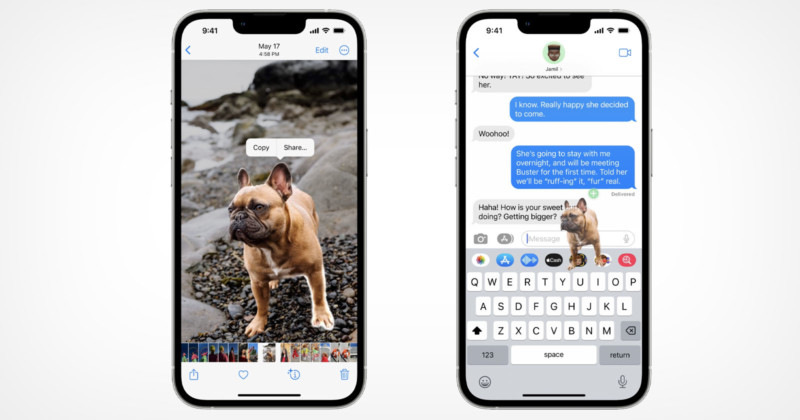 Apple has announced that iOS 16 will bring new levels of intelligence to the camera as well as options that families will have to share photos with each other.
Enhancements to Live Text and Visual Look Up
Apple says iOS 16 will make its Live Text and Visual Look Up capabilities even more intelligent. Live Text allows an iPhone to recognize text in images to allow them to be copied and pasted or translated. The company has announced this feature is coming to video as well. At any time a video is paused and text is visible, iOS 16 will let users pause a video on any frame and interact with the text. Live Text also adds the ability for users to quickly convert currency, translate text, and more.
Visual Look Up works with photos in a new way by allowing users to tap and hold on the subject of an image and "lift" it from the background and paste it like a sticker in apps such as Messages. Visual Look Up can recognize a host of subjects like pets and people as well as birds, insects, and statues.
Apple Introduces iCloud Shared Photo Library
Apple has made enhancements to Family Sharing in the Photos app. The company says that iCloud Shared Photo Library gives families a new way to share photos seamlessly with a separate iCloud library that up to six users can collaborate on and contribute to.
Users can share existing photos from personal libraries or share based on a start date or with people that appear in photos. A user can also choose to send photos to the Shared Library automatically via a new toggle in the Camera app.
Additionally, Apple says users will receive "intelligent suggestions" to share a photo that includes participants in the Shared Photo Library. Every user in a Shared Photo Library can add, delete, edit, or favorite photos and videos.
Every user in the Shared Photo Library has access to add, delete, edit, or favorite the shared photos or videos, which will appear in each user's Memories and Featured Photos so that all members can share and relive memories they make together.
The enhancements to Live Text, Visual Lookup, and Shared Photo Libraries will come with iOS 16 later this year.
---
Image credits: All photos by Apple.