Rapper Randomly Twists Knobs on a Live NBA Broadcast Camera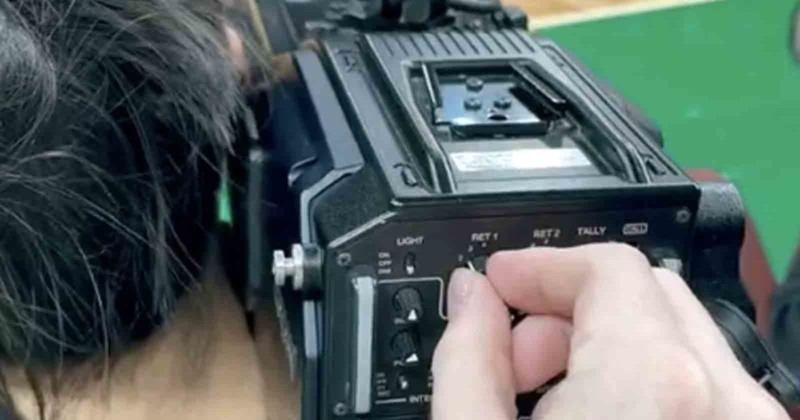 Rapper Jack Harlow became the center of controversy when he filmed himself adjusting the settings on a live broadcast camera without the operator's knowledge or permission while courtside at an NBA playoff game.
The incident happened during game one of the Eastern Conference Semifinals between the Boston Celtics and the Milwaukee Bucks. Harlow recorded himself randomly twisting knobs on the back of the broadcast camera.
One of the knobs that Harlow changed is the RET1, a setting that adjusts the signal strength of the video return channel and if it is not set correctly could potentially cause a problem when the camera is brought into the live feed. Camera operator Tami Nguyen had no idea that the RET1 setting had been messed with, she can be seen wondering what was happening to her image.
Jack Harlow bouta get someone fired 😭 @jackharlow pic.twitter.com/pljcQyZuhH

— Overtime (@overtime) May 1, 2022
The rapper didn't post the video of his churlish behavior himself but it was shared by the Overtime Twitter account with the phrase "Jack Harlow bouta get someone fired." While he obviously thought his antics were funny, he likely wouldn't be as amused if someone did the same to his microphone while he was performing on stage.
Nguyen took the mischief in stride and responded as a professional, especially since Harlow's team apologized for his naughty behavior. "@JackHarlow you owe me chicken fingers," she posted on Twitter after the game. The reference to chicken fingers apparently shows off Nguyen's knowledge of Harlow's affection for KFC.
I also don't want to be harassed while I'm working games/concerts, so I may not attend the next few playoff games. Stay safe, everyone!

— Tami Nguyen (@bostontamcam) May 2, 2022
Nguyen, who works as a freelancer camerawoman and photographer, confirmed that she didn't get fired over the incident, but has decided to take a few games off, fearing harassment by other fans who might seek to duplicate the prank — a serious and likely circumstance.
"I also don't want to be harassed while I'm working games/concerts," Nguyen posted. "So I may not attend the next few playoff games."
The incident underscores how vulnerable camera operators can be when they are engrossed in their work. It is extremely difficult to stay focused on aspects of a sporting event for the entire active time of the game, which isn't even asked of any player on either team. Camera operators are tasked with nailing every shot without fail, which is challenging even without a third party making the work harder. The amount of pressure placed on operators increases for high-profile games, such as the playoffs.