Photographing MLB's Opening Day for the San Francisco Giants
Being a photographer for a professional sports team is a dream for most, but it does not come without challenges. With an owner-imposed lockout ending well after 2022 Spring Training was set to begin, Andy Kuno was faced with a condensed and chaotic Spring Training to prepare for the most important day of his season: Major League Baseball's famed Opening Day.
Locked Out
Andy Kuno is a staff photographer for the San Francisco Giants, one of the most well-known teams in Major League Baseball. The Bay Area native and skateboard enthusiast has been a photographer in the organization since 1996. For most of his 27-year career, Kuno has witnessed Major League Baseball players report to Spring Training camp on time, in mid-February. After Spring Training would end, Kuno would then photograph most of the home games and a handful of road games as the Giants' 162-game seasons would play out, uninterrupted. That changed in 2020, when the COVID-19 pandemic wreaked havoc on professional sports, including baseball.
On March 12th, 2020, as the disease spread through the United States, the MLB announced that the remainder of Spring Training would be canceled. Eventually, the league was able to play a shortened, 60-game season, void of fans in the stands. Kuno and MLB fans across the world began to think that baseball was returning to normal as the 2021 season played out in full, with some minor restrictions still in place.
The short nine-months of normalcy did not last long, as the owners and players were unable to sign a new Collective Bargaining Agreement, and on December 2nd, 2021, the owners officially locked out the players, effectively ending the business of baseball for the first time in almost three decades.
Play Ball
As the days dragged on, and sparks of hope gave way to disappointment as the negotiations broke down repeatedly, Kuno was doing his off-season preparation as he always had.
"Just like every other team photographer, we were on the outside looking in," Kuno says. "We had no idea how the negotiations were going, or how close they were getting to an agreement. Myself and Suzanna Mitchell, my fellow photographer at the San Francisco Giants, just prepared like we always did.
"No matter what happened, the negotiations did not affect the minor league teams and players. There is always a minor league aspect to Spring Training that we have to cover, so we knew we were going to Scottsdale, Arizona either way. The question was when. Usually, Major League Players report to camp in the middle of February, with minor leaguers reporting about three weeks later."
Leading up to the Major League players' reporting date, it was becoming clear that their arrival would be delayed as the two sides had yet to agree.
"Suzanna and I began our preparations for arriving at camp on March 7th. On March 8th, we photographed the minor league practices before setting up for a long day of headshots on March 9th," Kuno continues.
While the San Francisco Giants open the season with just 26 players on the active roster, the minor league affiliates include about 170 players. In addition to capturing all of their headshots, it is also Kuno's responsibility to take headshots of all of the employees as well.
"Minor League headshot day is always a whirlwind. Reporting to camp almost a month late and jumping right into capturing over 200 headshots is very unusual for me. Usually, I have at least two weeks with the major league players to get back in the groove before the minor leaguers arrive, and then we spend about 4-5 days just focusing on all of them. The term 'Spring Training' doesn't just apply to the players, but also to me as a photographer," Kuno says.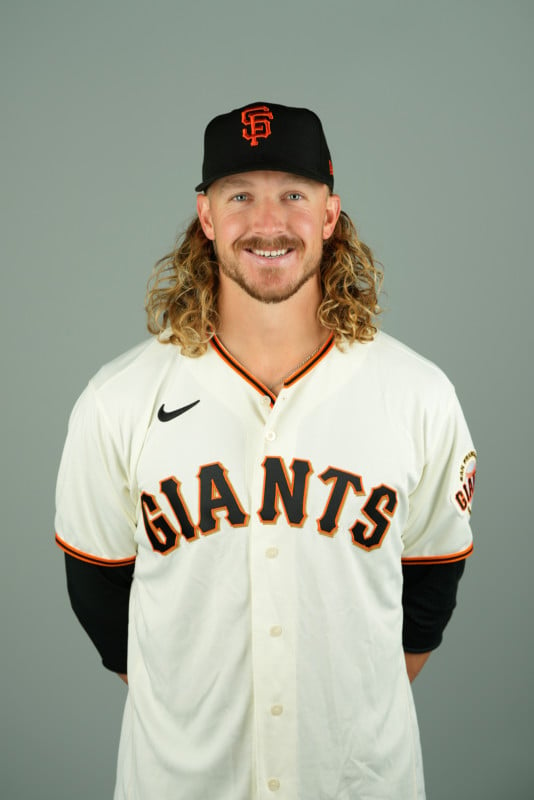 "The day after taking the minor league headshots, on March 10th, Suzanna and I photographed the minor league practice as usual before heading to Sky Harbor airport for our evening flight back to San Francisco. After checking in and arriving at our gate, our phones started blowing up," Kuno continues.
The news was being delivered to him via text message and Twitter. The owners and players had come to an agreement. The lockout was ending.
"I thought to myself, 'I am already here, why couldn't this have happened two hours ago before I checked my bag?' Kuno continues. "Flying back to San Francisco did work out for us though. Normally, we load all of our lighting and photography gear on one truck that goes to Arizona in early February, before Spring Training starts. Because of the lockout, we didn't ship all of our gear to Arizona, in case a later agreement would force Spring Training to happen at Oracle Park in San Francisco.
"I had all of the cases I needed set aside in a corner of my office so they would know where to find them in case they needed to ship them while I was in Arizona. Unbeknownst to me, our cleaning crew had moved the cases around, so flying home actually wound up being beneficial. It allowed me to make sure that all of the photography and lighting gear that we needed was loaded onto the truck to go to Arizona. If I didn't get home during those four days, it's possible some critical gear would have remained in San Francisco."
The "Meat Market"
Like many MLB team photographers, Kuno has a lot of responsibilities during Spring Training.
"Not long ago, my mindset as a photographer was focused on print, as we had a Giants magazine. The magazine is no longer in print, so we have transitioned to more social media and photography campaigns, usually centered around headshots. We don't cover the Spring Training games usually, because the photos don't have a long-term marketing life, as the uniforms will never see the light of day after the regular season begins. So my main focus is headshots and photos that show the players' personalities, especially if they are a new addition to the team," Kuno says.
"To photograph the headshots for all the major league players, we normally have two studio setups: One based on the campaign and one which is set up to be more fun," he continues.
"The photo day is always slightly chaotic. It's not just our sets that the players have to wander through. There will also be separate sets for Major League Baseball, Associated Press, Getty, NBC, and video portraits. It's pretty much like a meat market, with players just being ushered from one set to the next. It used to be a much bigger meat market, when Topps, Fleer, Upper Deck, USA Today, and the San Francisco Chronicle used to have stations as well. As chaotic as photo day is, it felt great to be able to experience it, especially after a challenging couple of years of the pandemic and the lockout," Kuno continues.
If everything goes well, it takes about 20m to 30 minutes for a player to make it through the gauntlet. Kuno usually spends a couple of more minutes with the veterans, as those photos will usually have more use throughout the year.
"I will usually get the standard portraits, with the bat on the shoulder for hitters and the pitchers in their stretch stance. I also try to change it up a bit, and this year I had fun getting some of the players to scream for me, giving the Giants a bit more of a dynamic and original image to use in their marketing," Kuno says.
Opening Day
As exciting as opening day is, it also is full of challenges for Kuno.
"The biggest hurdle that I face is trying to capture all of the ceremonial activities that happen before the first pitch. Unlike a normal regular-season game in the middle of the summer where I am just trying to capture the game action, opening day ceremonies only happen once, and the marketing aspect of the photos can be used for months or even years. So Suzanna and I have a lot of boxes that we need to check off," he says.
"This season was really fun. Usually, opening day is more serious, where the organization reflects on something big and important. But once they brought the self-appointed team captain, Brandon Belt, out on a boat, complete with the white Captain hat on his head and a giant 'C' made up of black tape on his uniform, I knew this opening day would be special," Kuno continues.
After the ceremonies were complete and nine innings of baseball were played, the excitement of opening day did not disappoint, as the Giants beat the Marlins 6-5 in extra innings.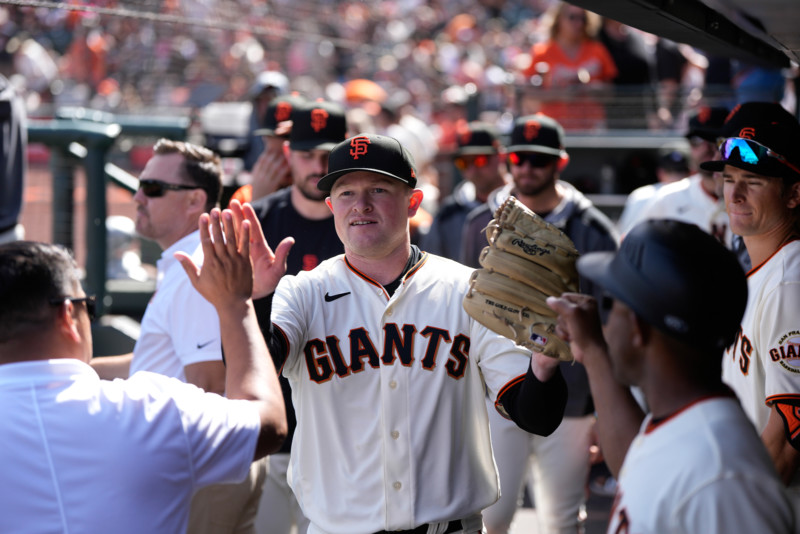 Documenting History
Even though the season has just begun, Kuno has already been lucky enough to photograph two historic events, not only for the Giants but for Major League Baseball and professional sports as a whole.
"The Giants opened a new Minor League complex, Papago, this year," Kuno says, "And it was really special to be able to document the players in their new springtime home. As a photographer, the place is like Disneyland to me, with jagged desert mountains as the backdrop for most of the photos. Being able to smell the grass and get a little dirty while shooting made me happy to know that baseball was back, at least in some capacity, as we waited for the lockout to end."
Kuno's month of documenting history was not over with that, however. On April 12th, Giants assistant coach Alyssa Nakken became the first woman to coach on the field of an MLB game when she took the reins as the first base coach in the third inning.
From several opening days to a few World Series, Kuno has documented it all in his 25 years with the organization. Considering the Giants won a league-best 107 games last season, Kuno might be documenting many more historical moments before the year is over.
More from Andy Kuno can be found on his Instagram and Twitter.
---
Image credits: All photos by San Francisco Giants/Andy Kuno
Header image: American flag parachuted in during festivities at the San Francisco Giants Opening Day at Oracle Park Friday April 8, 2022 in San Francisco. San Francisco Giants/Andy Kuno