Blind Blake: A Photographic Journey with Blake Lindsay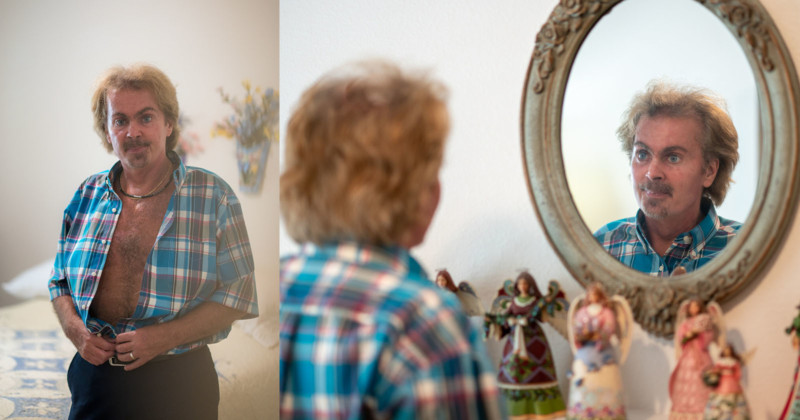 I met Blake Lindsay in 2016 when I was working on my first photo series about blindness. I worked with Envision, formerly Dallas Light House for the Blind, to document the stories of 15 people with a variety of visual impairments. Blake was the first of the company's employees I met who took me on his journey as a blind person, or rather "handi-capable" person as he likes to describe himself.​

After documenting the daily challenges and testimonies of the blind and visually impaired employees I met through the Lighthouse, I kept in touch with Blake over the years. We had formed a connection and I found his story, in particular, to be inspiring and interesting. So much so that in 2021 we decided to work on another project together- this time dedicated to his story and focusing on his ability to inspire others through his positive attitude and outlook on life and his journey to independence.
As a tribute to the person who introduced me to the world with no sight, this project is a personal endeavor and aims to give Blake's story the attention it deserves. As he likes to say and a statement that describes the intention of this project, "You can lose your sight, but you don't have to lose your vision." Welcome to the world of this purpose-driven individual with a passion for living life to its fullest.
When he was nine months old, Blake was diagnosed with a rare cancer called retinoblastoma. He underwent a surgery that saved his life, but the doctors couldn't save his sight. Blake says he has been blind ever since he can remember. Today at 57, he has absolutely no visual memories, but nonetheless, he has filled his life with extraordinary experiences and positivity.
In 2011, Blake wrote and published a book called Blind for a Purpose, in which he mentions one of his Dad's favorite quotes, "'I Can' is an attitude, 'I Will' is an intent, 'I Am' is taking action, and, 'I Am Glad I Did' is nearly always the result." This statement is the embodiment of the kind of person Blake is and how he has lived his life. He is a doer, always working to spread kindness and positivity while improving his level of independence.
Physical fitness is a large part of the path to Blake's independence. In junior high, he became a part of the wrestling team and practiced a lot of different sports including swimming, jogging, bowling, and bicycling. Blake's dad began his educational career as a coach so Blake followed after his Dad's example and also had one brother in the military, another working as a basketball coach and athletic director.
Blake was always surrounded by great physical and mental support. Throughout his life, he has continued to exercise on a regular basis but has also experimented with more daring sports. With the help of a trainer, he rode his first horse at 8 years old and when he turned 18, he bought his own small motorcycle. His thirst for adventure even led him to jump out of an airplane at the age of 46.
"It was about having faith and fun, all in one. I believed the parachute would open when needed, and I had complete trust in my skydive instructor. We even made an enlightening keepsake audio-video production, which will always encourage people to dive in and face those fears, goals, and challenges which inevitably come our way in life."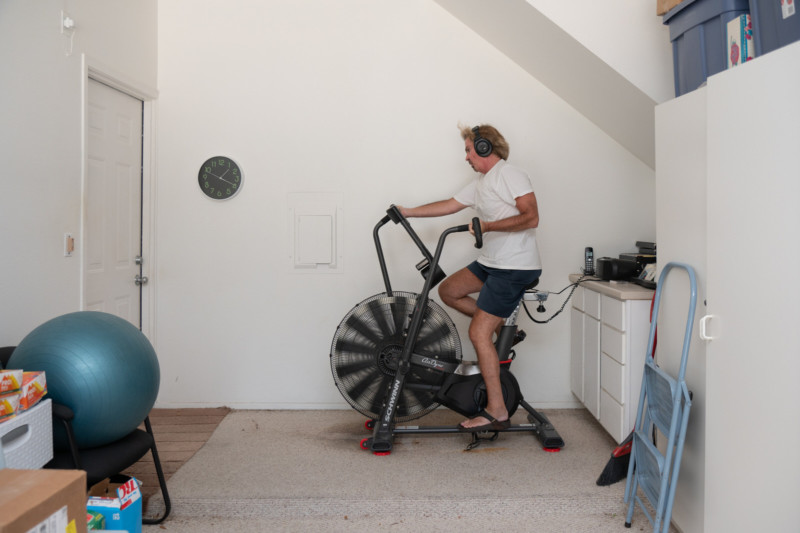 For Blake, independence means maintaining a full-time job, but also doing as much as he can without assistance. To him, asking for help isn't a bad thing, but he tries to do all he can solo because it makes him feel more independent.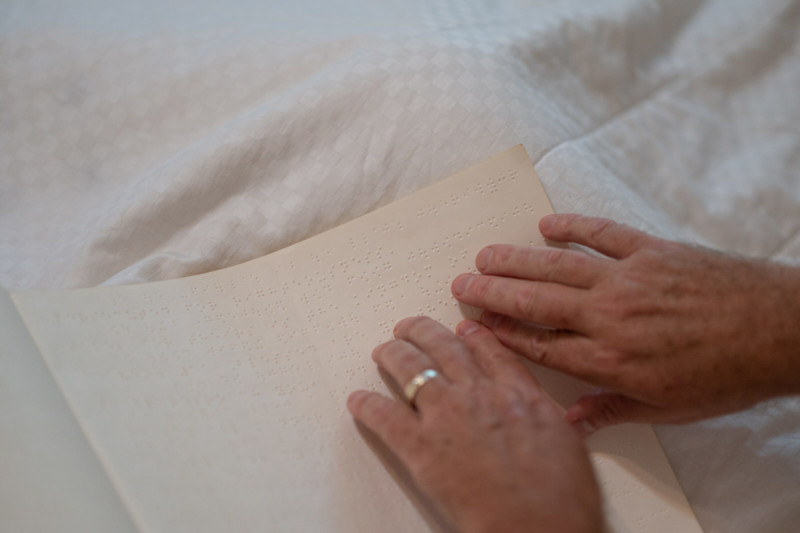 Blake was just 13 years old when he took his first job working at his school switchboard fielding inbound calls and transferring callers to where they requested. Blake says "It was great memorizing 70 three-digit extensions and I really got a kick out of receiving my first paycheck that I earned through my own work."
When he was a kid, people noticed his ability to memorize things — he could remember the date and time, who he met, and what they said. His Cousin Joy used to call him "Elephant Memory" and started buying him elephants when he was 7 years old.
Blake's memory is an incredible tool he uses to help him work on new skills to further his independence, especially when it comes to technology and doing his job. He likes to tell people, "if you have to be blind, now is the best time," referring to the advancement of technology and increase in resources to help the visually impaired.
When we arrived at his condo, Blake gave me a little tour and took me to his pool, where he likes to exercise. His big blue eyes were almost perfectly matching with the blue water, leading to our first conversation about colors.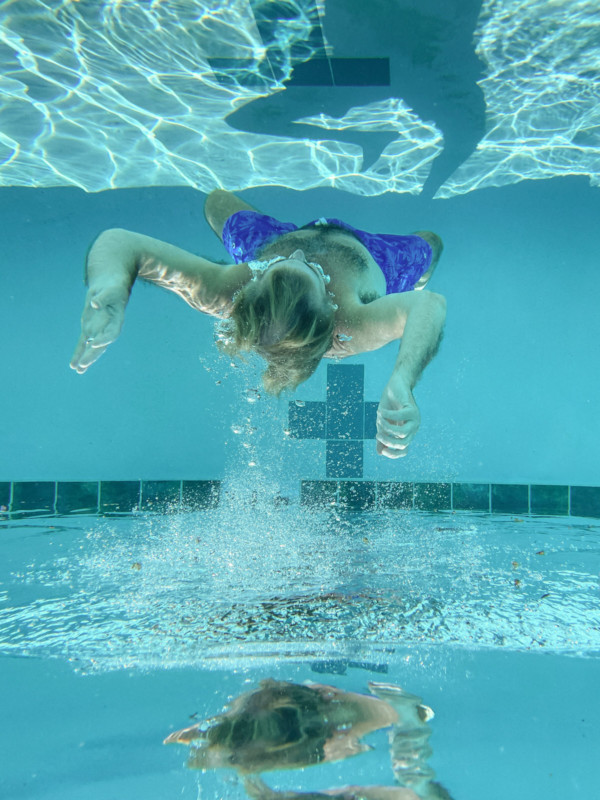 In his book he explains, "I love to hear about what people and things look like through descriptions. I'm delighted when someone takes their time and puts their views into telling me what they are seeing. For example, a beautiful or interesting-looking sky in the day, evening, or nighttime, or their creative descriptions of colors. It sure opens up my imagination."
His wife Jennifer, whom he has now been married to for about 19 years, plays a major role in this part of his life. She shares what she sees in their world every day. She not only has a wonderful knack for describing scenery but also enjoys helping Blake maximize the experiences they live together. At the grocery store, she leads and explains everything in detail from which area they're in to what fruits or vegetables are available and how they look. Jennifer colorfully describes their surroundings in order to help Blake understand the situation better and connect what he feels and smells to a visual idea.
In addition to serving other blind people at his full-time job at Envision, Blake is really passionate about radio and does professional voiceovers. At home, he set up his own professional radio recording studio in the guest room. Born with a golden voice that commands attention naturally, Blake has enjoyed a successful career in radio broadcasting under the name of Blazin' Blake. As a side job, Blake regularly has clients hire him to do anything from on-hold voice messages to radio and TV commercials, narration, and more.
"When I was younger, I got to work with K-98 and received positive press on a televised news segment, which reduced thousands of peoples' apprehension by helping them to understand that radio was an excellent and feasible career for blind communicators," he said.
Blake has achieved wonderful things in his life all without the benefit of vision, proving that success is attainable even in the presence of challenges some would say are insurmountable. He has made it his mission to inspire people to be brave and turn their challenges and struggles into purpose and motivation. He naturally encourages others, sighted or not, through his positive outlook on life, sharing heart, and loving personality.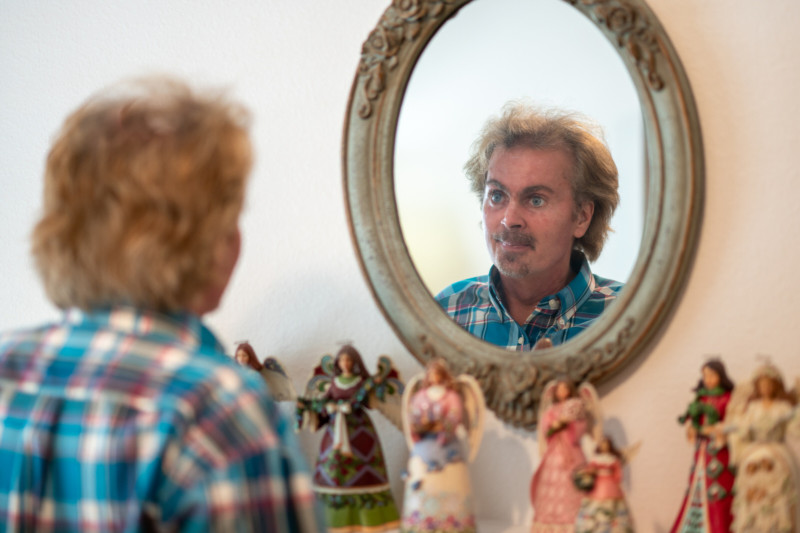 In his very emblematic voice, Blake said "I have rarely felt sorry for myself. I am thankful that my eyesight was all that was taken and my life was spared. It feels great to be alive! My lifetime of total blindness constantly offers me opportunities to challenge and inspire people of all ages to set significant goals and to follow through with an action plan."
---
About the author: Jerome Poulalier is a 34-year-old French photographer based in Lyon and working worldwide. The opinions expressed in this article are solely those of the author. You can find more of Poulalier's work on his website. This article was also published here.