Macro Film Turns Glitter and Ink Into Galactic Art
Filmmaker Vadim Sherbakov experimented with mixtures of inks, alcohol, soaps, and other elements which resembled the deep colors and playful shapes of cosmos for his latest creative macro film, "Velocity."
Macro Film Inspired by Outer Space
Known for his award-winning aerial photography and video work such as the aerial film "Spirit of Altai", Sherbakov has also worked on experimental short macro films. "Velocity" is the third and the latest in his collection. Described as "a colorful journey through uncharted cosmos," it was inspired by observing the similarities between glittery ink and the universe.
"During the last two films I couldn't shake the feeling that sparkling glitter with dark ink backgrounds on one hand and colorful pigments on the other reminded me of distant galaxies, galactic clouds, nebulas, and other cosmic bodies," he says.
"Vast space of the universe, close-ups of 'fast-moving' near galactic bodies as well as explosions of stars — all that I've tried to portray in a new experimental film."
Liquid Mixtures Akin to the Cosmos
Having had the experience of the first two macro films, Sherbakov and set designer Luidmila Tregub knew exactly what to do this time. They shot the footage in the home studio, using simple Falcon Eyes Studio LED Cob light, which was sufficient for the macro shots.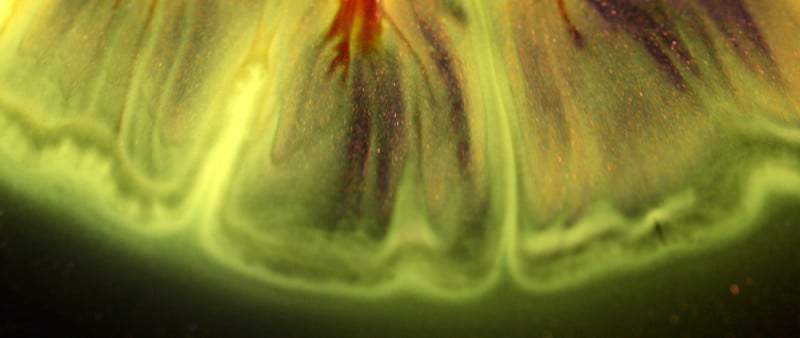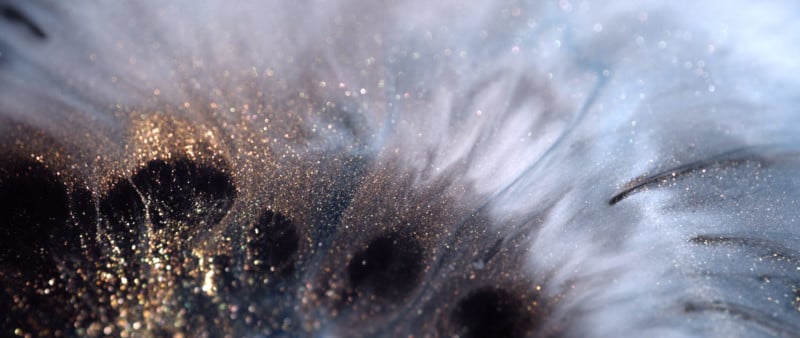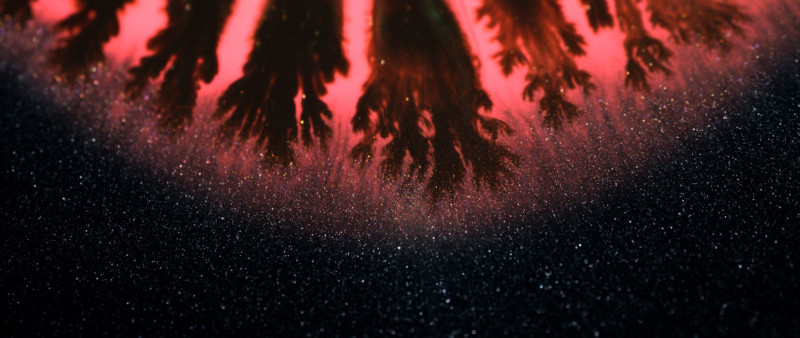 The most important components were the inks, chemicals, and glitter which create unique shapes and colors as they collide and moved around. It took Tregub countless hours to create the right mixtures to ensure they not only look great on camera but also gave the correct movement.
Sherbakov used a Canon EOS R5 and shot in 8K RAW format which gave him the creative freedom to color correct and grade the film in post-production. For this film, he used a new manual 150mm f/2.8 macro lens from Irix, which he says gives "awesome bokeh and sharp center."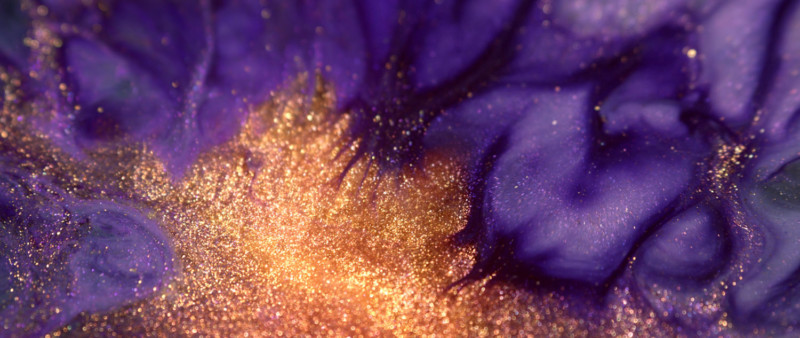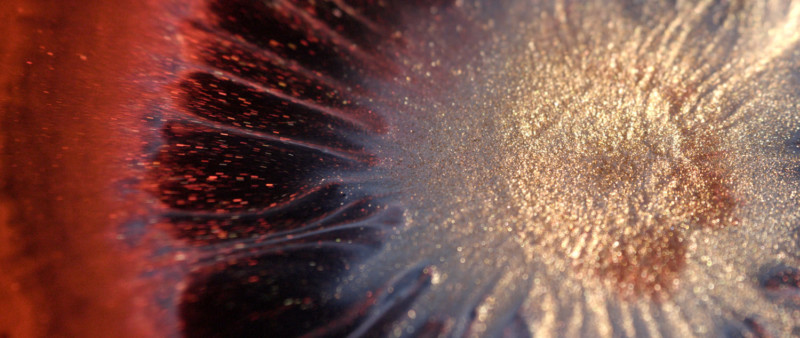 By tilting the camera slightly, Sherbakov achieved a shallow depth of field and the result helped him convey the feeling of capturing objects at great distances or those very close, therefore resembling what it would be like to shoot in space.
"The challenge was in dealing with Canon RAW 8K footages," Sherbakov tells PetaPixel. "Since it's a personal project I wasn't able to allocate a super-fast computer and had to be content with my iMac 5k 2018 computer."
"I had to record a proxy at the same time as 8K since I knew I will definitely need them after," he adds. "CRAW (with CLog 3) color correction and grading was a great experience and I can get so much from the footage."
More of Sherbakov's work can be found on his website, YouTube Channel, and Instagram.
---
Image credits: Photos by Vadim Sherbakov.