A Star Trail Timelapse of the Mojave Desert Shot Under a Full Moon
Writer and experimental filmmaker Gavin Heffernan has published a night sky timelapse created from various locations in the Mojave desert and unusually leverage a full moon to illuminate the scene for a surreal result.
Heffernan is a self-described "dark sky advocate" and set up Skyglow— an initiative and campaign to explore the effects and dangers of urban light pollution in North America — in partnership with cinematographer and American Film Institute classmate Harun Mehmedinovic. The project also received aid from the International Dark-Sky Association, which is a non-profit fighting for the preservation of night skies around the globe.
Using A Bright Moon To Illuminate Foreground
As part of the Skyglow project, Heffernan and Mehmedinovic traveled to various locations surrounding Joshua Tree National Park in California with the goal of capturing the sparkling Mojave night sky stars and star trail timelapses. Heffernan tells PetaPixel that the duo "experimented with using a nearly full moon to create a surreal psychedelic 'sunlight' effect over some night sky stars and star trail panoramas."
Usually, Heffernan and most night sky timelapse photographers try to avoid shooting when the moon is visible because it can wash out the stars and make them less visible. However, this time it created a unique look. He photographed the scenes at 20-second exposures against the clear desert skies and took around 800 photos with remote control. The resulting images were then stacked to animate the trails.
"Overall, it was a very peaceful experience, despite dealing with some high desert winds and trying to find just the right settings to capture the stars while the big bright moon was essentially acting as the sun, threatening to wash out all the darkness," Heffernan says.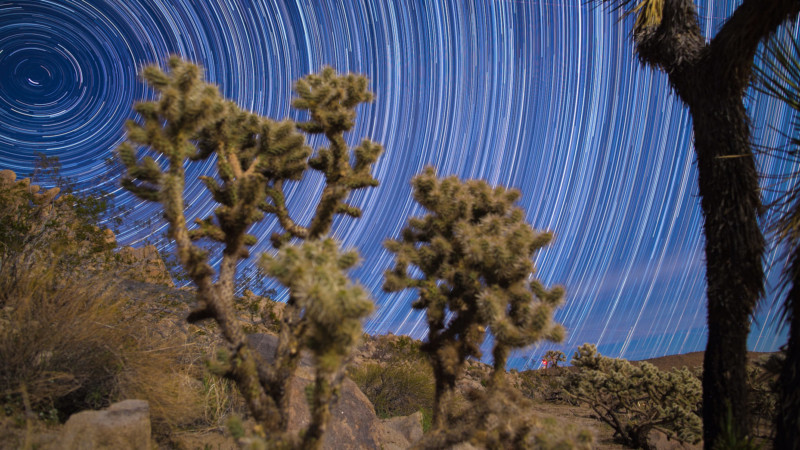 "The shoot was spread across a long weekend. I was using two cameras simultaneously, but I only had one tripod, so some of those very low angles are actually the camera sitting in the sand! It was a fun, immersive angle to explore but it came with a price, as every low setup would lead to me getting small, errant, insidious desert cactus spikes clinging to my ass through my sweatpants."
Reducing Light Pollution Across the World
The produced film comes just in time ahead of the International Dark Sky Week, observed during the week of the new moon in April. This year it falls from April 22nd until April 28th. During this time people turn off their lights and enjoy the beauty of the night sky without light pollution.
Heffernan plans on watching some of this year's events virtually and helping spread the word using a photo book and Blu-Ray created as part of the Skyglow project.
More of Heffernan's work can be found on his website, Instagram, and Skyglow's Vimeo.
---
Image credits: Photos by Gavin Heffernan.