Photographer 'Disappointed' That NBC Edited Lia Thomas Photos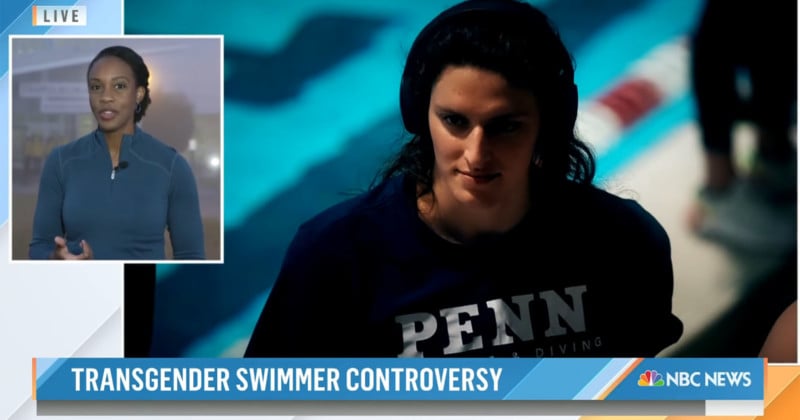 NBC has sparked criticism for airing edited photos of transgender University of Pennsylvania swimmer Lia Thomas that softened the athlete's facial features. The photographer behind one of the photos says she is "surprised and disappointed" at what was done to her original shots.

Thomas dominated news headlines in March after becoming the first openly transgender athlete to win an NCAA Division I national championship, placing 1st in the women's 500-yard freestyle event.
The News Segment on Lia Thomas
Leading up to the championships, NBC's The Today Show aired a 3-minute segment on March 17th that reported on Thomas's participation and the controversy surrounding the fairness of transgender athletes competing in women's sports.
Viewers quickly pointed out that the photos of Thomas in the segment and in social media posts promoting it appeared to be noticeably altered from their originals. In one photo, the swimmer's skin appears to have been lightened and softened, and goggle lines seem to have been removed.
One Photographer 'Disappointed'
Photographer and University of Pennsylvania graduate Erica Denhoff, who shot one of the photos aired by Today, tells the Washington Examiner that she was "disappointed" with what was done with her photo, which was sold through Getty Images. At first, she believed that "something was honestly wrong with the video" before realizing that the changes were "intentional."
"I pride myself on providing authentic images as a photojournalist," Denhoff tells the Examiner. "It's really important as photojournalists that we transmit authentic photos that have not been altered."
Embed from Getty Images
Denhoff was herself a varsity athlete in track and field at the University of Pennsylvania before graduating in 2008 and becoming a photojournalist. She was a credentialed media photographer covering the Ivy League women's swimming and diving championships when she photographed Thomas.
"When I first noticed the airbrushing on the segment referenced, I thought something was honestly wrong with the video," Denhoff tells the Examiner. "But then, I watched it again and thought, 'Wait a minute, this appears to be intentional. Lia's features are softened,'
"I then went to my original photo, on the sites that they could access to license the photo, and compared it and immediately saw a difference. […] My photo that they licensed was an authentic photo," Denhoff added. "I'm surprised and disappointed that Today altered my image of Lia for this particular news segment."
NBC News has not yet responded to allegations by critics that it intentionally softened Thomas's skin to appear more "feminine."
---
Image credits: Header still frame from segment by Today / NBC News