The Wildlife Photographer of the Year People's Choice Award Winners
The Wildlife Photographer of the Year (WPY) contest has announced the winners of the People's Choice Award. The winners were selected by thousands of votes from wildlife and nature enthusiasts.
The Natural History Museum, based in London, United Kingdom, hosts the competition annually. In October 2021, the competition announced the judges' favorites. Now, after shortlisting 25 photos for the People's Choice Award, the public votes have been counted and five winners have been crowned.
Open to both amateurs and professionals, the competition aligns with the Museum's mission — to shine a spotlight on stories and species around the world, creating advocates for the planet and inspiring conservation initiatives.
The Winner of the People's Choice Award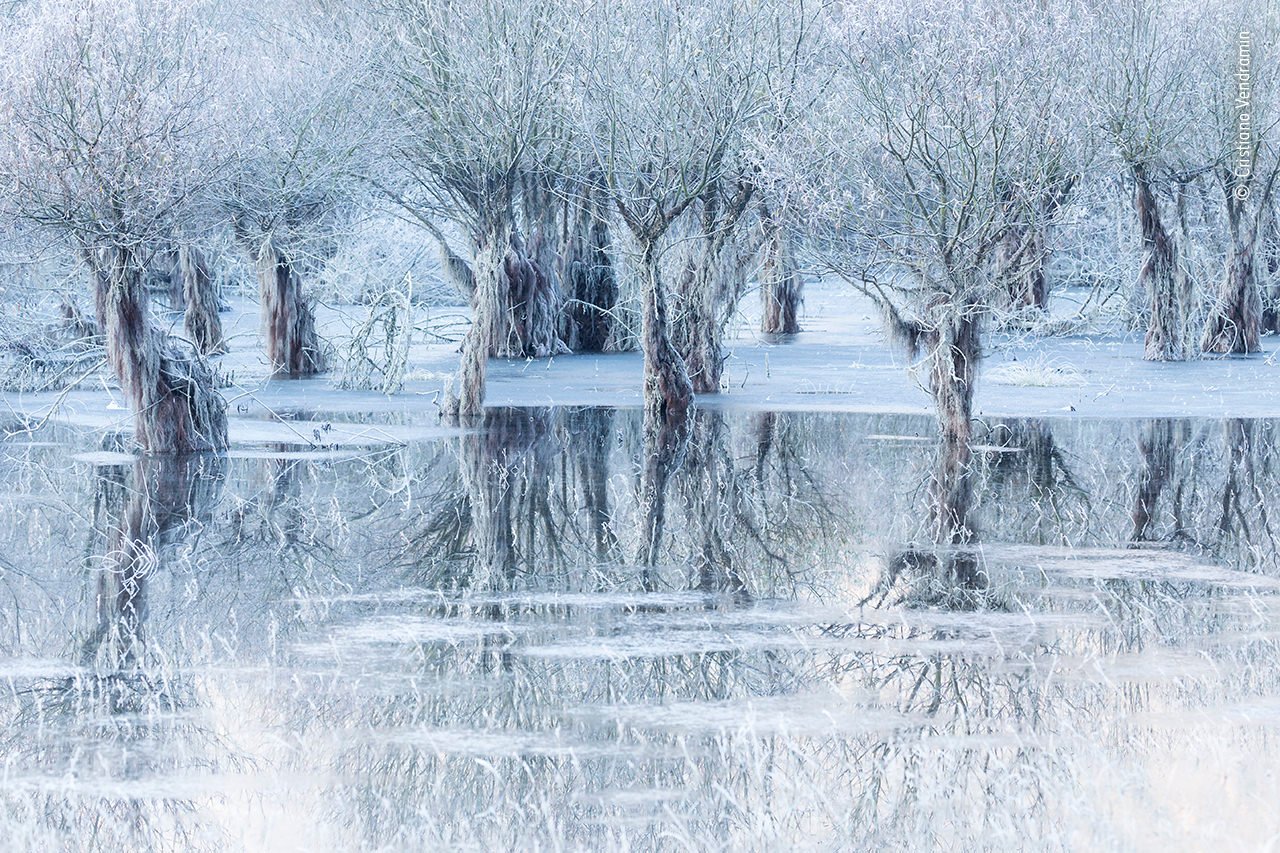 This year, Italian photographer Christiano Vendramin's photo "Lake of ice" was the public's favorite. The Museum shortlisted the winning photo from 50,000 images from 95 countries and it received over 31,800 votes from the public.
Vendramin visited Santa Croce Lake in northern Italy in 2019 and noticed the willow plants were partially submerged in the highly risen water, creating playful reflections. The scene reminded him of a dear friend, who had loved this place but had passed away.
"I want to think he made me feel this feeling that I'll never forget," says Vendramin. "For this reason, this photograph is dedicated to him".
"I hope that my photography will encourage people to understand that the beauty of nature
can be found everywhere around us, and we can be pleasantly surprised by the many
landscapes so close to home," says Vendramin.
Director of the Natural History Museum, Dr. Douglas Gurr, describes the winning photo as "poignant" and says it "symbolizes the positive impact nature can have on our wellbeing
and lives."
"It can provide solace and space to reflect on the past and even spark hope for the
future. These past two years have redefined what truly matters in life, the people and the
environments that play a crucial role in our own personal ecosystems. I hope those who look at this landscape frozen in time, are reminded of the importance of connecting to the natural world and the steps we must all take to protect it."
Four "Highly Commended" Runners Up
The four finalists below also received recognition for their powerful images.
The next round of the competition is currently being judged and the winners of the 58th annual contest will be revealed in October. All category winners of the competition can be viewed on the Natural History Museum's website.
---
Image credits: Photos individually credited and provided courtesy of the Natural History Museum.