Photographer Freezes to Death on Busy Paris Street
A well-known 84-year-old photographer died in the middle of a busy Paris street last week after he fell and was ignored by passersby for over nine hours.

Swiss photographer René Robert
reportedly
left his home at 9:30 pm on Tuesday, January 18th, for his routine evening walk down a bustling road in central Paris when he fell to the ground and was unable to get up.
Robert then lay in the bitter cold for nine hours while being ignored by those traveling up and down the road before a homeless person noticed the motionless figure on the ground the next morning and called emergency services. By the time paramedics arrived to render aid, it was too late: Robert had already succumbed to the cold and had died from hypothermia.
"Murdered by Indifference"
Journalist Michel Mompontet, a friend of Roberts, Tweeted that the photographer had been "murdered by indifference."
Assassiné par l'indifférence.
Ce soir 19h20 sur France Info TV mon hommage au photographe René Robert, mort seul dans une rue passante de la capitale sans que personne ne s'arrête et lui porte secours…et ce que cette tragique et révoltante fin de vie nous apprend de nous-mêmes pic.twitter.com/do2ukLQFY1

— Michel Mompontet (@mompontet) January 24, 2022
"He was a gentle, sensitive and humanistic friend," Mompontet writes in a Tweet. "As discreet as sensitive. On the night of the 19th, in the very center of Paris, the great photographer René Robert suffered from a dizzy spell and fell.
"Unable to get up, he remained nailed to the ground in the cold for 9 hours before a homeless man called [emergency services]. Too late. In hypothermia, he could not be brought back to life. For 9 hours no passerby stopped to see why this gentleman was lying on the sidewalk. Nobody.
"If this horrible death can be used for something it would be this: when a human is lying on the sidewalk, as rushed as we are, let's check on his condition. Let's stop for a moment."
the beautiful work of rené robert, who sadly passed away. pic.twitter.com/0L6g4Kqqq0

— catarina. (@cacmrg) January 28, 2022
A Busy Road in the Heart of Paris
Roberts, who was born in 1936 in Fribourg, Switzerland, and who was best known for his portraits of famous Spanish flamenco artists, reportedly fell on the sidewalk between a shop and an optometrist on Rue de Turbigo, a road in the heart of Paris less than 4 miles from the Eiffel Tower.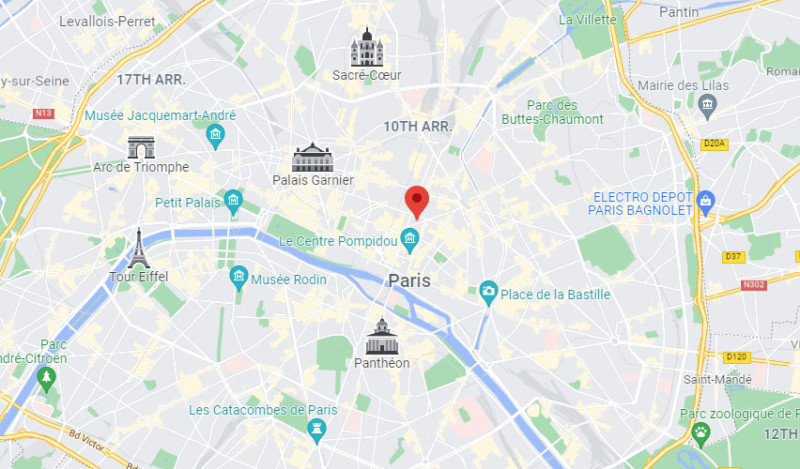 Robert fell in an area of Paris in which homeless people are often seen "rough sleeping" on the streets, The Guardian notes, and this may have caused onlookers to mistake the photographer for a sleeping homeless man (albeit one not dressed warmly enough for the cold night).
'Killed by indifference': France shocked by death on busy Paris street https://t.co/N2qt8Ai5Kn

— The Guardian (@guardian) January 28, 2022
An Outpouring of Grief and Anger
"Before giving any lessons or accusing anyone, I need to deal with a little question that makes me feel uneasy," Mompontet tells France TV Info. "Am I 100% sure that I would have stopped had I been confronted with that scene – a man on the ground? Have I never turned away from a homeless person lying in a doorway?"
Details of Robert's death have sparked outrage in France and around the world.
"The death of René Robert, who immortalized with his camera all the great artists of flamenco, challenges our collective conscience," writes the Spanish Embassy in The Netherlands in a Tweet.
The death of René Robert, who immortalized with his camera all the great artists of flamenco, challenges our collective conscience.

— Embajada de España en los Países Bajos (@EmbPaisesBajos) January 28, 2022
"Anonymity in an uncaring city: The very sad death of the eminent photographer of Flamenco, René Robert," Tweets photographer Richard Baker. "Ignored by night-time Parisians and found by a homeless man at dawn. Awful."
"We are so disconnected from each other, so afraid to offer help, so panicked by the perspective of being needed," writes NYC-based author Keila Vall de la Ville. "Stories like this happen every day somewhere."
"That's absolutely shocking," says UK photographer Gavin McMenemy. "How we treat the people around us defines the [sort] of people we are."
"In the day and age that we live this is completely unacceptable!" writes Portuguese photographer João Roldão. "A photographer, a human being killed by indifference. Maybe we need to start looking out to others and stop thinking only about ourselves. These are the things that make me lose faith in the world."
"Many people talk about the terrible story of René Robert. But the reality is that this is the cruel daily life of those who live and die on the streets," Tweets the homeless youth resource organization Olivar Association. "What happens to us as a society when something like this can happen? We have closed a fifth of the 21st century and there are still thousands of people sleeping on the streets of our cities. Why do we consent? Public powers and citizens."
According to the charity Les Morts de la Rue, 566 homeless people died in the streets of France in 2018, including over 100 in Paris alone.
---
Image credits: Header photo licensed from Depositphotos