Colorized Footage Reveals What Downtown L.A. Looked Like in the 1930s
Video restoration expert NASS colorized and enhanced footage from nearly a century ago to create this 7-minute video that reveals what downtown Los Angeles looked like in the 1930s.

A Colorized View of 1930s Downtown Los Angeles
NASS is a France-based video restorer who has attracted over 200,000 subscribers on YouTube by breathing new life into historic footage using neural networks and state-of-the-art software.
"The familiarity of the buildings and overall architecture is striking even as the people and vehicles look like something from a… Hollywood movie set," Boing Boing writes of NASS's colorized footage.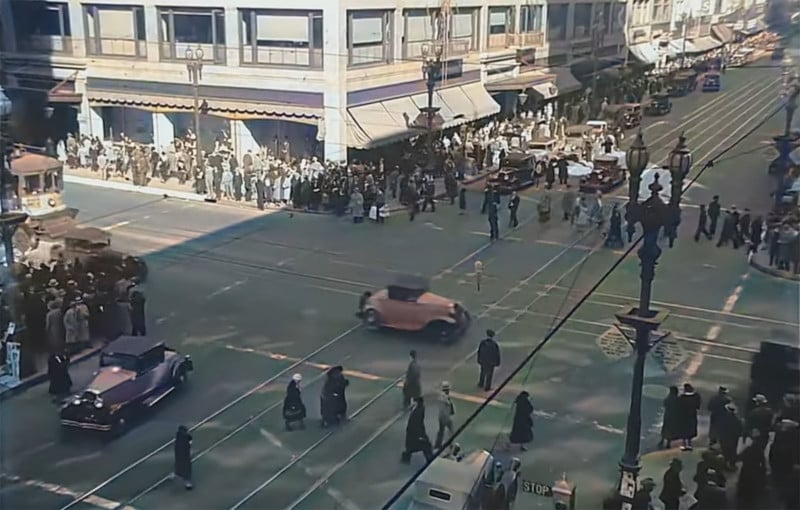 How the Colorized Footage of 1930s Downtown L.A. was Made
The original footage of Los Angeles was a 10-minute black-and-white video hosted by the Internet Archive.
To create the end result, NASS boosted the framerate to 60 frames per second, upscaled the image resolution to high definition, improved video sharpness and brightness, colorized the footage, added ambient sound, and did some restoration work (e.g. stabilization, denoising, cleaning, and deblurring).
"Fantastic shots of 1930s Los Angeles," NASS writes. "We can clearly see what is happening in broad daylight."
The restoration artist does note that the goal of the colorization was aesthetic rather than accuracy — as always, the actual colors of many of the things seen in the frame have been lost to history.
"Please, be aware that colorization colors are not real and fake," NASS writes. "[The] colorization was made only for the ambiance and do not represent real historical data."
Modern software has made colorizing photos and videos easier than ever before. Adobe Photoshop's major update in October 2020 brought a new Colorize neural filter that lets you magically turn any black-and-white photo into a color image with just a few clicks using artificial intelligence, and the results are impressive.
You can find more of NASS's work and follow along over on YouTube.