Darktable v3.8 Update Brings Support for Canon CR3, Editing Devices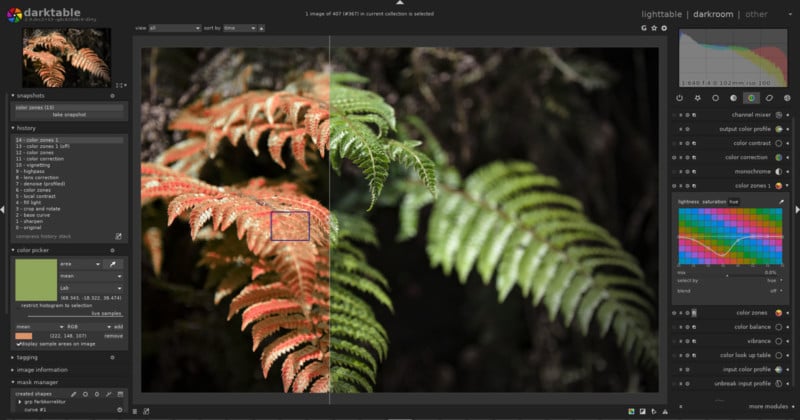 Darktable, the free and open-source raw photo app, has released its version 3.8 update that adds some big features and improvements, including compatibility with Canon's CR3 raw format as well as support for editing devices.

The update follows in the footsteps of
version 3.6, which came out back in July 2021
. Here is a rundown of what is found in version 3.8.
Support for Canon CR3 Raw
If you shoot with a newer Canon DSLR or mirrorless camera, you may be pleased to know that Darktable now supports CR3 raw files.
"This support is provided by LibRaw and requires at least exiv2 version 0.27.4 with BMFF support activated," Darktable says.
You can find a list of supported cameras over on the Darktable website.
Support for Editing Devices
If you enjoy using specialized devices for editing photos, such as a MIDI device or a video game controller, Darktable has been extended to support them for more efficient editing.
"The keyboard shortcut system has been entirely reworked and extended to allow you to control darktable with other devices, for example, MIDI devices and game controllers," Darktable says. "Standard keyboard/mouse shortcuts can now make use of mouse movements (horizontal, vertical, diagonal) as well as multiple button/key presses and short or long presses/clicks."
New Modules for Diffusing, Sharpening, and Blurring
Darktable has added new modules for diffusing or sharpening your photos to address things like lens blur and haze.
"New diffuse or sharpen module, allowing you to simulate or to revert diffusion processes to reconstruct images from lens blur, hazing, sensor low-pass filter, or noise," Darktable says. "It can also be used to simulate watercolor smudges, increase local contrast, simulate blooming or apply surface blur. Special rules can be defined to specifically diffuse across or along edges, as well as to avoid sharpening or blurring them."
There's also a new way to generate motion and lens blurs in a realistic way.
"New scene-referred blurs module, to synthesize motion and lens blurs in a parametric and physically-accurate way," Darktable says. "This module allows you to define the motion path or the lens diaphragm and then generates the corresponding blur."
Draw Shapes to Correct Perspective
"Perspective correction module has been renamed to rotate and perspective and now allows you to manually define correction settings by drawing lines or rectangles on the image (replicating keystone correction functionality from the deprecated crop and rotate module)," Darktable says.
Better Demosaicing for Noisy Photos
"A new LMMSE demosaic algorithm has been introduced," Darktable says. "This algorithm is particularly suited to high ISO and/or noisy images."
Upgrading Darktable to v3.8
You can find a complete list of features, changes, and bug fixes in the v3.8.0 release notes.
Darktable v3.8 is available for download over at GitHub for Windows, macOS, and Linux.