Photographer Captures Bears Kung-Fu Fighting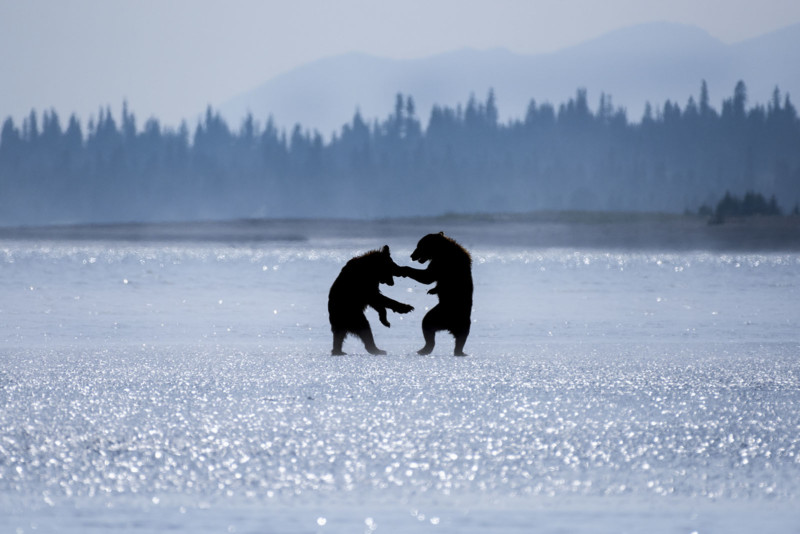 Photographer Kristi Odom was shooting in the great outdoors of Alaska when she captured this unusual photo of two bears kung fu fighting.
Odom is a Longmont, Colorado-based photographer and filmmaker who is a Nikon Ambassador, an Associate Fellow of the International League of Conservation Photographers, and a motivational speaker. Her work focuses on connecting people emotionally to animals and celebrating those who have a connection to the natural world. 
This bear silhouette photograph came about in 2019 when Odom was leading a photography workshop in Alaska.
"The tide was low, and our guide brought us out," Odom tells PetaPixel. "The sun was over our shoulders, putting this golden light onto the bears, then they took off and ran to the other side so that the light was behind them.
"I got really excited because I love silhouettes; there is so much mode in shape. So, I exposed for the background and couldn't help but snap away.
"I like this photo because it reflects how I felt when I was there watching the bears. Even though the bears were fighting, it seemed a bit like a dance to me, on a stage of glitter. Usually, shots of bears fighting show intensity; that isn't what I saw or felt. I felt something softer and more graceful."
The photo was captured handheld with a Nikon Z7 mirrorless camera, Nikkor 200-500mm f/5.6E lens, and FTZ adapter.
This photograph is a good example of how photographers can work with what they have even if the lighting does not feel optimal.
"The light was in all the wrong places for the iconic bear shots, but for me, it was in the perfect spot," Odom says. "Because the sun was behind my subject, I was able to silhouette the bears. I used a shallow depth of field and got super low to the ground (I was so low that I was soaking wet from taking this shot). That helped bring out the sparkles I wanted, a combination of f/6.3 and the sun reflecting off the sand on the low tide.
"For composition, I chose a center composition. I usually place the horizon further away from my subjects, but I would have lost the sparkles by taking the photo at a higher angle. The shallow depth of field also separated the subject from the background, eliminating background distraction while still showing the mountains and trees.
"I am always trying to take unique shots of nature; I don't want my images to look like something on a Google Search. […] Remember when the light turns bad, instead of putting your camera away, think about how you can use it to take something different. Use your camera to celebrate your unique perspective."
You can find more of Odom's work on her website and Instagram.
---