Great Reads in Photography: November 28, 2021
Every Sunday, we bring together a collection of easy-reading articles from analytical to how-to to photo features in no particular order that did not make our regular daily coverage. Enjoy!
---
Ernest C. Withers' Images of Black Life in the American South – Blind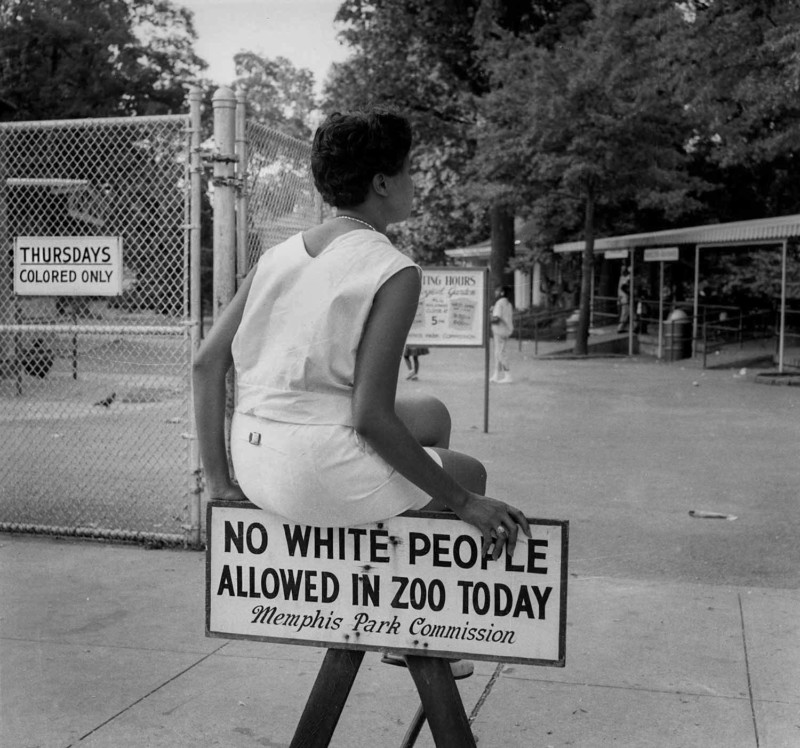 Ernest C. Withers was a former police officer turned photojournalist from the Civil Rights era.
Working at a time when mainstream American publications rarely hired Black photographers, Dr. Ernest C. Withers, Sr. (1922 – 2007) made a way. His new book The Revolution in Black and White: Photographs of the Civil Rights Era (CityFiles Press) looks at Black life in the American South during the height of the Civil Rights Movement.
One of the early civil rights marches down Main Street in Memphis, Tennessee was for fathers and daughters only. It was hoped the presence of young girls might reduce the chance of violence against protesters. In later life, Renee Andrewnetta Jones, who was eight months old at the time of this famous picture, looked back on the events in which she had been an unwitting participant. She had grown up to become a pediatrician in Memphis. – Fahey Klein Gallery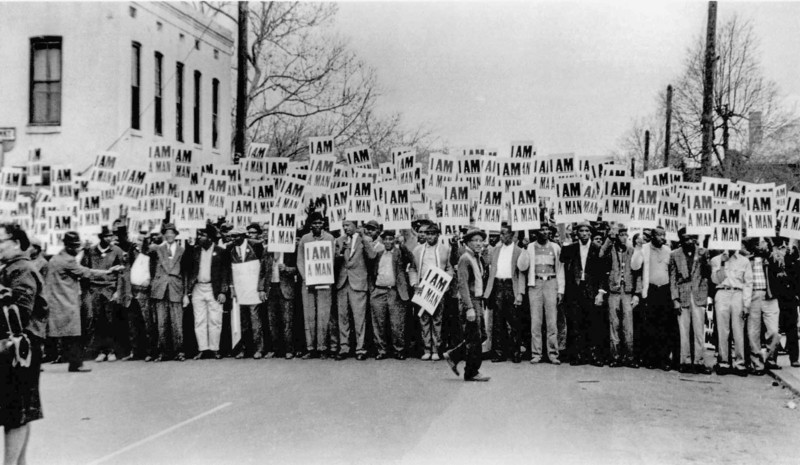 Blind reports:
Hailing from Memphis, Tennessee, Williams became one of the first nine Black police officers to join the force in 1948 after serving in the Pacific Theater during World War II. Although Withers was given a uniform, patrol car, and gun, he was forbidden to patrol white communities or arrest white folks. His power was proscribed strictly within the confines of Black Memphis during the height of segregation.

Off duty, Withers photographed the same community, documenting the fabled Beale Street music scene, the birthplace of Memphis Blues icons like B. B. King. After getting caught selling liquor illegally, Withers left the force to work as a freelance photographer…[shooting for] legendary photo magazines Ebony and Jet while working as Stax Records' official photographer for 20 years.

But in 2010, under the Freedom of Information Act, the FBI released documents indicating that Withers began working as an informant shortly after making his first photograph of Dr. King in 1956 — a revelation that was said to be both shocking but not surprising.
Read also: Iconic Civil Rights Photographer Exposed as FBI Informant
---
How Photographer Jeff Wall's Pictures Duplicate 'Magic' of Large-Scale Paintings – NPR
Jeff Wall's current show at Glenstone in Potomac, Md., is the largest U.S. survey of his career in almost 15 years. It shows his photographs or "pictures" as he refers to them in the video above, as they were meant to be seen, as backlit transparencies often 9-10 feet wide.
"When you see one of Jeff Wall's large-format photographs reproduced in a book or newspaper, detail is lost," writes The Washington Post. "That's inevitable…That loss underscores how essential scale is to Wall's work…
"Wall emerged as an artist in the 1970s, producing images that were hyper-alert to art history and subtly conceptual at the same time. This was, as the critic Andy Grundberg argues in his new book, How Photography Became Contemporary Art, a key moment in the history of photography when it transcended its status as a problematic subset of art and became a core, even dominant presence in contemporary art galleries.
"It did so by incorporating all the philosophical and aesthetic ambitions of painting, sculpture, film and other media. And in the process, it also became highly self-conscious, and decidedly postmodern."
---
Medical Photography is Failing Patients with Darker Skin – The Verge
From The Verge:
Doctors aren't usually in the business of publishing photography guides. But Jenna Lester, a dermatologist at the University of California San Francisco, was growing frustrated with the poor-quality images she'd receive of her dark-skinned patients…

For instance, a bad photo of inflammation on dark skin may make the already subtle condition difficult to see. In a person of color, the use of a flash or bad lighting can drown out the problem, and the inflammation may seem to blend into the skin. On the other hand, a well-captured image of the same taken near a window using natural light could allow a clear distinction between healthy and unhealthy skin…

The company [Google Health] trained a deep learning algorithm on a set of over 16,000 pictures of various skin conditions. But only 3.5% of these cases depicted dark and deep brown skin. Out of these photos of dark skin, it's impossible to tell how many of them were taken using techniques that make sure they're truly representative.
---
Matt Black's American Geography: A Tale of Two Countries – Magnum

Matt Black has traveled over 100,000 miles and made photographs across 46 states over six years, published as American Geography by Thames & Hudson.
Magnum writes:
In a 2016 article titled Economic Growth in the United States: A Tale of Two Countries, economists Emmanuel Saez, Thomas Piketty, and Gabriel Zucman state, "Our data show that the bottom half of the income distribution in the United States has been completely shut off from economic growth since the 1970s. It's a tale of two countries. For the 117 million U.S. adults in the bottom half of the income distribution, growth has been non-existent for a generation while at the top of the ladder it has been extraordinarily strong."

With his project American Geography, Matt Black chose to focus on one of these two countries. For six years, starting in 2014, traveling by bus and by car across the U.S., he explored "the geography of poverty" – photographing an America and American lives that to him were the rule, not the exception.

Widely published in the media at the time, this extraordinary body of work deals directly with the flip side of the Dream, the fate of millions of Americans having to live with the psychological and physical pains and indignities of living poor in the richest country in the world.
"It becomes so easy to unsee ourselves," says Matt Black to Fred Ritchin, Dean Emeritus of The International Center of Photography (ICP) in an interview.
---
The Features That More Cameras Should Have – Photography Life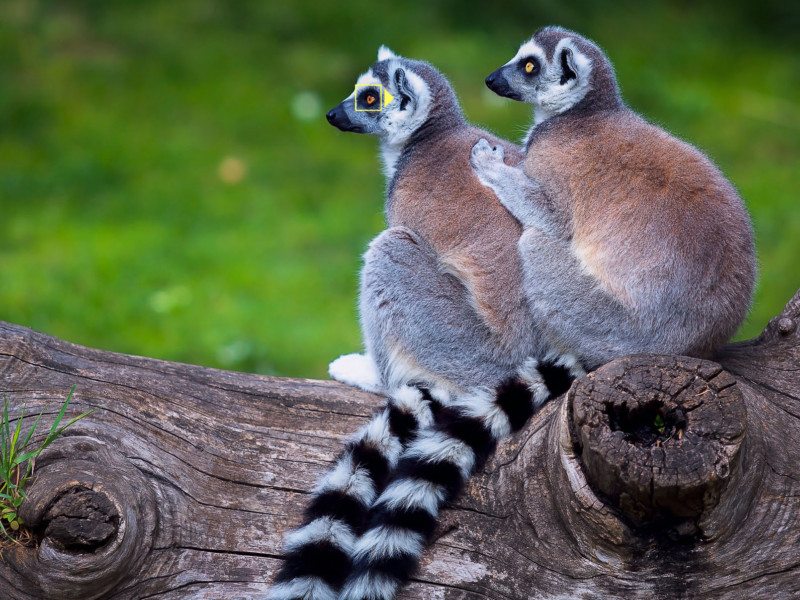 Today's cameras have an impressive set of features, but no camera has all of them, although the technology is out there.
From Photography Life:
1. Back-in-Time Buffer
One of the key skills of sports and wildlife photography is anticipating the moment…But even with top-tier anticipation skills, you'll occasionally end up pressing the shutter button a hair too late and missing the moment. One feature that can save the day is what I like to call a "back-in-time buffer." It's found on some Olympus cameras and a few smartphones, as well as a more limited implementation on the discontinued Nikon 1 line of cameras.

Here's how it works. Any time you hold down the shutter button halfway, the camera captures a constant burst of photos with the electronic shutter. (It discards them rather than saving them to the memory card.) Once you fully press the shutter button, the camera saves the backlog of images from the past half-second or so. As a result, you'll capture a moment that you otherwise would have photographed too late…

Currently Found On: Many of the newest Olympus cameras (where it's called "Pro Capture"), including the OM-D E-M5 Mark III and all OM-D E-M1 cameras from Mark II and beyond.
Click on the link above for 18 other features which would be great to have.
---
Real Tone is Google's Attempt at a More Inclusive Android Camera – Engadget

From Engadget:
Google partnered with "a diverse set of expert image makers and photographers" to tune its new camera algorithms, including adjustments to automatic white balance, automatic exposure and stray light settings.

The goal, in the company's words, is to "ensure that Google's camera and imagery products work for everyone, of every skin tone." Considering Google's consumer base has always included humans of every skin tone, and this is the sixth iteration of the Pixel, it's about time these considerations were made.

Real Tone is built into the Pixel 6 and Pixel 6 Pro cameras and cannot be disabled and will be shared with the Android ecosystem.
---
UHS-I vs. UHS-II – What Do You REALLY NEED? — Dave McKeegan
Mckeegan explains that buying a fast SD card capable of a maximum write speed of 300MB/sec will not necessarily make your camera write the data faster if it is not capable of writing at those speeds, even if it has a UHS-II slot. However, it will certainly help you download faster to your laptop, provided you use a suitable card reader. Also, the read/write speed written on the card is the maximum or peak speed which cannot be sustained for long. V30, V60, or V90, which indicates a minimum sustained write speed of 30, 60, or 90MB/sec, is a better indicator of the card's recording abilities.
---
These Beautiful Images Are a Harsh Critique of Gendered Violence in India — BuzzFeed
The photographer Spandita Malik couldn't have known that a breaking news story in India in 2012 about a brutal episode of violence against women would inspire an ongoing project that has shaped her work for years.
---
These Otherworldly Photos Convey Climate Change's Effects on Arctic Regions – NPR
Ella Morton's project, The Dissolving Landscape, is a series of experimental analog photographs and short films that examine climate change in the Arctic and Subarctic landscapes of Canada and Nordic Europe.
NPR writes:
Mordançage is a black and white process that was developed in the 1960s by French photographer Jean-Pierre Sudre. It degrades the shadow areas of silver gelatin prints, lifting the emulsion off the paper to create unique textures and veils.

Film soaking, also known as "film soup," is a process by which color film is soaked in ordinary household solutions, such as wine, beer, lemon juice, yogurt and dishwashing fluid. The acidity in these solutions warps the film, creating a variety of effects that speak to the sublime qualities of these landscapes, as well as their uncertain future.

"…these techniques create colors and textures that make the landscape appear ethereal, otherworldly and mysterious…" Morton said. "On the other hand, they make the image literally dissolve, mirroring how the land is dissolving."
---
Photography Museum Fotografiska to Open Spaces in Berlin, Miami, and Shanghai – ARTnews
Fotografiska, which first launched in Stockholm in 2010, is in expansion mode, with plans to add three new spaces to its empire of photography museums by 2023.
The private museum said it plans to open locations in Berlin, Miami, and Shanghai over the next couple of years. The Berlin (the biggest, occupying 58,000 sq. ft.) and Shanghai museums are set to open in the third quarter of 2022, while the Miami one is expected to open in the second quarter of 2023.
---
The 4 Best Green Screen Apps for Your Smartphone – MakeUseOf
Green screen editing has become so common lately that it is a basic editing technique, and more and more apps are coming out with green screen features to popularize this trend. If you want to try editing green screens on your smartphone, check out the apps listed at the above link.
---
Stunning Winning Photos of Nature inFocus Photography Contest 2021 – 121 Clicks
The Nature inFocus Photography Contest honors shutterbugs documenting unique natural history moments and critical conservation issues and generates an impressive catalog of imaginative and artistic images every year. This year's awards were selected from 18,000 images from 2,000 competing photographers across 40 countries.
Full Gallery of winners.
---
Viva Cuba! The Heart and Soul of an Island Nation – in Pictures – The Guardian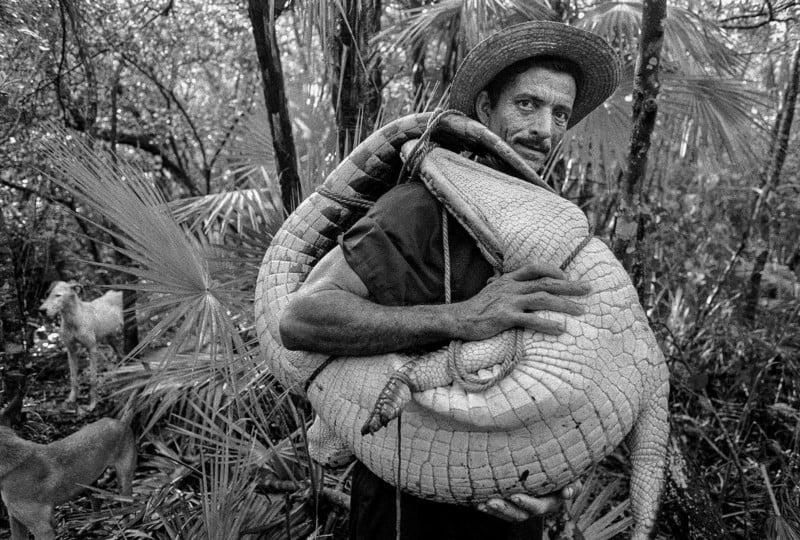 A new book Absolut Cuba by Raúl Cañibano, published by Edition Lammerhuber of black and white images, taken over three decades, captures the Cuban photographer's love for his native country.
Cañibano's work comes from this strong relationship with his environment. "Every one of his photographs refers to the notion that each captured moment tells a whole story," writes The Guardian.
Cuban novelist Leonardo Padura Fuentes writes in the book: "All reveal themselves as they are, expose themselves – unknowingly – to the gaze of the artist… To make a picture concrete, Cañibano needs only them and a little light. Nothing more, nothing less."
---
What Does This Black Dot on the iPhone Do? — ZDNet
ZDNet writes:
If you own an iPhone 12 Pro/Pro Max or iPhone 13 Pro/Pro Max, you might have noticed that there's a black dot built into the camera array…

Yes, it's a camera. Well, it's a scanner. A LiDAR scanner. LiDAR stands for Light Detection and Ranging. It fires out infrared light and then uses that light to build a 3D picture of its surroundings.

The iPhone uses the LiDAR scanner to create depth maps for camera tricks such as portrait mode and to also help speed up autofocus. But with the right apps, it can do more. A lot more.
---
Historical Photo of the Week
Children with Turkey Pulled Wagon
Embed from Getty Images
Fanciful portraits of children
were popular in the 19th century. This one shows a young boy and girl with a cart full of pumpkins and gourds "pulled" by a couple of turkeys, who almost certainly wouldn't have remained in harness for long.
---
Quiz of the Week
1.) Which is the world's largest digital camera?
2.) Which was the first hot shoe flash to have a built-in cooling system in Jan. 2016?
a.) Nikon SB 5000
b) Profoto A1
c) Canon EL-1
3.) Is it possible for a camera placed on a tripod to detect vibration and delay the firing of the shutter till the vibration has subsided?
Answers
1.) The world's largest digital camera with a resolution of 3.2-gigapixels is being prepared for installation atop a Chilean mountain. It will scan the sky to help scientists gain knowledge about the Milky Way. The focal plane is made up of 189 CCDs, all cooled in a vacuum to nearly -150° Fahrenheit, to reduce noise in the images.
2.) (a.) Nikon SB 5000, which was claimed to deliver more than 100 consecutive shots at full output.
3.) Yes. It was first introduced in the PhaseOne XF in 2015 and is called Seismographic Vibration Delay.
---
Why I Like This Photo – Mohammad Murad
I like this photo because I love Intentional Camera Movement (ICM) photography.
I have this inside desire to photograph in slow shutter as something about it just fascinates me, and I'm not talking about panning technique here. I'm talking about reinventing the scene, adding a touch of mystery to it, something to represent me, something to reflect my inner self.
It's like when a violinist plays his melody in his own way to express something inside him, maybe a feeling — a happy or a sad feeling.
Maybe you will not understand or like his melody, or perhaps you will. But that won't affect the violinist at all. He just wants to be heard and will leave the interpretation to the audience.
Photography using a slow shutter technique in camera simulates drawing or sketching using crayons or pencil. Each painting or image has a special mood or feeling.
Taking a still photo with a great composition is wonderful, of course! But a little bit of motion in the image will make the viewer feel that the animal or the bird is doing something. It will infuse some sense of life in it.
Intentional Camera Movement (ICM) photography is an abstract style of shooting that has no rules – it all comes down to moving your camera over a long exposure. This lack of context is one of the main reasons why abstract photography is both interesting and challenging.
It's hard to describe an abstract. It's a form of art that needs no one to describe it or explain it. Every part of the photograph is ambiguous. Never explain a photo to anyone. Leave those who want to understand it to investigate and do not prevent those who want to find a mistake from finding it.
This photograph was taken in Tanzania in 2018 when a baby elephant and its mother, along with a big herd of elephants, were walking by my vehicle.
The image was shot on the Canon EOS-1D X Mark II with Canon EF100-400mm f/4.5-5.6L IS II USM @ 400mm, f/18, 0.3 sec, ISO 50.
It was my first trip to Tanzania, and I decided to shoot the whole trip (10 days) with slow shutter! I even bought a variable neutral density filter for my Canon EF100-400mm f/4.5-5.6L IS II USM lens to drop the shutter speed as I desired
Mohammad Murad (b.1976) is a Kuwaiti photographer and holds a degree in communication engineering. Murad specializes in wildlife with a special interest in bird photography. He had never foreseen himself becoming the professional and award-winning photographer that he is today. He attributes his passion for photography to two factors: his father, who at an early age taught him to "capture the moment" in his photographs, and Kuwait's gorgeous landscape combining the desert and the sea.
Read also: An Intro to Intentional Camera Movement (ICM) Photography
---
Quote of the Week – Matt Black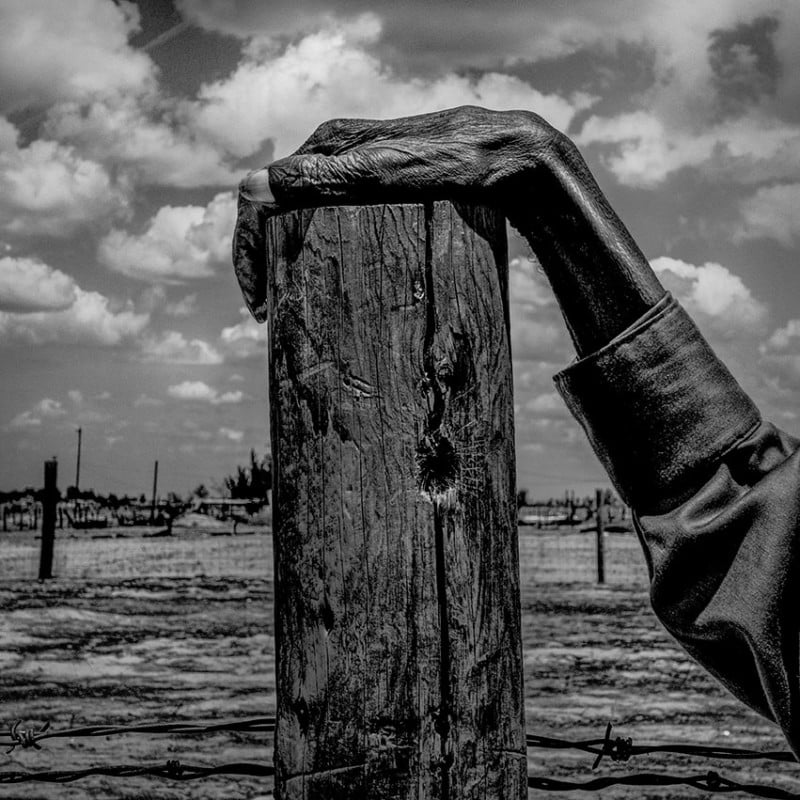 The above photo is from American Geography, published by Thames & Hudson.
[I want to help photographers] to find that inner voice or personal perspective, rather than [take] photos that people expect [them] to take.* — Matt Black
* Susan Meiselas and Matt Black on Being the Mentors They Wanted to Have — Magnum
Matt Black, a member of Magnum Photos, lives in California's Central Valley, a rural, agricultural area in the heart of the state. His work has focused on themes of geography, inequality, and the environment. Since 2015, he has traveled over 100,000 miles across 46 states for his project American Geography (see above). Other works include The Dry Land, about the impact of drought on California's agricultural communities, and The Monster in the Mountains, about the disappearance of 43 students in the southern Mexican state of Guerrero.
---
To see an archive of past issues of Great Reads in Photography, click here.
---
We welcome comments as well as suggestions. As we cannot possibly cover each and every source, if you see something interesting in your reading or local newspaper anywhere in the world, kindly forward the link to us here. ALL messages will be personally acknowledged.
---
About the author: Phil Mistry is a photographer and teacher based in Atlanta, GA. He started one of the first digital camera classes in New York City at The International Center of Photography in the 90s. He was the director and teacher for Sony/Popular Photography magazine's Digital Days Workshops. You can reach him here.
---
Image credits: All photographs as credited and used with permission from the photographers or agencies. Portions of header photo via Depositphotos. Middle horizontal (top) and middle horizontal (bottom) from Absolut Cuba by Raúl Cañibano, published by Edition Lammerhuber.