Statue of Legendary Photographer Diane Arbus Erected in Central Park
A life-size sculpture of the legendary photographer Diane Arbus has been temporarily erected in New York's Central Park as a tribute to her impact on photography and because public statues have been typically male-dominated.

As a New Yorker through and through, Arbus was a regular visitor at Central Park. The statue, presented by Public Art Fund, will be situated in Doris C. Freedman Plaza until August 14, 2022.
Simply titled "Diane Arbus," the bronze statue was created by widely exhibited British conceptual artist Gillian Wearing and depicts a life-sized Arbus, with her finger on the shutter button of her iconic twin-lens camera as she might have been seen in the 1950s and 60s.
"In her bronze 'Diane Arbus,' we see the posthumous homage to a pioneering artist by another from a different time and place," says Public Art Fund Artistic and Executive Director Nicholas Baume. "We also see a modest, unassuming figure, standing at the entrance to Central Park, recognizable by the most distinctive attribute of her public self: her Mamiyaflex camera."
The statue is presented at street level without a plinth (the name for the heavy base often seen at the base of large statues), with the specific design that it blends in with park visitors. It also has a plaque that bears a quote by the photographer herself: "If you scrutinize reality close enough, if in some way you really, really get to it, it becomes fantastic."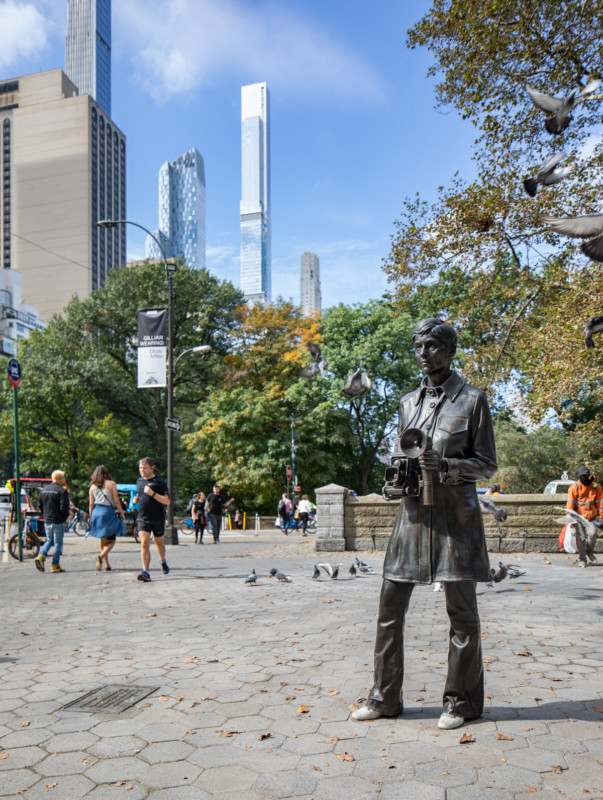 Wearing used a labor-intensive lost-wax process, relied on extensive research, and worked from a variety of source photographs to create the cast bronze sculpture which is described as having captured Arbus with both unpretentious immediacy and affectionate respect. Wearing has also previously paid homage to Arbus when in 2008 she created a photograph, titled "Me as Arbus."
"Wearing's personal tribute to another artist offers a new way to think about and present a public monument while prompting us to reflect on who gets chosen to be the subject of a public sculpture," explains Public Art Fund.
Although Arbus has been widely celebrated as a pioneering artist, it was only 46 years following her death that she was honored with an obituary by the New York Times. Her statue can be visited at the southeast entrance to Central Park at the corner of 60th Street and 5th Avenue until August 14, 2022.
---
Update: The original press materials misidentified Arbus's camera as a Rolleiflex when it is actually a Mamiyaflex. This has been corrected the original press materials were updated by The Public Art Fund.
---
Image credits: All photos by Nicholas Knight and provided courtesy of Public Art Fund.