DxO Brings Major Updates to PhotoLab 5 and FilmPack 6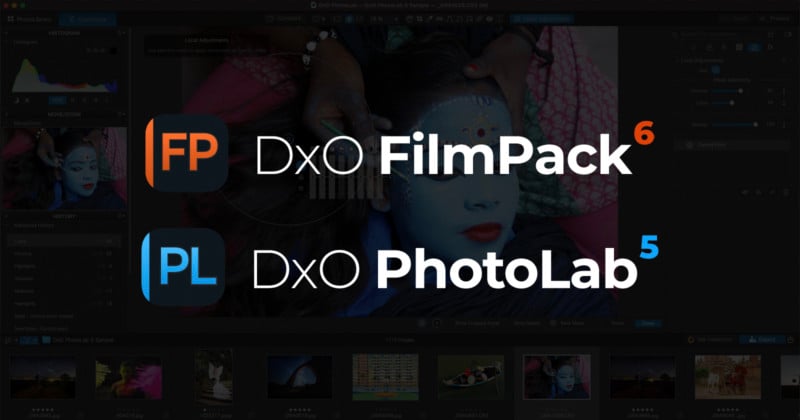 DxO has announced updates to PhotoLab 5 and FilmPack 6. PhotoLab 5 has enhanced local adjustments and a more powerful photo library, while FilmPack 6 adds new film emulations, cinemagraphic renderings, and support for Fujifilm RAW files.
Along with Fujifilm RAW support and the aforementioned other updates, DxO PhotoLab 5 will also introduce a new DeepPRIME denoising tool that the company claims is up to four times faster than previous iterations and "offers unparalleled optical corrections" through what it describes as its exclusive lens sharpness technology and other tools.
The update to PhotoLab 5 brings an improved "U Point" technology that DxO says improves zone-based photo editing by adding a new type of pointer called "Control Lines" that allows users to make edits to their images on large areas with an easy-to-use selection method. Both Control Lines and Control Points have been updated to include new sensitivity settings that let editors adjust the effect of the edits based on the chrominance and luminosity of the targeted areas.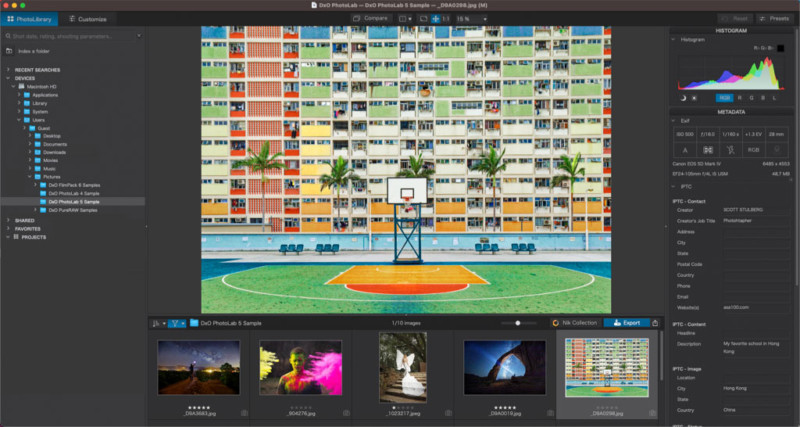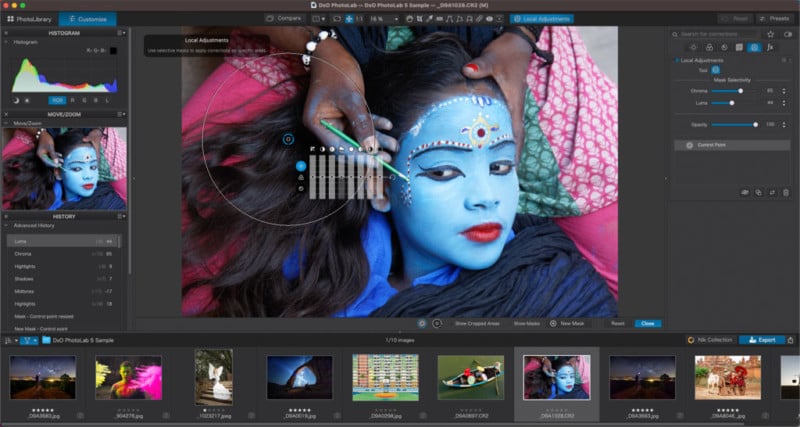 The improvements to the photo library will now allow for the processing of IPTC and EXIF data along with third-party synchronization, giving users the ability to include advanced keyword prioritization and optimizing the application's photo library management tools by reorganizing them.
The company says DeepPRIME has been improved by using machine learning to train and analyze millions of images to develop and improve the RAW files it is fed. The improved system can drastically improve digital noise reduction while ensuring a better and more efficient demosaicing. This is all done together to improve processing and export times, making it up to four times faster on Apple Silicon Mac devices and up to 1.5 times faster on Intel and Windows-based computers.
The FilmPack6 update adds a plethora of new film styles and renderings, giving an authentic representation of the classic analog styles. The company claims the software will recreate the hues, saturation, contrast, and grain of 84 authentic analog films including the famous Kodak Tri-X 400, Ilford HPS, and Polaroid 690. In addition to these new films, the application also has a new feature called Time Machine that gives users a "unique and interactive introduction to the history of film photography."
The new Time Machine can display creative and analog renderings of vintage films separated into 14 time periods, all illustrated by legendary, iconic, and famous figures in photography. The company states each photograph is documented from a historical and technical perspective, giving users the most accurate rendering possible that can be applied to images and create a similar style and finish.
Added to this update is a pack of 15 new films including seven x-series film simulations, six cinema renderings, and two that have been heavily requested from the customer base – EKTACHROME Professional Infrared EIR Color Slide Film from Kodak and the monochrome instant film for the Polaroid 600 Camera, IMPOSSIBLE PX 600 Silver Shade. Additionally, the new update also includes 20 new effects for additional textures, light leaks, hazes, and zooms.
This also includes a new eight-channel Hue, Saturation, and Luminosity (HSL) setting along with an adjustable split toning tool. The company claims these updates will give users greater color control in their images with the ability to select the preferred hue in the highlights and shadows of their images.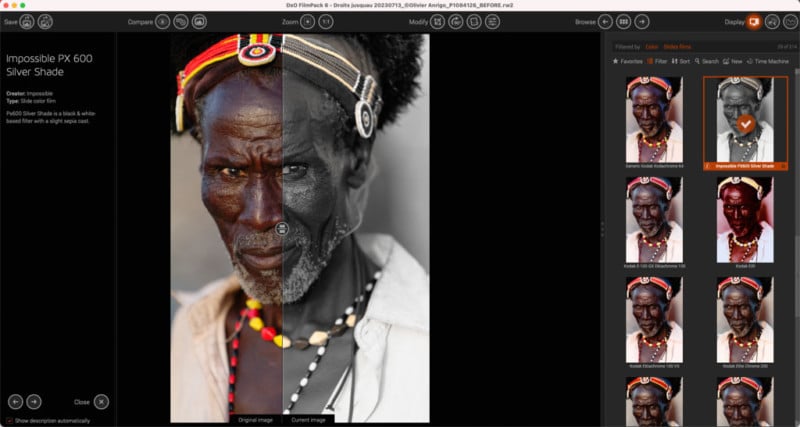 DxO PhotoLab5 is available in Essential or Elite editions for $110 and $165 respectively. DxO FilmPack 6 is available in Essential or Elite editions for $55 and $110 respectively. Upgrade versions are also available to existing users at a reduced price. Both applications can be purchased from the DxO webstore.