This Buddhist Monk is Also a Talented Photographer
If you pay a visit to Lingyin Temple, one of the largest, richest, and most famous Buddhist temples in China, you may come across an unusual sight: a young Buddhist monk carrying a Hasselblad camera.

That monk is named Yanchi, and he's a 26-year-old Generation-Z monk who's also a passionate and talented photographer in his free time.
China's state-owned CGTN, which aired the above 6-minute feature of Yanchi's life and work, reports that Yanchi always turns heads when he's out taking photos.
Yanchi lives according to a strict schedule. He gets up at 4:30 am, does a morning chant at 5:15 am, has breakfast at 7 am, works at the temple until 4 pm, and does mediation at 6:30 pm. He gets one day off every week, though, and he often uses this day to go out and shoot.
"I just thought that it might be good to capture the temple's beauty using a camera and share it with people," Yanchi tells CGTN.
As he shared his photography through his personal social media accounts, Yanchi found that he could earn up to ¥6,000 (~$940) every month from it. And by saving up, he was able to afford a pricey Hasselblad medium format mirrorless camera and lens.
Yanchi has an eye for capturing beautiful photographs of temple life.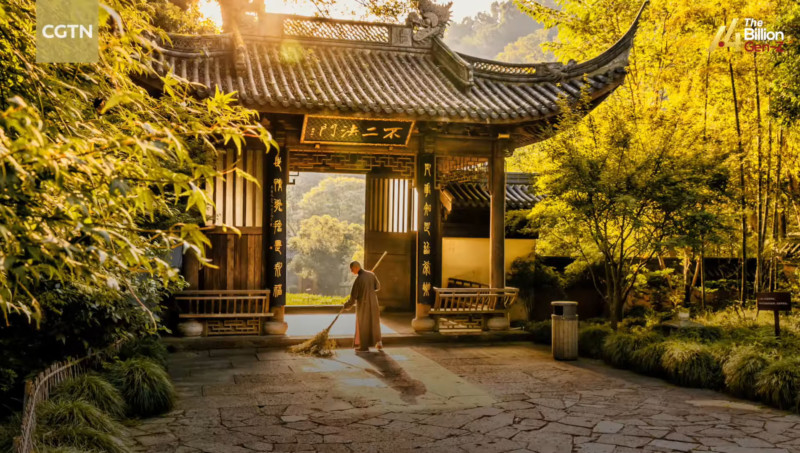 "I've never seen others' photographic works or exhibitions," Yanchi tells CGTV. "[…] After all, if you look at this camera's viewfinder, it's just a rectangular frame. The scene we capture is all in this frame.
"The scene you take is just a presentation of what you see and what's inside your mind. I think photography is just an expression of our feelings."
After shooting, Yanchi transfers them to his computer and uses Lightroom to post-process them. He says he generally does basic edits before sharing the images online.
More of Yanchi's work can be found through Chinese social media and photo-sharing services such as Weibo, Douban, Tuchong, and Visual China.