Photographers to Follow on Instagram: July 16, 2021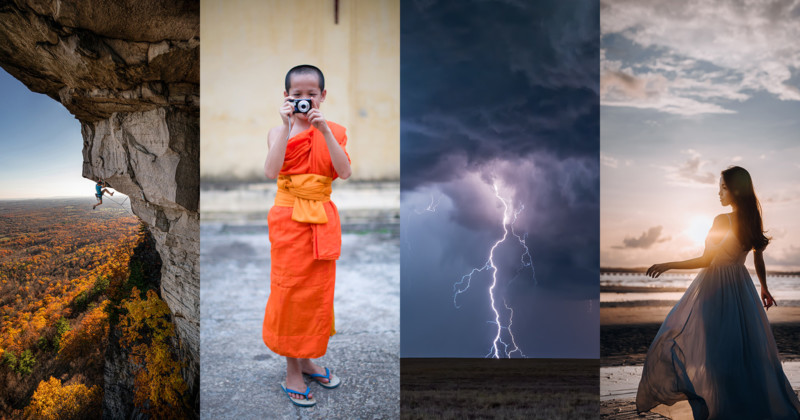 Every day, the PetaPixel Instagram account is sharing excellent photography from our readers and those who inspire us. Here's a look at some of our recent favorite posts and the photographers behind the lens.
Our @PetaPixel Instagram page has been posting all the great work that finds its way in front of our eyes. Want to see your photos shared on our account? First, you'll want to follow us. Then use the #petapixel hashtag in your posts to join our Instagram community of photographers. These steps let us easily find what to share.
Below, we recognize a selection of talented photographers who recently had their work featured on @PetaPixel. Keep posting your images with #petapixel and you could find yourself here next week.
---
Adam Kyle Jackson, found on Instagram as @adamkylejackson, is a Texas-based storm spotter and photographer. This photo was taken in June 2021 while Jackson was storm chasing with his three kids. As any self-respecting photographer parent would do, Jackson said he was "teaching them how to capture lightning on their iPad using high frame rate." The master himself was using a Nikon Z 7II for this capture outside Wilson, Kansas.
---
Michael Anthony, or @michaelanthonyphotography on Instagram, is a Los Angeles-based wedding photographer and Profoto Legend of Light. He has shot 1,500 weddings in over a dozen countries. This image from a wedding in Pasadena, California was shot with the Fujifilm X-T4 and lit with the Profoto A10.
---
Chris Vultaggio, or @chris_vultaggio on Instagram, is an adventure photographer and filmmaker with 20 years of experience. This photo is of professional climber Jonathan Siegrist working a route in the Shawangunk Ridge, which is in Vultaggio's home region of the Hudson Valley, New York.
As an adventure photographer, Vultaggio doesn't always stick close to home, however. He has worked in over 40 countries and his work has been used by brands like Patagonia.
---
Constantinos Lepouris, simply @constantinoslepouris on Instagram, is an incredibly talented portrait artist based in Athens, Greece. "Mixing media has always been my passion," Lepouris told PetaPixel through email. "In my Renaissance/Baroque portrait series I try to play with the spectators' perception making them question whether what they are looking at is a photo or a painting." Well, whatever I'm looking at is working because his work stands out
---
José Ramos goes by @joseramosphotography on Instagram and is a landscape photographer based out of Lisbon, Portugal. His images have been published several times in National Geographic magazines and he leads photo tours in his home country.
This long-exposure image was taken during sunset at the "wild and beautiful" Adraga Beach near Lisbon. According to Ramos, the sea here is unpredictable and intense, so taking photos "involves dealing with very slippery rocks and being extremely cautious with the tide fluctuation."
---
Larry Lu, found on Instagram as @larrry.lu, is a portrait photographer based in Singapore. Lu told PetaPixel he is a "firm believer in creating portraits that tell a story and sets the mood." One thing that pops out about his photos is the quality of light, and that's no coincidence. "Sunrise and sunset portrait photography ultimately is all about being in the right place at the right time with the right people and I don't mind giving up my sleep for it," Lu said.
---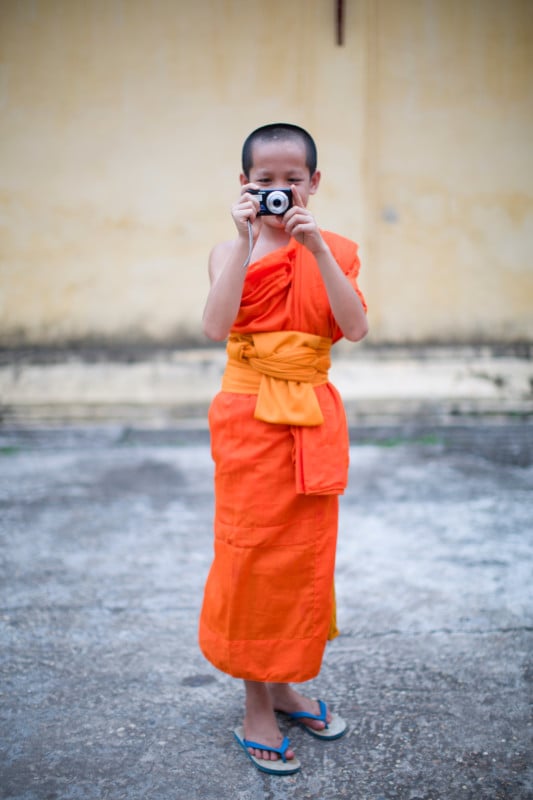 Gavin Gough is a freelance photojournalist and can be found on Instagram as @gavingough⁠. Gough is partly based in Bangkok, Thailand, and works mostly on humanitarian and development projects for NGOs. These frequently place him in Southeast Asia, India, Nepal, Tibet and Bhutan.
In Gough's own words: "This image of a Buddhist monk was made at Wat Si Saket in Vientiane, the capital of Laos. The temple will be familiar with anyone who's visited Laos, as will the sight of friendly monks in saffron robes. This young monk was obviously delighted to turn the tables and photograph me and, as is often the case, he and his friends were keen to chat and had plenty of questions about my life and my home."
---
Be sure to follow us on Instagram to see more work from photographers like you and tag photos with #petapixel for them to be considered for a feature.
---
Image credits: All photographs used with the permission of their respective photographers.